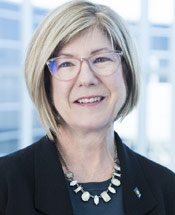 Sherron Killingsworth Roberts, Ed.D.
Professor and Robert N. Heintzelman Literature Scholar
English Language Arts Education
Phone: 407-823-2102
Professional Summary
Sherron Killingsworth Roberts is a Professor of Language Arts and Literacy at the University of Central Florida. Published in Reading Teacher, Journal of Teacher Education, Journal of Research in Childhood Education, Journal of Adult and Adolescent Literacy, Journal of Poetry Therapy, and Reading Horizons among others, her research considers literacy as social practice, content analyses of children's literature, and innovative pedagogy in teacher education, such as technological applications, literature study groups, and writing circles. Additionally, she continues to explore the uses of poetry as a reservoir for qualitative analyses, for therapy, and for creating a peaceful classroom. Most recently, she served as co-Editor of Literacy Research and Instruction for two terms. Roberts is a published poet with poems regarding teaching published in academic journals such as The Reading Teacher and Language Arts.
Areas of Expertise
Writing
Children's Literature
Poetry
Research Interests
Literacy as a Social Practice
Innovative Pedagogy
Content Analysis
Recent Honors and Awards
UCF Teaching Incentive Program Award, 2015
University of Central Florida's Nominee for U.S. Professor of the Year, 2015 & 2014
UCF-SOTL Award, 2014
UCF Women Faculty Excellence Award in Academic Partnerships, for Arbor Ridge Knights Write! Partnership, Spring 2014
JRCE Article of the Year 2014-15 (Bestowed at ACEI 2016 in Salvador, Costa Rica) by Taylor & Francis *$2,000 Award established Nonprofit for Books for high-need, rural preschool children in China
Recent Publications
Roberts, S.K., Blanch, N.* & Gurjar, N.* (in press; accepted May 10, 2017 MS#3284). Exploring writing circles as innovative, collaborative writing structures with teacher candidates. Reading Horizons: A Journal of Literacy and Language Arts.
Blanch, N.*, Forsythe, L.*, Van Allen, J.*, & Roberts, S. K. (2017). Reigniting Writers: Using the literacy block with elementary students to support authentic writing experiences. Childhood Education, 93(1), 48-57. DOI: 10.1080/00094056.2017
Routhier-Martin, K.*, Roberts, S. K., & Blanch, N.* (2017). Exploring mindfulness and meditation for the elementary classroom: Intersections across current multidisciplinary research. Childhood Education, 93(2), 168-175. DOI: 10.1080/00094056.2017.1300496
Hu, B. Y.*, Wu, H. P., Su, X. Y., & Roberts, S. K. (2017). An examination of Chinese preservice and inservice early childhood teachers' perspectives on the importance and feasibility of the implementation of key characteristics of quality inclusion. International Journal of Inclusive Education, 21 (2), 187-204. DOI: 10.1080/13603116.2016.1193563
Gordon, N.,* & Roberts, S. K. (2016). Boys will be boys: Toward a gender-balanced literature curriculum. Florida Reading Journal, 51 (2), 7-17.
Roberts, S. K. (2016). Making practice visible through writing for professional publication: Your life work deserves to be shared. Childhood Education, 92 (1), 64-67. DOI: 10.1080/00094056.2016.1134245
Professional Organizations
International Reading Association, now International Literacy Association, 1979-present
– The Reading Teacher Editorial Review Board, 1999-present
– Journal of Adult and Adolescent Literacy Review Board 1999-2013
National Council of Teachers of English, 1979 to present
Association of Childhood Education International, 2004 to present
Association of Literacy Educators and Researchers, 2011 to present
– Editorial Team of Literacy Research and Instruction (2011/2012-2016)
American Reading Forum, 2012 to present