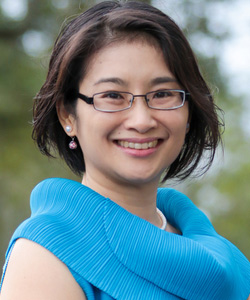 Su-I Hou, Dr.P.H., C.P.H., M.C.H.E.S., R.N.
Professor and School Director
Global Health Management and Informatics
Phone: 407-823-3344
Professional Summary
Su-I Hou, Dr.P.H., is the founding director and professor at the School of Global Health Management and Informatics at CCIE, UCF.  She also serves as the Health-track coordinator for the college-wide interdisciplinary PhD program in Public Affairs, as well as the Founding Director of UCF's Taiwan Study Abroad Program on Asian Culture, Healthcare, & Aging Society.  She is a current Fulbright Specialist (2019-2024) and has been invited to conduct MMR training workshops at multiple universities overseas.
Dr. Hou brings extensive public health research experience and expertise in mixed methods research, program evaluation, and community based participatory research (CBPR) to UCF.  Her research has focused on Aging-in-Community (AIC) models / programs and older adult healthy aging, as well as community and worksite strategies to promote early detection and prevention of selected cancers and HIV/AIDS.  Most of her research has involved working with community partners in developing and validating study instruments, assessing psycho-social factors of health behaviors, developing and implementing theory-based health programs, and evaluating the effectiveness of program interventions.
Hou has taught a variety of research and competency-based courses, including Mixed Methods Research, Research Methods, Policy & Program Evaluation, Program Development & Implementation; Community Health; Epidemiology; Human Ecology of Health & Illness; Cancer Communication; Cancer Epidemiology & Prevention; HIV Needs Assessment; Doctoral Seminars; Asian Culture & Health; Public Health & Aging, etc.  Prior to become a university faculty member, Hou had considerable practical and administrative experience in health care and community settings, serving as the founding director of the Community Health Department at one of the major teaching hospitals in Taiwan.
Hou has been very active in the Chinese-American communities, serving as the 2013-2014 president for the Chinese-American Academic and Professional Association in Southeastern United States (CAPASUS), and continuing to serve on its executive board. She has close professional ties with Taiwan and China and has been frequently invited by their government agencies, major national universities, and industrial partners to give keynotes and training workshops.  Dr. Hou has published over 110+ peer-reviewed journal articles, presented over 220+ papers at national and international conferences, and given over 70 invited international presentations, workshops, or seminars.
Prior to joining UCF in 2015, She was a key founding faculty member of the College of Public Health, and founding director of the Taiwan Public Health Study Abroad Program at the University of Georgia (UGA), Athens, GA. She served as an associate editor (2009-2015) for Health Promotion Practice, the Society of Public Health Education's official journal devoted to the practical application of health promotion and education. Hou is a recognized scholar of service learning by the Community-Campus Partnership for Health and was also an inaugural service-learning senior scholar and a recipient of the Service-Learning Research Excellence Award at UGA.
Leadership Conversation with Su-I Hou
Office Hours
By appointment.
Education
School of Public Health, University of Texas – Health Science Center at Houston
College of Medicine, National Taiwan University
Areas of Expertise
Mixed Methods Research (MMR)
Evaluation of Health Programs
Scholarship of Teaching and Learning (SoTL)
Community-Based Participatory Research (CBPR)
Research Interests
Healthy Aging-in-Community
Cancer Screening Disparities
HIV Preventive Research
Global Healthcare Management
Recent Honors and Awards
2020 – Teaching Incentive Award (TIP).  University of Central Florida, Orlando, FL.
2020 – Research Incentive Award (RIA).  University of Central Florida, Orlando, FL.
2020 – Fulbright Specialist Grant.  Mixed Methods Research Workshops and Consultation.  Ben-Gurion University of the Negev, Israel. J. William Fulbright Foreign Scholarship Board (FFSB), U.S. Department of State.
2020 – Fulbright Specialist (2019-2024). Fulbright Specialist Program. U.S. Department of State, Bureau of Educational and Cultural Affairs.
Recent Publications
Hou, S. & Cao, X. (2021). Promising aging in community models in the U.S.: Village, Naturally Occurring Retirement Community (NORC), Cohousing, and University-Based Retirement Community (UBRC). Gerontology & Geriatric Medicine, 7(1), 1-15. DOI
Cao X., & Hou, S. (2021). Aging in Community Mechanism: Transforming Communities to Achieving Person–Environment Fit Across Time, Journal of Aging and Environment. DOI
Hou, S. (2021). Primary cancer caregiver and family cancer history on knowledge, screening beliefs, and cancer communications among church-based Chinese adults. Asian Pacific Journal of Cancer Prevention, 22(1), 241-247. DOI
Hou, S.-I (2020). Remain independence and neighborhood social cohesiveness among older adults participating in three community-based programs promoting aging-in-community (AIC) in the U.S.A. Gerontology & Geriatric Medicine. DOI
Hou, S.-I (2020). Evaluating online courses via course-related competencies – A mixed-methods quasi-experiment evaluation study of an HIV Prevention Webcourse among college students. Journal of Scholarships of Teaching and Learning, 20(1), 22-39. DOI.
Hou, S.-I (2019). Remaining healthy and independent by age group among a Florida village sample – A convergent mixed methods study. International Journal of Gerontology, 2019, S56-S61. DOI.
Hou, S.-I & Cao, X. (2019). A cross-sectional study of cancer knowledge and beliefs among faith-based Chinese in the USA versus Taiwan. Journal of Preventive Medicine & Public Health, 52(1), 60-65. DOI.
Hou, S.-I & Fetters, M.D. (2019). Mixed methods in public health research in Taiwan – Using visual diagrams to communicate complex design procedures, Health Care for Women International, 40 (5),515-526. DOI.
Hou, S.-I (2018). A Taiwan Study Abroad program on Aging, Culture, & Healthcare.  Educational Gerontology, 44(1), 18-27. DOI.
Fetters, M.D. & Hou, S. (2018).  Mixed Methods Research: State of the Art Integration Procedures.  Taiwan Journal of Public Health, 37(4), 360-365. [In Chinese] DOI.
Hou, S. (2018).  Subjective and objective cancer screening knowledge among white- and blue-collar Chinese middle- and older-age working adults.  Journal of Cancer Education, 33(1):167-173. DOI.
Hou, S. & Cao, X. (2018). A systematic review of promising strategies of faith-based cancer education and lifestyle interventions among racial/ethnic minority groups. Journal of Cancer Education, 33(6), 1161-1175. DOI.
Books
Service-Learning: Perspectives, Goals and Outcomes
Mixed-methods evaluation: A Chinese women cancer screening program
HIV Prevention Essentials
Funded Projects
UCF Downtown Interdisciplinary Research Initiative (DIRI)
– Phase I & Phase II. 2019-2021
Barriers to effective screening for food insecurity in outpatient clinical settings – A convergent mixed methods case study identifying patient and provider perspectives.
PI: Su-I Hou | Co-PIs: Christian King, Ann Miller
Co-Investigators: Christina Bernhardt, Karen Broussard