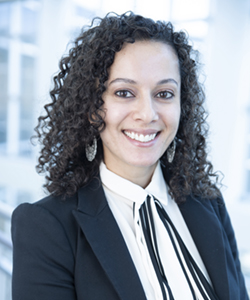 Yara Asi, Ph.D.
Lecturer
Health Management and Informatics
Phone: 407-823-5087
Professional Summary
Yara M. Asi is a postdoctoral scholar at UCF, where she has taught in the Department of Health Management and Informatics for more than six years. She is a 2020-2021 Fulbright U.S. Scholar to the West Bank. Her research agenda focuses on global health and development in fragile and conflict-affected populations. She has presented at multiple national and international conferences on topics related to global health, food security, health informatics and women in healthcare. Asi has also published extensively on health and well-being in fragile and conflict-affected populations in journal articles, book chapters and other outlets. Asi has a book forthcoming with Johns Hopkins University Press about the threats war and conflict pose to public health and human security.
Office Hours
Tuesday: 12 pm – 2 pm
Thursday (main): 11 am – 2 pm
Education
PhD (2015) Public Affairs, Health Services Management and Research
University of Central Florida
Areas of Expertise
Global health
Health and development in fragile and conflict-affected populations
Women in global health
Recent Honors and Awards
Recipient (2020), Fulbright U.S. Scholar Program (West Bank), Moving Beyond Movement Restrictions to Provide Adequate Health Care in the West Bank, Jan 2021-Jan 2023
Fellow (2020), ELEVATE, Center for Minority Serving Institutions, Rutgers University
Recipient (2020), Southeast Regional Middle East and Islamic Studies Society, Overseas Travel Grant
Recipient (2020), International Studies Association Global Health Young Investigator Award
Participant (2019), National Endowment for the Humanities Summer Institute, University of Arizona
Recent Publications
Asi, Y. & Williams, C. (2020). Equality through Innovation: Promoting Women in the Workplace in Low- and Middle-Income Countries (LMIC) with Health Information Technology (HIT). Journal of Social Issues, 76(3), 721-743.
Asi, Y. (2020). Can we weather the health risks of climate change amidst political instability? Evidence and lessons from fragile- and conflict-affected states. Global Health Governance, X(1).
Asi, Y. (2020). Achieving Food Security through Localization, not Aid: "De-development" and Food Sovereignty in the Palestinian Territories. Journal of Peacebuilding & Development, 15(2), 205-218. DOI
Asi, Y., Unruh, L., & Liu, X. (2018). Conflict and Well-being: A Comparative Study of Health-related Quality of Life, Stress, and Insecurity in the West Bank and Jordan. I, 27(5), 1381-1391. DOI
Asi, Y. (2020). Women, Peace, and Health: How Female Leadership Enhances Human Security, Women Leaders in Global Health, Springer, In Press. (Book Chapter)
Professional Organizations
International Studies Association
American Public Health Association
Middle East Studies Association