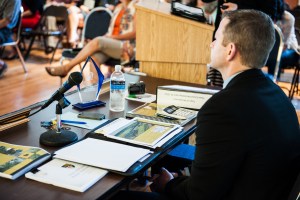 Learning doesn't always take place in the classroom. Experiential learning takes you beyond textbooks and tests and places you in the heart of the field. Whether you are planning to manage a nonprofit or work as a city administrator, experiential learning will give you the experience you need to start your career. In short, experiential learning just means learning from your experiences. There are two categories of experiential learning: internships and service learning.
Internships
Internships
allow you to work in the field under the supervision of practitioners with years of experience. Many of our students intern for the City of Orlando, Orange County government, nonprofit organizations and emergency operations centers, where they work alongside public service professionals and even our own alumni. Interning with an organization allows you to put into practice the lessons and skills that you learned in the classroom. Think of it as a dress rehearsal for the next chapter of your career.
Service Learning
Service learning is a well-established and well-tested teaching method that uses a community as a living laboratory, allowing you to apply what you've learned in the classroom to a real-world environment. Through service learning, you are partnered with an organization in need of assistance on a project, be it capacity building, strategic planning, a case study or something else. Your goal is to help them complete the project – as if they were your own client – under the guidance of our faculty.
Have Questions?
Want to learn more about experiential learning? Read through our
experiential learning brochure
to find out how to sign up for internships and service learning projects. If you still have questions, contact our experiential learning coordinator,
Mirtha Bailey
.