Christina Bernhardt is a doctoral student within the Health Services Management and Research Track. Bernhardt is currently serving as co-president for the PAF Student Organization Group. Her primary research interests include health disparities and access to healthcare within communities and vulnerable populations. Bernhardt's passion for social justice and health equity stem from her professional background as a medical social worker in acute care settings.
Bernhardt's recent presentations include "An exploration of governance tools as applied to environmental conditions and health disparities" at the 2018 Southeastern Conference for Public Administration. Additionally, Bernhardt was co-presenter of a workshop entitled "It starts with you: Envisioning sex education for gay youth" at the 2018 United States Conference on AIDS. Bernhardt recently co-authored a paper with Dr. Kim Anderson entitled "Resilient adult daughters of abused women: Turning pain into purpose", which is in press and will be published in Violence Against Women.
Bernhardt describes the interdisciplinary program at UCF as enhancing her research through its promotion of collaboration across multiple disciplines that are engaged in community affairs. This unique approach allows students from various fields and backgrounds to be brought together through research to examine numerous aspects of public affairs and, as such, expands the scope and capacity of the research produced. This collaboration, coupled with the supportive learning environment provided by colleagues and faculty, has assisted Bernhardt in evolving her research endeavors surrounding health of communities.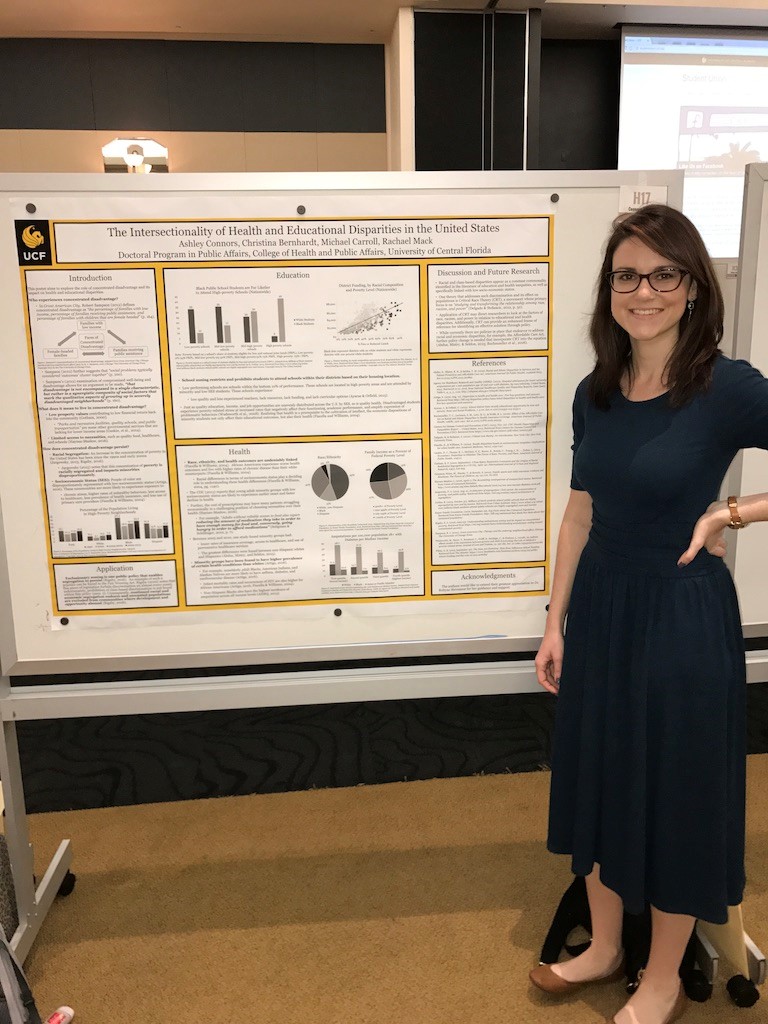 Ashley Connors, M.A., SHRM-CP
Ashley is co-president of the PAF PhD Student Organization where she hopes to build a greater sense of community among doctoral students in the program. She is a third year part-time student in the PAF program's Public Administration track. Her research interests include civic engagement, community building and university-community partnerships. Specifically, she is interested in exploring ways universities can better serve their local community and further promote civic and community engagement within their student body.
Ashley is currently co-authoring a manuscript with Dr. Thomas Bryer and Dr. Cristian Pliscoff, entitled Promoting civic health through university-community partnerships. The book includes interviews with university leaders throughout the world and attempts to better understand the varied ways universities engage through university-community partnerships. She has also participated in several conference and poster presentations in which she presented on increasing civic engagement. She is employed at the University of Central Florida.
Ashley's research interests in university-community partnerships and civic engagement intersect public administration, higher education, and political science. As such, the interdisciplinary nature of the doctoral program is vital to Ashley's research.
Additionally, her interests in community align with the interdisciplinary approach of the UCF Public Affairs doctoral program as the outcomes of civic and community engagement are best explored through several measures, including community health, physical and mental well-being, educational attainment, reduction in crime, and policies addressing unemployment and poverty. The benefits of an interdisciplinary program, such as this, encourages Ashley's pursuit to best understand the complexities of civic and community engagement.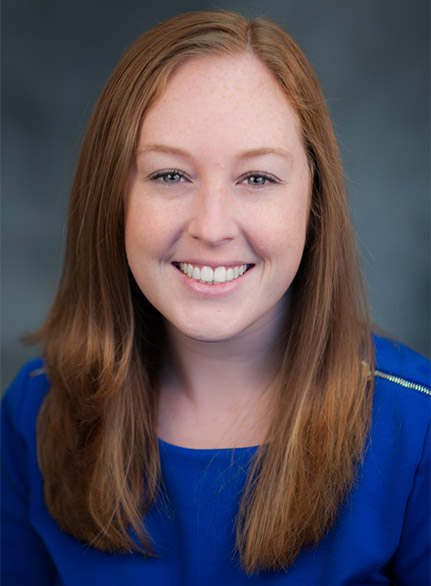 Vince Pereira, MHA, CPHQ, PCMH CCE
Vince is a Senior Business Analyst at the National Committee for Quality Assurance (NCQA) and a Public Affairs doctoral student at the University of Central Florida. Vince is the vice president of the PAF PhD Student Organization and is the Health Services Management & Research Track.  Prior to the NCQA, Vince served as a contractor and operations associate with the Veterans Health Administration in Orlando, Salt Lake City, and the District of Columbia. As a caregiver and health equity advocate, his research focuses on patient-centered care, FQHCs, and community-based health services. Vince earned his Master of Health Administration (MHA) from George Mason University in 2014. Additionally, Vince is an NAHQ Certified Professional in Healthcare Quality® (CPHQ) and an NCQA Patient-Centered Medical Home Certified Content Expert (PCMH CCE).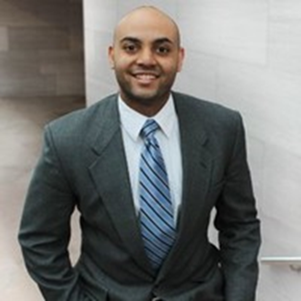 Donovan Williams, MHSA, HCISPP, CHPSE, RHIA
Donovan is the treasurer of the Public Affairs (PAF) PhD Student Organization where he handles all fiscal matters for the organization. He is a third year part-time student in the PAF program's Health Services Management and Research track. His research interests include HIV/STDs in minority communities (e.g. BMSM, LBGTQ+, etc.), STDs on college campuses, social determinants of health and healthy disparity, digital storytelling, health information technology, healthcare privacy and information security. Donovan most recently published an article in conjunction with Dr. Su-I Hou titled "Digital Storytelling Projects Combined with Social and Ecological Framework Applications to Examine Health Disparities among Vulnerable Groups." The paper was presented in July 2018 at the ICBTS Conference in Oslo, Norway. He is currently working with Dr. Hou on a manuscript exploring the multidimensionaity of stigma and how it related to HIV as well as developing an independent manuscript regarding the use of governance tools to address health disparity in the United States. He is employed at the UCF Student Health Services as the Health Information Manager and HIPAA Security Officer.
The interdisciplinary approach of the PAF program is its strongest asset. Aside from possessing renowned faculty and stellar students, the program's emphasis on collaboration and the transdisciplinary pursuit of knowledge really teaches us the strength in numbers. It allows us to grasp and apply cornerstone theories and schools of thought from the various disciplines, making us more well-rounded scholars, who are able to tie in various perspectives when researching, innovating, and decision-making.