About the Showcase
Interested in presenting research, expanding your resume, and winning scholarships? The College of Community Innovation and Education Annual Research Showcase is an excellent opportunity for student-researchers to present research and creative projects, in poster form, to our college and partnering communities.
March 25, 2019
8:00 am-3:00 pm
Location: TA 130
The showcase is held before the university-wide showcases (Showcase of Undergraduate Research Excellence and Graduate Research Forum) in order to help prepare students for these events.
The CCIE Research Showcase demonstrates to students, faculty, staff, alumni, and the greater Central Florida community that student research builds upon and enhances the quality of the UCF undergraduate and graduate experience. All undergraduates and graduates registered in CCIE courses are encouraged to present current or recent academic projects.
Faculty, staff, and other students are welcome to attend the showcase. Monetary awards will be presented to the top 5 presentations.
Guidelines, Eligibility & Judging Process
All projects will be provided 3 feet of table space. Presenters are responsible for providing their own tri-fold poster board. However, you are welcome to present a professionally printed poster if you prefer. Please note that there will be a limited number of boards on which to mount printed posters. Presenters are encouraged to bring their own display board.
We suggest that your presentation be printed out PowerPoint slides which can be attached/stapled/pinned to your trifold poster board; not necessarily professionally printed as a conference poster. Please keep in mind that the CCIE poster-presentation is practice for the university-wide research events and allows time to make edits to your presentation to be professionally printed for the UCF research events.
Research and creative works in progress are encouraged. These include projects that have not yet attained final results or are still developing: presentations of initial results, research or project designs, field experiences, methodology discussions, and literature reviews. Presentations of completed projects and final results are equally encouraged.
For guidelines on formatting your presentation, please see Resources.
The opportunity to present is only available to currently enrolled students with a major, minor or certificate in the College of Community Innovation and Education. Projects from all College of Community Innovation and Education fields and disciplines are eligible for presentation. Projects must have a clear focus or a central research question.
CCIE faculty members are judges for the showcase. Showcase projects are judged according to the following:
Clear project statement of purpose
Sound methodology
Clear presentation of results/product/performance or expected outcome
Progress on project to date; and
Contribution to the field or discussion of potential impact
Awards are given to the top 5 undergraduate presentations and the top 5 graduate presentations. First Place receives an award of $500; Second Place $350; Third Place $250; Two Honorable Mentions at $100 each. The CCIE Research Showcase monetary awards are credited through UCF Student Account Services.
Event Registration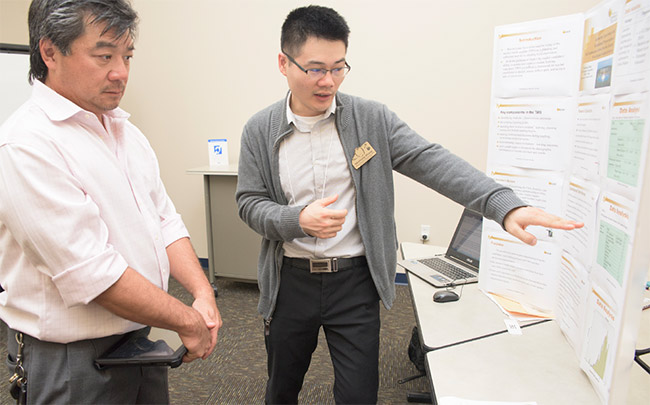 Registration Deadline: TBD
For any questions please email yourresearchteam@ucf.edu.
*Application due date is February 24, 2019.
Resources
Presentation Formatting
For tips on formatting a conference poster, attend one of our Paper to Poster workshops, offered a few times throughout the fall and spring semesters. Visit the Research Administration Services Team's calendar to view upcoming events.
Research Showcase Poster Guidelines
Where to Print a Poster
If you don't want to use a tri-fold board, you are welcome to have your poster professionally printed. Please keep in mind, however, that you will receive feedback at the CCIE showcase and may want to revise your poster for the UCF research activities.
CCIE Office of Research
Cost: Free
Policy: Please send a PPT or PDF file of your poster to yourresearchteam@ucf.edu at least 3 days before you need to pick it up. Please make sure the PPT slide is formatted to the desired size of your poster. Hint: most research forum/conference posters are 36 x 48.
Student Government Association Printing Lab
Cost: $24
Policy: Bring a flash drive with your file saved on it to the lab (located on the second floor of the Student Union) 3-5 business days before you need to pick it up. You need to pay for it using Knights Cash on your UCF ID card.
Staples
Cost: $40
Policy: Same-day printing and pick up at the store if ordered before 2pm.
You can order online.
Convert your file to a PDF. Choose "Upload Your Own Design", Banner Size should be 3' by 4', Orientation is 'Landscape'. Before you confirm you will be able to preview it. Be careful of your margins because things too close to the edge will be cut off, as you will see in the preview. If this happens, you will need to go back to your PPT slide to adjust it and then convert it to a PDF.