Preparing Next Generation Special Education Leadership Scholars.
Morgan Diaz is a third-year doctoral student in the Exceptional Education program at the University of Central Florida. She is a Toni Jennings Exceptional Education Institute Fellow. She received her M.Ed. degree in Exceptional Education and her ASD Certification from the University of Central Florida as a Project ASD Scholar. Morgan began teaching in Central Florida in 2012 as an elementary special education teacher. She has worked as a support facilitation teacher, an inclusion teacher, and a literacy coach. Morgan was the PBIS leader for her school, working alongside teachers in the school to strengthen Tier I instruction, ensuring teachers were teaching to the standards for all students. Additionally, Morgan worked closely with the MTSS team to help teachers develop and implement Tier 2 and 3 interventions. Morgan has been recognized by the FLDOE as a High Impact Teacher for the success of her students. She received the Teacher of the Year award for her school. She is interested in improving behavioral and academic support and services for individuals with disabilities participating in the elementary general education classrooms.
Jennifer Caton is a second-year doctoral student in Mathematics Education at the University of Central Florida. She received her master's degree in Curriculum and Instruction in Mathematics from the University of Central Florida. Jennifer's teaching experience has included elementary school along with middle and high school mathematics. Her research has focused on improving efficacy in mathematics among low-level achievers and students receiving services in mathematics. As a Toni Jennings Scholar, Jennifer is involved in research focusing on teacher shortages in STEM and special education areas, along with game research related to STEM. Currently she works as an Algebra teacher in Volusia County Schools, where she is focused on providing equal mathematical learning opportunities for all students.
Down Syndrome Foundation Post Doc
Hi! My name is Jonathan "Nick" Solomon, I am currently a Ph.D. student at the University of Central Florida in the Exceptional Education Program. My vision is that individuals with differences will be given every opportunity possible to reach their fullest potential in the areas of independent living, community involvement, education, and employment. I personally struggled to overcome many obstacles earlier in life due to being Hard of Hearing that allows me to relate, support and advocate for many other individuals and families who are going through similar situations. After undergrad and in pursuit of a teaching career, I landed at a non-profit organization teaching and training individuals with intellectual disabilities how to live independently. During my time there, I became the director of a newly built, independent living apartment complex for 120 individuals with intellectual disabilities. In order to better support and further the needs of this unique population I then decided to pursue my Ph.D. at the University of Central Florida.
Lead IT Scholars
LEAD IT is a doctoral program designed to prepare highly competent special education leadership personnel, from culturally and linguistically diverse populations, for university faculty positions or for service in training positions in agencies or school systems.
LEAD NEXT Scholars
LEAD NEXT will prepare the next generation of special education leadership personnel to address shortages in state and national identified need for personnel preparation in special education. The focus of this federally funded project is to support educators to become national experts in (a) teaching, research, and service to support marginalized students with disabilities in Learning Sciences and evidence-based practices (b) collaborating and conducting research with State and local education agencies; (c) preparing future teachers and collaborating with families; (d) using technology and Learning Sciences to impact learning; (e) working collaboratively with colleagues in content areas and Learning Sciences; (f) conducting program evaluations; and (g) improving outcomes for students with disabilities by influencing policy and practices.
Molly Greer relocated to Orlando, FL from Crestwood, KY, a small town outside of Louisville. For five years Molly taught in a highly structured classroom teaching functional academics. After a life-changing health crisis, she viewed life through a new perspective and wanted to impact exceptional education in a different way. After being asked if she was making the difference she had dreamed of, she realized the answer was no. This led Molly to pursue her Ph.D. at the University of Central Florida. Molly received her Bachelor's Degree in elementary education (p-6) and moderate-severe disabilities (k-12) from Morehead State University and a Master's of Divinity, with a focus on children's and family ministry, from University of the Cumberlands. Molly's mission is to prepare teachers and inform policymakers to effectively increase educational outcomes for students with tier 3 academic and behavior interventions through deeper learning.
Chelsea Pierce is a current Ph.D. student in the Exceptional Student Education Program at UCF. Chelsea has over six years of classroom-based experience as both a General Education teacher and a Special Education teacher. She worked with the Center for Autism and Related Disabilities (CARD) at the University of Central Florida, as well as CARD at the University of Florida (UF) Health Jacksonville. She worked for the UF Health Neurodevelopmental Pediatric Center, serving on the Multidisciplinary Developmental Assessment Team and administering assessments and consultations through the Florida Diagnostic Learning and Resource Systems, Multidisciplinary Center (FDLRS-MDC). She's presented at local and statewide conferences in areas of interest, including the use of visual supports and behavior management strategies. Her mission is to increase knowledge and understanding of medical professional and educational personnel serving children with medical complexities inclusive of behavioral, sensory and/or communication challenges.
Lynn Scott relocated to Florida from a small rural community in Indiana and is at UCF pursuing her Ph. D in Exceptional Education. Lynn obtained her undergraduate degree from Saint Mary of the Woods College in Indiana and a Masters in Educational Administration and Leadership through Indiana State University. She began her profession in education after a career change from the business world. Her journey started entry-level so to speak and would continue to advance as she worked as a paraprofessional while pursuing her special education teaching degree. After years of classroom experience, Lynn progressed to an administrative role expanding beyond her own classroom. Lynn's 18 years of classroom experience includes students from grades pre-k through grade 12+ in a variety of educational settings and disability categories. All these opportunities have afforded her a range of experiences and perspectives in the field of education. Lynn's goal is to better prepare teachers and administrators in the pursuit of inclusive and equitable classrooms while promoting strategies and understanding of neurodiverse learners.
Teleports Scholars
The University of Central Florida - Technology Enhanced Learning Enabled by Partner Organizations, Research, and Teaching Success - UCF TELEPORTS
This project prepares special education personnel at the doctoral level with specific skills in the area of teaching, research, and service with effective leadership skills suitable for university positions. The focus of this program will be to prepare scholars to assume leadership roles in (a) local, state, and national levels with expertise in innovative technologies for students with disabilities (e.g., autism, learning disabilities, intellectual disabilities). Scholars will specialize in technology-enhanced instruction for secondary students. They will focus on effective transition practices that lead to college and career readiness.
Lindsey Pike is a first-year doctoral student and second-time UCF Knight. She earned her bachelor's degree in Literature from Lees-McRae College in 2009 and her Master's degree in Social Work from UCF in 2013. She worked in central Florida public schools as both a social worker and an Exceptional Education teacher over the past six years. Ms. Pike will complete her Intervention Specialist Master's Certification this semester through Project Bridges at UCF. She is currently working as a Graduate Research Associate on the Teacher Quality Partnerships: Downtown Experience Grant. Ms. Pike enjoys traveling, reading, yoga, and exploring new cultures in her free time. Her research interests include secondary students with learning disabilities, teacher preparation, and teachers with disabilities.
Dr. Tucker is a faculty member in the Program of Physical Therapy at the University of Central Florida. She received her Bachelor of Science in Psychology from the University of Alabama, a Master of Science in Physical Therapy from the University of Indianapolis, and a Doctorate in Physical Therapy from the University of South Alabama. Dr. Tucker is currently pursuing a Doctorate in Education in the Exceptional Education Track at the University of Central Florida. She is board certified in pediatrics by the American Board of Physical Therapy Specialties (ABPTS). Dr. Tucker is the Director of UCF Go Baby Go and Co-Director of the IMOVE lab. She serves on the Medical Advisory Board for the Down Syndrome Association, the Advisory Board for the Creative School at the University of Central Florida, and is a Medical Director of international missions with Sharing Smiles. She has presented on physical activity, service delivery models, and promoting early mobility nationally. Her research interests focus on physical activity and participation in children with and without disabilities, early mobility, and, parent education. Dr. Tucker maintains clinical practice and consultation in private practice in Orlando, Florida.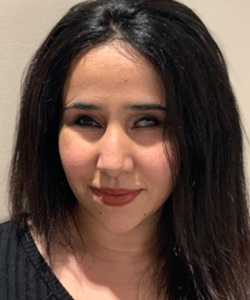 Abeer Ali
First Year Saudi Arabia Consulate
Sami Algethami is an international student from Saudi Arabia. He is earning his Ph.D. from the University of Central Florida. His goal is to make special education resources more accessible for parents and teachers in Saudi Arabia. Sami's research interest is the effects of technology on students with behavioral disorders. Also, He is interested in Positive Behavior Intervention and Support PBIS"