The College of Community Innovation and Education is the anchor college to UCF Downtown, a twenty-first century campus that opens access for students, provides pathways into high-demand career fields, fosters collaboration with our neighbors in meaningful ways and improves countless lives through the power of education. Programs located in downtown Orlando offer students numerous opportunities to engage in community-based experiences in the heart of the city. Internships, practicums and research take place within walking distance of the downtown campus. Students are close to the courthouse, Orlando's City Hall, several schools and major corporate headquarters. A quick ride on Sunrail or Lynx takes students to the two major hospitals in Orlando, and so much more.
"UCF Downtown opens up opportunities for students to partner with other healthcare industry professionals in the area. From internships, research and employment, our students are uniquely poised to immerse themselves in the epicenter of Central Florida healthcare and garner hands-on experience while pursuing their education at UCF."
Kourtney Nieves, Ph.D.
Department of Health Management and Informatics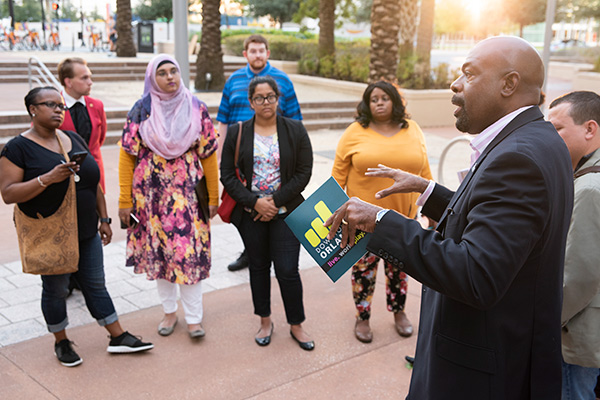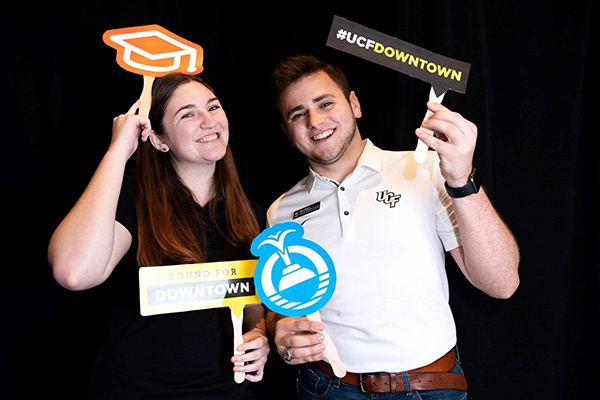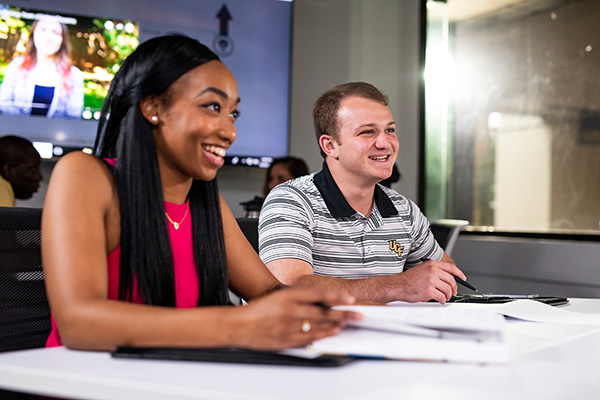 CCIE Programs Located at UCF Downtown
"At UCF Downtown, our undergraduate students have an opportunity to thrive while learning in a culturally- and socioeconomically-rich city center. Our master's students have access to professional networks, key leaders and role models across government, nonprofit and business sectors. Our doctoral students get to live the work of community-engaged research inspired by new curiosities and old questions asked in new ways."
Thomas A. Bryer, Ph.D.
School of Public Administration
Doctoral Program in Public Affairs
ACADEMIC ADVISING
Whether you have questions about admission requirements, orientation, registration or graduation, find the answers and resources by meeting with one of our academic advisors.
On-site undergraduate and graduate advisors are available at the downtown campus.

Student Organizations
Join any one of our student organizations at UCF Downtown to further your professional learning, collaborate with fellow students and engage in community outreach.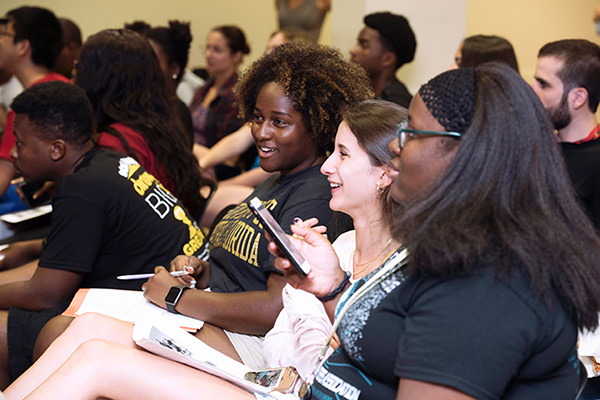 "Legal studies programs may teach students how to write and think like a lawyer, but our downtown location provides opportunities to teach students how to be a lawyer."
Marc Consalo, J.D., L.L.M., Esq.
Department of Legal Studies
Housing
UnionWest is UCF's student resident community at UCF Downtown and Creative Village. Apartments and suites at UnionWest are furnished and include a personal mini fridge for each resident, high-speed Wi-Fi and utilities. Each residential floor features a gathering space to meet with friends or study, a laundry room and a community kitchen. A sixth-floor resident-only club room includes lounge and study areas, community activities and an outdoor patio overlooking downtown Orlando and Creative Village Central Park. Dedicated residential elevators provide high-speed access to the residential floors. UCF residents at UnionWest have several unique, student-only benefits including earlier class registration appointments for future semesters.
To learn more, find resident-only promotions or see a model space, visit the UnionWest website, call 407-868-0862 or e-mail housing@ucf.edu.