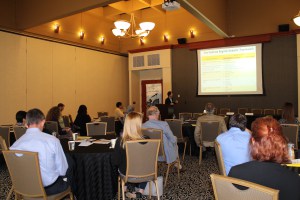 Are we returning to "Governance in Dark Times?" That was the topic of discussion at the 12th annual Public Administration Research Conference, which was hosted by the Center for Public and Nonprofit Management on the UCF campus on April 13.
More than 100 scholars, practitioners and students attended the conference, including faculty, staff and graduate students from the School of Public Administration. Attendees came from the Netherlands, Nigeria and Korea, as well as Atlanta, Baltimore and Gainesville.
The keynote speaker was Camilla Stivers, a distinguished professor emerita of public administration at Cleveland State University. Stivers also led an Eminent Scholars Lecture during the pre-conference activities that was well attended by SPA faculty and students. Other notable conference speakers include Jeffrey Goltz, the executive dean of Valencia College's School of Public Safety; Earl Mowatt, the sociology department chair at Bethune-Cookman College; and Andrew Carter, an adjunct professor at the University of Miami.
Several SPA faculty, students and alumni also presented including Associate Professors Staci Zavattaro and Qian Hu; Instructor Danny Seigler; doctoral students Andrea Ortega, Esteban Santis and Jenna Tyler; graduate student Rabina Bissessar; and alumnae Gaslande Fleurimont and Marsha Noel.