Learn. Connect. Transform.
At the College of Community Innovation and Education, you will gain the knowledge, experience and confidence needed to transform lives and strengthen communities. Through our diverse programs and established partnerships, we are uniquely positioned to develop innovative solutions to complex social issues. You will have opportunities to collaborate with faculty experts across academic areas and engage in community-based experiences throughout Central Florida and beyond. Whether you aspire to work in criminal justice, education, health management and informatics, legal studies or public administration, our faculty and staff will help you reach your goals.
The College of Community Innovation and Education is the college anchor to UCF Downtown, a 21st-century campus that will increase access for students, provide pathways into high-demand career fields, foster collaboration with our neighbors in meaningful ways and improve countless lives through the power of education.
Academics
Interdisciplinary Research
Schools
Featured Story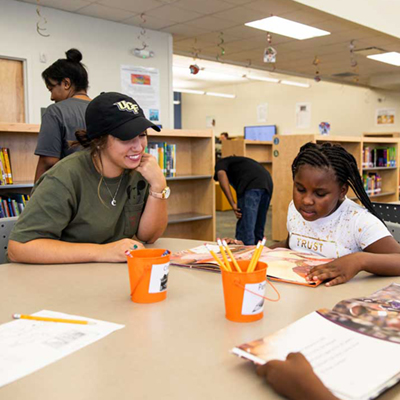 Born and raised in Pine Hills, one of Orlando's most historically underserved communities, Timothy Only believes his ...
Read More
To improve transdisciplinary literacy acquisition and multi-sensory instruction in a school, teachers and teacher leaders must work to develop a common language and plan for coherent writing instruction. This re-boot camp is designed to help teachers and teacher leaders develop…