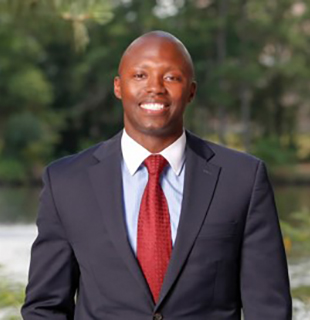 Rashard Johnson, two-time UCF alumnus who received his bachelor's degree in health sciences and master's degree in healthcare administration, will be the new president of Chicago, Illinois' Advocate Trinity and Advocate South Suburban hospitals in late September.
Johnson is a talent, excelling in a range of leadership roles within the healthcare field. "Rashard's background provides him with a diverse skill set that has helped him build high-performing teams that are both innovative and inclusive," Rich Heim, executive vice president of Advocate Aurora's South Chicagoland region, said in a news release.
Since graduating the master's program, Johnson worked in a variety of leadership positions in healthcare and led strategic planning and growth initiatives. Johnson's new position comes after serving for three years as vice president of operations and chief operating officer for CHI St. Luke's Health, which includes Woodlands, Lakeside and Springwoods Village hospitals in Houston, Texas. There he oversaw services such as diagnostic imaging, laboratory services, plant operations, clinical engineering, environmental services, food services, outpatient clinics and four emergency departments.
Prior to CHI St. Luke's, Johnson served as the assistant vice president of support services for UT Southwestern Medical Center, where he was responsible for facilities management, environmental and nutritional services, chaplain and volunteer services, and other non-clinical support services including support services for Clements University Hospital and University Hospital Zale Lipshy, made up of 640 beds and 16 clinics.
This UCF graduate is also active on community boards and with professional organizations including the American College of Healthcare Executives and National Association of Health Services Executives.