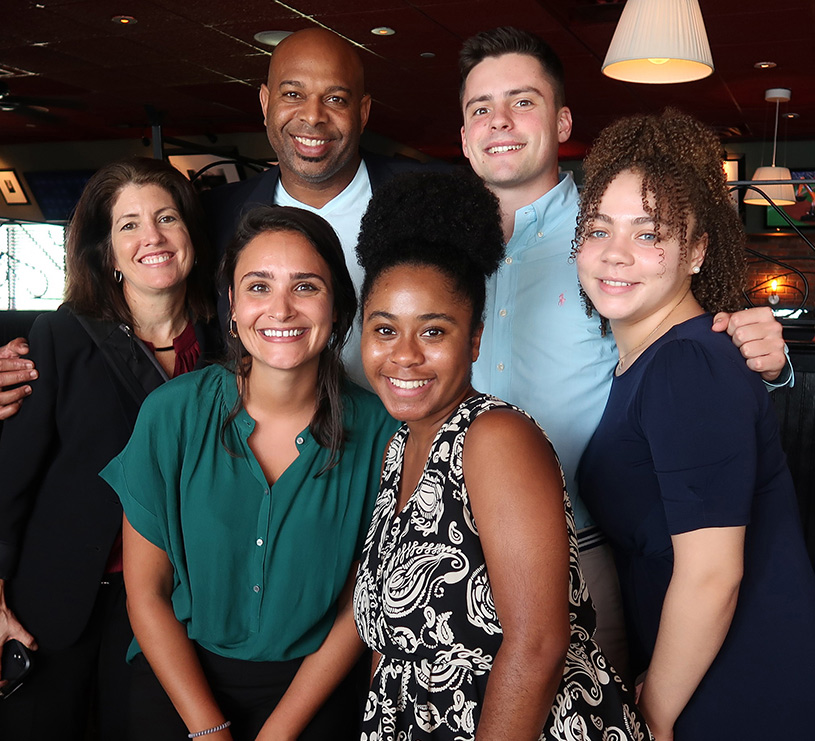 (Left to right) Amy Ellis, Eliza Mathew, Donnie Hale, Songia Wynn, Josh Podl, Amaya Jackson
"History in the making," wrote Duke University student Songia Wynn as she reflected on her recent visit to two Community Partnership Schools in Orlando — Evans High School and the Orange County Public Schools Academic Center for Excellence.
"The only time I have known of a mass community effort similar to Evans/OCPS ACE is during the civil rights movement and I wasn't alive to see that," wrote Wynn, who is majoring in African and African American Studies. "I have never seen a community come together for the benefit of not only the community itself but for the generations coming after."
Wynn was part of a group from Duke and North Carolina Central University who traveled to Florida this month to see Community Partnership Schools in action. Both Duke and NCCU are in Durham, which has launched its own community school initiative and engaged the two universities.
Duke's Eliza Mathew, a senior program coordinator of education initiatives, led the North Carolina contingency. She is one of 16 "team leads" for a year-long course, University-Assisted Community Schools, offered jointly by Duke and NCCU to study ways universities can mobilize to support public schools, particularly those in Durham.
When Mathew learned about Community Partnership Schools in Florida, she thought it would great to visit some of the schools with a few students in the course. "We want to bring ideas back from places we visit," she said.
Mathew reached out the University of Central Florida Center for Community Schools, which oversees the Community Partnership School™ model, to arrange some tour dates.
Evans: The First Community Partnership School
On Oct. 7, center Assistant Director Donnie Hale greeted Mathew and three students at the Orlando Airport. They then joined center Director Amy Ellis for a networking lunch before traveling to Evans High School in the Pine Hills area of Orlando. Evans became a community school in 2010 and is the furthest along in implementing the Community Partnership School™ model, Ellis explained.
At Evans, Community Partnership School Director Curtesa Vanderpool and Senior Administrator Casey Waugh welcomed the group, provided an overview of the school, discussed their own responsibilities and answered questions.
It quickly became evident that Vanderpool, an employee with Children's Home Society of Florida, and Waugh, an employee of Orange County Public Schools, work closely together and value and support each other along the way.
"Ms. Vanderpool [conveyed] a deep belief in shared prosperity and the knowledge that working together across sectors is the only way we can truly move toward continued success for our children and families," Mathew said. "I'm excited to feed off that energy, and to think about how we can live into that value as we continue to grow the relationship between Duke and NCCU, and the relationship between higher education and our public school system," she said.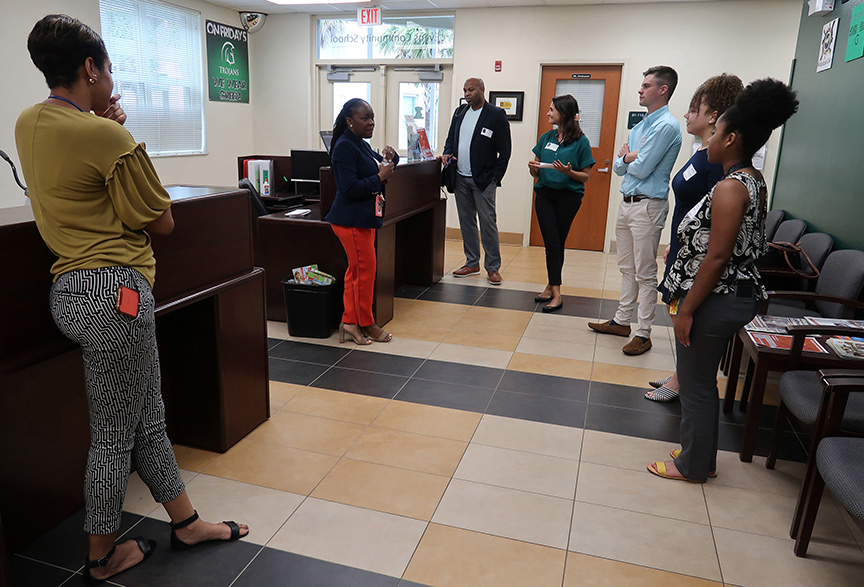 The group also visited the Evans "Hub," a centrally located area on campus where students can go for help with a wide variety of needs, including tutoring, mentoring, counseling and other healthcare, food, and clothing.
OCPS ACE: Built to Be a Community Partnership School
On Oct. 8, the group visited OCPS ACE, a K-8 school in downtown Orlando that opened in 2017. It also is the first school to be designed and built as a Community Partnership School.
Shannon Curry, OCPS ACE Community Partnership School director, led a tour of the school's facilities.
NCCU sophomore Amaya Jackson wrote, "I thought the preschool was an amazing addition to the overall school at OCPS ACE." She also was "fascinated by the idea that a school can have multiple partnerships" — and "as many as seven," which is the case at OCPS ACE.
"This visits with both [schools] opened my eyes to the incredible, life-changing work that community schools and community partnership schools do," Jackson wrote.
Josh Podl, a senior at Duke majoring in public policy studies, was struck by "the depth and breadth of services provided at both schools, addressing needs such as health care, counseling, nutrition, and after-school programs." He wrote, "These opportunities offer students a chance to live a healthier and happier life, which in turn should help them focus and perform well in school."
As the newest member of the UCF Center for Community Schools, Assistant Director Hale said he loved the experience of taking the group to Evans and OCPS ACE. "I was amazed by the work," he said. "Even more, I was excited to share the experience with our guests."