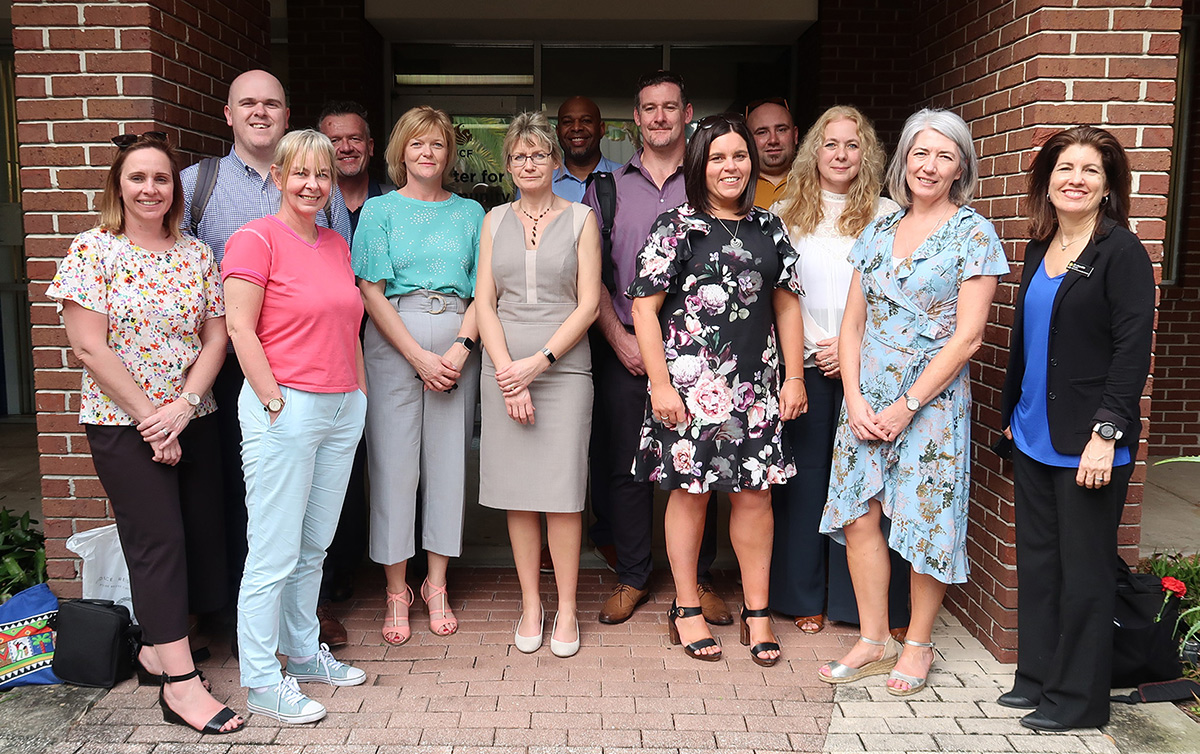 The site visitors outside the center's new offices in Ferrell Commons C with center Director Amy Ellis (right) and Assistant Director Donnie Hale (back row, center)  View more photos
The UCF Center for Community Schools recently hosted a group of Welsh educators interested in learning about community schools in the United States.
The site visit was for head teachers (similar to principals in the U.S.) from primary and secondary schools in Wales, which has the highest rate of child poverty in the United Kingdom.
The educators visited Feb. 11-14 to learn about UCF, the center and Community Partnership School™ model of community schools, a successful approach to reducing barriers to learning among children developed by UCF and the Children's Home Society of Florida.
Their trip was funded by the Welsh government and coordinated by the British Council of Wales to support the development of educators and community schools in Wales.
"We're honored to host this year's site visit," said center Director Amy Ellis. "In previous years, the council has sent educators to the National Center for Community Schools in New York City."
During their visit, the educators went to the center and the College of Community Innovation and Education, and they toured UCF's main campus and new downtown campus in Orlando. They heard presentations and participated in discussions about Community Partnership Schools and programs such as the Parramore Education Innovation District.
The group also toured three Community Partnership Schools in Central Florida: Evans High School in the Pine Hills community of Orlando, Orange County Public Schools Academic Center for Excellence (OCPS ACE) in the Parramore community of Orlando and Endeavour Elementary School in Cocoa. The trip to Evans included a panel session featuring staff members who discussed their roles in the Community Partnership School.
British Council employee Tanya Ramone accompanied the group to Florida. After returning to Britain,  she wrote, "The teachers feel that it was an absolute privilege to be involved … in large part due to the fantastic programme."
The educators next steps are to prepare a brief action plan for their schools using information gathered in Florida, according to Ramone. She'll share their plans with the center, as well as any other next steps.
"It's so important now that we keep the momentum going," Ramone added.