Health Administration, MHA
Degree: Master of Health Administration
Track: Executive Health Services Administration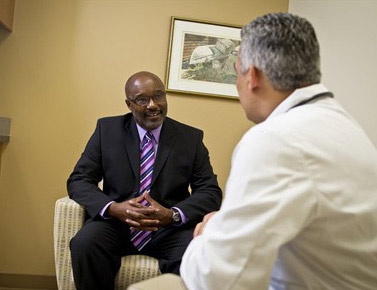 Health care administrators play an integral role in managing public health systems, hospital networks and health care facilities. Make health care management an integral part of your career by earning a master's degree in health services administration from UCF.
The 44-credit hour curriculum of the Executive Master of Health Administration* emphasizes leadership, strategic and financial planning, and issues and trends in health care. This track is offered entirely online to provide greater access to interested candidates and to accommodate the schedules of working professionals. Students who are admitted to the program will belong to a cohort that will take the same classes in the same sequence, allowing for greater collaboration and networking among students and an increased sense of community.
Whether you are a health care professional who is ready to move into a leadership position or a recent college graduate who wants to further your education, the Executive MHA will provide you with the knowledge, skills and abilities to succeed in the fast-changing field of health care management.
The Health Administration (EMHA) may be completed fully online, although not all elective options or program prerequisites may be offered online. Newly admitted students choosing to complete this program exclusively via UCF online classes may enroll with a reduction in campus-based fees.
*Formerly "Executive Master of Science in Health Sciences – Health Services Administration Track"
CAHME Accreditation
The Executive MHA at the University of Central Florida is accredited by the Commission of Accreditation of Healthcare Management Education. CAHME is the only organization recognized to grant accreditation to individual academic programs offering a professional master's degree in health care management education and is recognized by the Council on Higher Education Accreditation. CAHME Accreditation is the benchmark for students and employers alike that ensure the integrity of healthcare management education.
CAHME Mentorship Circle
CAHME Mentorship Circle status recognizes that the MHA program at the University of Central Florida — in addition to achieving the high standards of CAHME accreditation — engages in activities that help to extend CAHME's mission of advancing the quality of graduate healthcare management education. Mentorship Circle status recognizes that the program provides opportunities to other students and other programs to advance their own experiences and skills — for the good of the entire healthcare field.
The Master of Health Administration Program prepares current and future health administrators to make positive contributions to the health care industry. Our diverse student population achieves competence in the health care environment by:
Understanding health care systems
Applying business skills
Communicating and managing relationships
Demonstrating excellence in leadership
Exhibiting professionalism and ethical conduct
Our program competencies are developed through exceptional, media-enhanced instruction, and are reinforced through expert faculty who create and disseminate knowledge that improves managerial practice, strengthens health systems worldwide through global partnerships, and significantly contributes to the profession's body of knowledge through applied research, publications, and presentations. Program competencies are also applied through service-learning, experiential projects and practical internships with community partners.
Admissions and Advising
The Executive MHA at the University of Central Florida is 44 credit hours beyond the bachelor's degree. Admission to the program is competitive and contingent on meeting its requirements. Not all students who apply may be accepted, even if minimum requirements are met.
Our Executive MHA advisor, Hannah Nguyen, can guide you through the program and answer any questions you may have about the degree. However, we ask that you visit the FAQ section below, and check the Executive MHA student handbook before contacting our advisor as it may already provide the answer to your question.
For more information on the Executive MHA, download the program brochure from our UCF Online page.
What are the admissions criteria?
To be considered for admission to the Executive MHA, you must submit the following:
An official transcript of your undergraduate degree that shows a minimum 3.0 GPA
A one- to two-page goal statement describing why you want to pursue this degree or how it will help you meet your career goals.
Your resume
Candidates are also required to have at least three years' worth of administrative or clinical experience in health care.
Where do I apply?
All prospective students must apply via the College of Graduate Studies' website.
How much is the tuition?
The estimated cost per credit hour is $772.69. This includes all university fees, which may be subject to change. Current tuition rates can be found on the tuition and fees website. Be sure to select the appropriate program level as "graduate" to reflect the correct tuition cost.Please note that UCF employee and state tuition waivers are not accepted for this program.
What kind of financial aid is available?
UCF's Office of Student Financial Assistance provides aid to students who cannot afford the full cost of tuition. A variety of scholarships, grants and loans may be made available to students based on need and academic achievement. For more information, please visit the Office of Student Financial Assistance website.
Do I have to enroll as a full-time student?
Yes, students must enroll on a full-time basis and will be required to take two classes per semester. Students will be able to complete the program within two years.
Will I be required to visit the campus?
No. The Executive MHA can be completed entirely online and utilizes advanced video technology so that students can communicate with each other without having to visit the campus.
How many students will be accepted into the program?
Approximately 30 students are admitted every admission cycle, which starts in the fall.
How does the cohort model work?
The Executive MHA follows a cohort model, which means that each group of students admitted during the fall admissions cycle will progress through the program of study together. The advantages of this model include:
An increased sense of community
Enhanced opportunities for networking and collaboration
Faculty can cover certain topics in more depth
What was the completion rate for the last graduating class?
92% of the matriculating students completed the program within two years.
What percentage of students were employed within three months of graduating?
93% of graduating students were employed within three months of graduation.