The School of Global Health Management and Informatics offers several opportunities for students to get involved. Whether it is gaining real-world experience in an internship, learning about health systems in another country through study abroad, or networking with future colleagues through organizations, each experience brings opportunity for growth and success in your career.
Internships
Internships offer students the opportunity to apply theories and skills learned in the classroom to real-world healthcare settings. With hundreds of partnerships, the School of Global Health Management and Informatics provides numerous opportunities for students to gain valuable, hands-on experience.
Fellowships
Fellowships are scholarship opportunities offered to graduate students or recent graduates from one of our graduate-level programs. Fellowships provide students with the opportunity for hands-on learning and mentorship by top healthcare executives from across the country.
Student Organizations
The School of Global Health Management and Informatics offers students opportunities for networking and career development through several student associations. Join an organization to connect with peers, volunteer at events, tour healthcare facilities and explore job opportunities.
Health Services Administration Student Association (HSASA)
The Health Services Administration Student Association offers networking opportunities for students pursuing careers in healthcare administration. Members participate in numerous events throughout the year including socials, intramural sports, philanthropic events and fundraisers.
For more information, contact the association or visit them on Facebook or Twitter.
Student Health Information Management Association (SHIMA)
The Student Health Information Management Association promotes the health information management profession through educational events for students and volunteer opportunities that contribute to our campus and community.
For more information, contact Amanda Walden.
Upsilon Phi Delta Honor Society
Upsilon Phi Delta is a select and distinguished national academic honor society for students studying healthcare administration. The society recognizes, rewards and encourages academic excellence in the study of health administration. For more information, visit them on Facebook.
Graduate Health Network
The Graduate Health Network is an organization for students in the Master of Health Administration program. Join this organization to network and connect with other students in the program.
For more information, contact Kourtney Nieves.
Professional Organizations
Join a professional organization to connect with professionals in your field and advance your career.
Mentor Pods
The Mentor Pods program is designed to help students prepare for post-graduation career moves. Students work together to build essential skills and abilities to stand out in a competitive market. Led by a team of faculty, monthly meetings are held to go over resume and career development with preparation and information on the fellowship application process. Students can join the Mentor Pods program as early as their first semester.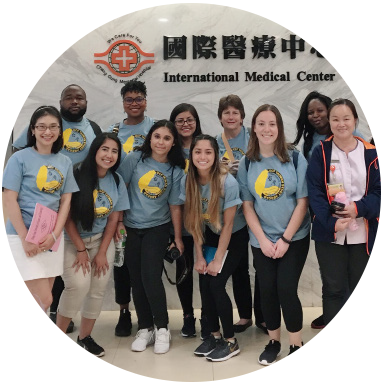 UCF in Taiwan: Asian Culture, Healthcare and Aging Society
In partnership with Chang-Gung University of Science and Technology, Chung-Shan Medical University and Hsiang Shang Social Welfare Foundation, as well as with local communities, the School of Global Health Management and Informatics offers an integrated study abroad program in Taiwan.
Students explore how Asian culture, values, and lifestyles influence the health of individuals and communities in Taiwan. Students learn about Taiwan's universal health insurance system, long-term care policies and resources related to an aging society. Students also observe community-based senior health programs in action. Site visits may include long-term care facilities, senior centers, night markets and cultural sites.
For more information, contact us or join our Facebook group.
Exploring Healthcare Systems
In collaboration with Javeriana University in Columbia and various key departments at UCF, the School of Global Health Management and Informatics invites students for an opportunity to gain a greater understanding of the healthcare system in Columbia. This program examines the socio and cultural characteristics of healthcare disparities in the diverse populations that make up both Colombia and the United States. Students will gain a basic understanding of the key elements of healthcare systems and will be able to identify useful ideas to address quality, access and delivery of care issues through a socio, economic, political and cultural lens.
This program will also include visits to the Javeriana campus, the Institute for Public Health research group, healthcare organizations and community health programs.
For more information, visit UCF Study Abroad.