Health Administration, MHA
Degree: Master of Health Administration
Track: Health Services Administration
Health care administrators play an integral role in managing public health systems, hospital networks and health care facilities. Make health care management an integral part of your career by earning a master's degree in health services administration from UCF.
The 51-credit hour curriculum of the Master of Health Administration* emphasizes leadership, strategic and financial planning, and issues and trends in health care. Classes are offered in both mixed-mode and face-to-face formats and are also offered at night to accommodate the busy schedules of working professionals.
Whether you are a health care professional who is ready to move into a leadership position or a recent college graduate who wants to further your education, the MHA program will provide you with the knowledge, skills and abilities to succeed in the fast-changing field of health care management.
*Formerly "Master of Science in Health Sciences – Health Services Administration Track"
CAHME Accreditation
The MHA program at the University of Central Florida is accredited by the Commission of Accreditation of Healthcare Management Education. CAHME is the only organization recognized to grant accreditation to individual academic programs offering a professional master's degree in health care management education and is recognized by the Council on Higher Education Accreditation. CAHME Accreditation is the benchmark for students and employers alike that ensure the integrity of healthcare management education.
CAHME Mentorship Circle
CAHME Mentorship Circle status recognizes that the MHA program at the University of Central Florida — in addition to achieving the high standards of CAHME accreditation — engages in activities that help to extend CAHME's mission of advancing the quality of graduate healthcare management education. Mentorship Circle status recognizes that the program provides opportunities to other students and other programs to advance their own experiences and skills — for the good of the entire healthcare field.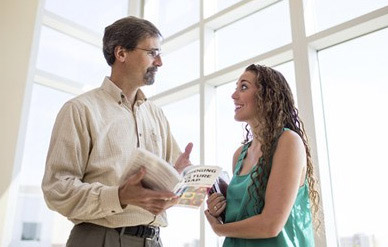 The graduate health services administration program at the University of Central Florida offers a health services administration track that is 51 credit hours beyond the bachelor's degree. Admission to the program is competitive and contingent on meeting its requirements. Not all students who apply may be accepted, even if minimum requirements are met.
Upon admission into the program, we ask that students meet with an academic advisor to develop a plan of study, which they will follow during their academic career. Our MHA advisors, Pamela Von Graff and Kathlyn Terry, can guide you through the program and answer any questions you may have about the degree.  However, we ask that you visit the FAQ section, or the MHA Internship FAQ section, before scheduling an appointment as it may already provide the answer to your question.
For more information on the MHA, download the printable brochure or view a breakdown of the course offerings in the UCF Graduate Catalog.