Health Services Administration, BS
The undergraduate health services administration program at the University of Central Florida is an upper-division professional curriculum leading to a Bachelor of Science degree. It is not a limited access program, so no additional steps need to be taken in order to enroll in the program.
Because this degree prepares students to work in a variety of settings, we encourage incoming students to start identifying their career interests as early as possible. Our undergraduate advisor, Pamela Von Graff, can guide you through the program and answer any questions you may have about the degree. However, we ask that you visit the FAQ section, before scheduling an appointment as it may already provide the answer to your question.
For more information, view a breakdown of our course offerings.
What can I do with this degree?
Career opportunities for health services administrators are diverse. While many work in a hospital setting, others are often employed by various types of health care facilities and organizations, including physician offices, nursing care facilities, home health care services and outpatient care centers.
Graduates also find positions in public health departments and other government offices. Others pursue careers in marketing, health insurance and selling health devices and pharmaceuticals.
Completion of a bachelor's degree can also prepare graduates for an advanced degree, which often increases opportunities for advancement in the field.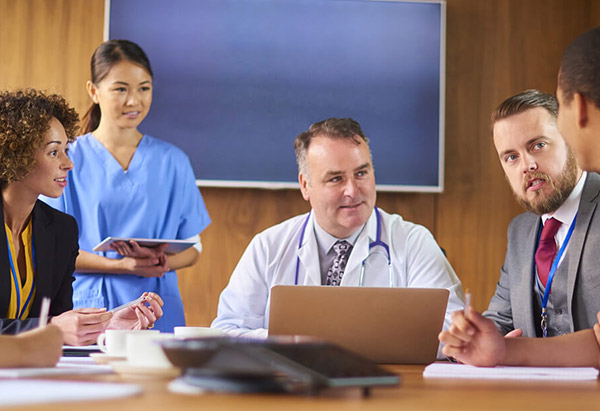 Possible job titles:
Patient care services administrator
Medical office manager
Human resources associate
Medical staff relations officer
Rehabilitation services manager
Community health manager
Nursing home administrator
Pharmaceutical sales representative
Assistant administrator for outpatient services