Honors Undergraduate Thesis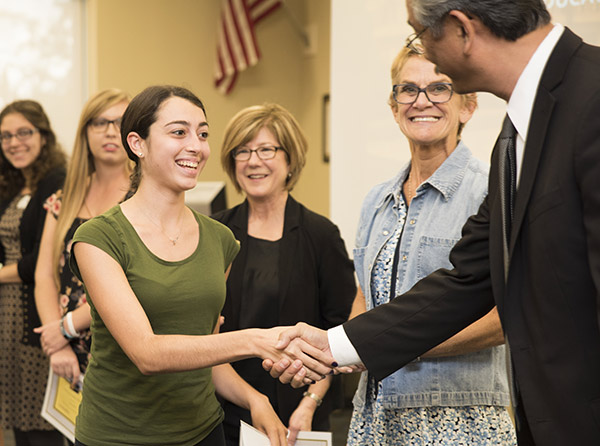 Honors Undergraduate Thesis (HUT) is UCF's most advanced undergraduate research program. It is designed to assist juniors and seniors to develop their own independent research project under the direction of a thesis advisor and faculty thesis committee. Students do not need to be Honors students to take advantage of the HUT program; it is available to all qualified UCF students. After a two semester sequence (i.e. readings and thesis hours), this project culminates in a successful oral defense and binding of the HUT thesis which is then catalogued and archived in UCF's library and the Burnett Honors College Reading Room.
The Burnett Honors College partners with all colleges in sponsoring HUT Scholarships. These $1,000 scholarships are awarded every fall and spring on a competitive basis within each college and are available to all students who are enrolled in HUT credit hours.
First, find out if you are eligible and meet the basic requirements by visiting the Honors Undergraduate Thesis admissions page. If you have questions or you almost meet the requirements, stop in and see the great folks in the Office of Honors Research (OHR), now relocated in Trevor Colbourn Hall, Suite 248 (Phone: 407-823-0851). Email HonorsResearch@ucf.edu with any questions. The HUT Coordinator will help you (1) apply for the Honors Undergraduate Thesis program and then (2) help get you registered. Remember you will be taking the Honors in Undergraduate Thesis project credit hours in the following semesters. You need a minimum of two semesters to complete the program. Additionally Dr. Padmini Coopamah Waldron, Director, is a valuable resource to your thesis chair and you.
You will need to gain the permission of a professor to serve as your thesis chair and work with you weekly as part of an independent study or Directed Readings. By the end of the semester of Directed Readings, you should have a 15-20 page proposal (with 15-20 references) outlining the Honors in Undergraduate Thesis project that is approved by your thesis chair, a committee of one additional person, and the Honors in Undergraduate Thesis Coordinator, Dr. Sherron Roberts. If you need help identifying a chair, Dr. Roberts can help.
Obtain all the necessary signatures on your application form and get the ball rolling. Even though you can now use HelloSign to obtain your chair's and Dr. Robert's signature electronically, please go introduce yourself to Dr. Roberts (ED 315T) in person, and seek her help to get started. Congrats!
For resources, videos, and PowerPoints, visit our Student Learning & Licensure (SLL).
Requirements
Honors in Undergraduate Thesis (HUT) is the oldest and most prestigious undergraduate research program at UCF and provides students from all disciplines the opportunity to engage in independent and original research as principal investigators. Over the course of at least two semesters, students work closely with a faculty committee to research, write, defend, and publish an original Honors thesis. Upon successful completion of the program, students earn Honors in Undergraduate Thesis distinction on their diplomas and transcripts. Contact Dr. Sherron Roberts.
At a minimum, the following criteria must be met for admission into the Honors in the Major program:
Sixty (60) completed hours of college credit
Twelve (12) completed upper division hours of college credit
At least a 3.4 UCF or Overall GPA
At least two semesters remaining prior to graduation
This GPA is calculated based on all college-level course work regardless of the institution. For the Honors in Undergraduate Thesis program, all GPA's are calculated without rounding.
If you are close to the above requirements, contact Dr. Sherron Roberts.
Application deadlines are typically three weeks prior to the beginning of a semester to give students time to obtain faculty signatures.
FAQs about Honors in Undergraduate Thesis