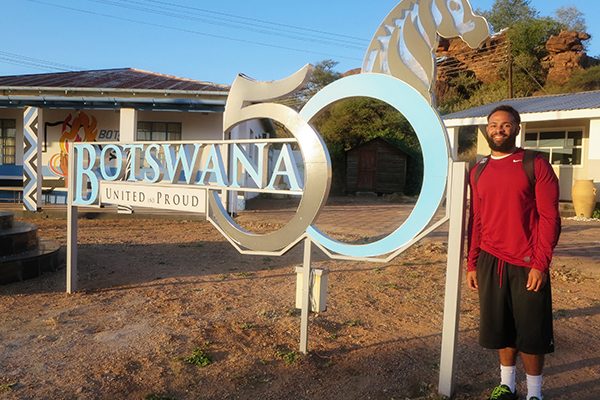 Participating in our college's Botswana study abroad program last summer inspired undergraduate student Maurice McLeish to create the Service Tour of Central Florida.
McLeish received a $1,000 John L. Brinson Endowed Scholarship and had an opportunity to visit multiple Botswana cities along with spending two weeks at the Artesia Junior Secondary School in Gaborone. He had an opportunity to receive hands-on experience by teaching classes and coaching sports teams. The schoolchildren traveled from faraway villages to receive an education by attending this Remote Area Dweller (RAD) school.
Global, international and comparative education professor Karen Biraimah was impressed with McLeish's campus involvement and community service and encouraged him to participate in the Botswana study abroad program.
"I was intrigued with Maurice and wanted him to be a part of the Botswana study abroad program because of his extensive involvement," said Biraimah. "He truly gives back and was on the right track before he visited Botswana. The trip enriched his determination."
During the service-learning trip, he learned that Botswana is one of the most stable nations in Africa and promotes social harmony where people live in peace and show mutual respect for each other.
The cultural and educational experiences in Botswana were ingrained in McLeish's mind. He wanted to make a difference in his community by creating the Service Tour of Central Florida after he returned from Botswana.
"There's a lot of negativity facing America right now and I wanted to see if there was something that I could do to build relationships and bring unity, positivity and happiness to my community with the help of UCF organizations on campus," said McLeish. "We can talk about change, but you eventually have to get your hands dirty and do the work."
Musical artists tour the country, so sport and exercise science student McLeish thought his idea shared a common bond with concert tours and came up with the name Service Tour of Central Florida because it was a similar concept where groups are traveling to different cities to help schools and nonprofit organizations.
Fifty-six UCF students and 10 organizations, including Progressive Black Men, Omega Psi Phi Fraternity and the National Association for the Advancement of Colored People (NAACP) have been participating in the Service Tour of Central Florida since August.
The student organizations mentor children and participate in events at the Boys & Girls Clubs of Central Florida and other community organizations.
McLeish was invited to speak about his study abroad program and community involvement experiences during the President's Appreciation Reception in November. The event honors UCF's Pegasus Society members—high-level university donors who are recognized for their lifetime giving levels of $1 million or more.
The Service Tour of Central Florida recently mentored children at the Apopka Boys & Girls Club. During the fall semester, Omega Psi Phi Fraternity and other UCF organizations joined forces to promote attending college in the future by participating in the Diplomas 2 Degrees Teen Zone at the Hughes Branch Boys & Girls Club.
The group organized a back-to-school drive for Palmetto Elementary School and donated 20 backpacks to the Boys & Girls Club in Lakeland during the summer. The Service Tour of Central Florida also conducted a holiday toy drive for the Boys & Girls Clubs of Central Florida in December.
Giving back and getting involved in your community is rewarding.
"UCF students have a lot to offer to the Central Florida community," said McLeish. "You also never know what will inspire or transform your life. Being involved in your community has so many positive aspects. There's not one negative thing that I can say about giving your time to somebody else. One kid can make your day. You can also see and feel how much your presence makes a difference."