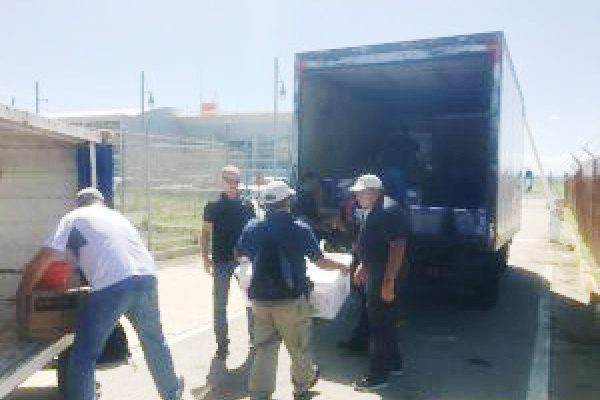 After Hurricane Maria's category five winds died down and the pounding rains ceased, Puerto Rico was left devastated and in darkness. Millions of people were left without power, potable water and a viable means of communication.
At Lockheed Martin's Aguadilla location, which had opened just one year earlier, the staff was lucky. The crisis management team had prepared for this situation and provided that location with a satellite phone that would work for a few minutes at a time.
"The first conversation I had through the [satellite phone] with our team on the ground was heart-wrenching: reports of massive damage, homes destroyed, and that many had no real means of calling for help," said Ron Hawks, '12, the crisis management leader for Lockheed's enterprise operations and enterprise business services. "A week of these phone calls with no signs of improvement in cell phone coverage, power restoration, and even gas continued to push a level of urgency and need that had to be addressed."
Instead of waiting for relief to come to their colleagues in Aguadilla, Hawks and his team decided to provide much-needed supplies to the residents of the island themselves. After multiple trips, they were able to bring in 80,000 pounds of supplies to the citizens of Aguadilla.
Two New Degrees
Hawks is just one of many emergency management professionals who assisted communities with recovery from the hurricanes this past year. He is also one of 365 emergency management professionals who has completed either a minor or a graduate certificate in emergency management and homeland security at UCF, which is ranked No. 6 in the nation for emergency management education by U.S. News and World Report.
That number will continue to grow after two new degree programs —  a B.A./B.S. in Emergency Management and a Master of Emergency and Crisis Management — launch this fall at the School of Public Administration. Once these degrees debut, UCF will become the first university in the state of Florida to offer both undergraduate and graduate education in emergency management.
While undergraduate classes will be offered face-to-face and online, all graduate classes will be offered online. This makes the MECM the first graduate-level emergency management degree to be offered online at a state university in Florida. Both degrees will also be among the first programs offered at UCF's downtown campus, opening in fall 2019.
These degrees are debuting at a time when natural and manmade disasters are on the rise. According to FEMA's website, the number of major disaster declarations increased in the U.S. from 36 in 1997 to 60 in 2017. Out of all 50 states and the U.S. territories with the most disaster declarations, Florida ranks fifth with 145 declarations between 1953 and 2017.
"Hazards and threats will continue to affect our communities," said Associate Professor Claire Connolly Knox, the director of the emergency management programs. "While we cannot completely prevent them, the School of Public Administration can prepare future emergency and crisis management leaders to effectively manage all hazards in their community."
Students and Alumni in Action
The school already has an extensive network of emergency management alumni, many of whom served their communities during Hurricane Irma. Michele Jones, '14, oversaw the response and recovery operations for Brevard County during Hurricane Irma and kept county leadership informed of evacuations, school and government closures, sheltering operations and residents' return to the county.
Meanwhile, in east Orange County, Michelle Cechowski, '14, the emergency preparedness manager for the East Central Florida Regional Planning Council, was providing more manpower to local emergency operations centers. At the same time, Maureen McCann, a meteorologist for Spectrum News 13 who is currently pursuing the Graduate Certificate in Emergency Management, worked both on- and off-camera, making the forecast, updating social media and communicating with the newsroom.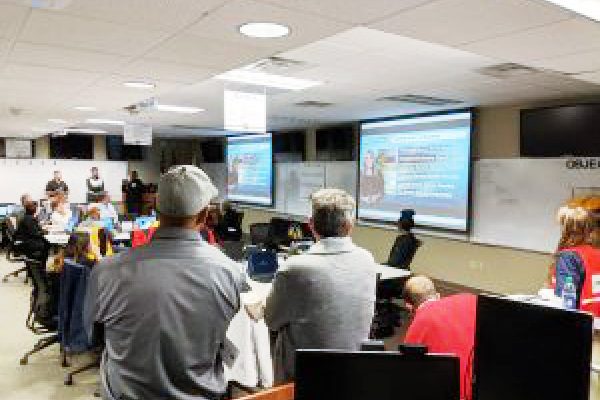 Then, just 10 days after Irma made landfall in Florida, Maria made landfall in Puerto Rico.
"During Maria, we were covering the storm heavily the morning it made landfall," McCann said. "We watched the data disappear from our radar,
StormTracker13, the moment the radar tower in Puerto Rico was knocked out of service."
For evacuees from Puerto Rico, Orlando International Airport was one of three debarkation sites. Keila Walker, '07, the emergency manager for the Greater Orlando Aviation Authority, was tasked with managing the Multi-Agency Resource Center for MCO.
"The Orlando MARC was staffed by over twenty-five local, state, and nonprofit agencies providing medical, human, social, economic assistance, and lodging and transportation support to evacuees," Walker said. "During the three months of operations at MCO, the Orlando MARC became the primary center in Florida providing support to 30,000 individuals."
Shortly thereafter, Hawks and his team began providing supplies to citizens in Puerto Rico.
"This is a small example of the network of alumni working on a myriad of disasters around the world," Knox said. "With alumni in every sector and level of government, we have an established network for partnerships and collaborations for new students in these programs."
A Need in the Field
As the frequency of natural and manmade disasters rises, the need for emergency management professionals will increase as well. According to the Bureau of Labor Statistics, employment for emergency management professionals is expected to increase 8 percent, or by an additional 800 jobs, between 2016 and 2026. The largest employer of emergency management professionals in 2016, the most recent year from which statistics are available, was local government. State government and hospitals were the second and third largest employers, respectively.
With fewer than 11,000 jobs available in the field, the BLS predicts that competition will remain strong for applicants in the field. But Hawks, who minored in emergency management, also predicts that UCF graduates who have an education in emergency management will have an edge over others.
"We're [Lockheed Martin] not the only ones who see the worth in emergency management, with the growth of the field and the value it brings to companies," Hawks said. "I genuinely feel that a B.A./B.S. in Emergency Management within the School of Public Administration will continue to give UCF alumni an edge in pursuing their passions as the private and public sectors continue to look for educated professionals to help build their own emergency management programs."
New emergency management students will have an extra edge, Knox said, because the curriculum incorporates FEMA's Professional Development Series, a group of independent study courses that provide foundational knowledge of emergency management. This means that students who graduate with either degree will be able to apply sooner for the Certified Emergency Manager designation from the International Association of Emergency Managers.
Knox said that the potential for promotion should also increase for graduates with an emergency management degree for UCF. Many alumni, including Jones, have already been promoted after completing the graduate certificate or minor.
"Emergency management, at its core, is about partnership — and through those partnerships, changing outcomes," Jones said. "To me, it was critical to continue my education in emergency management, so that I could provide myself with the tools and resources I needed to build strong, lasting partnerships within my community."
Shortly after Hurricane Maria, Hawks was promoted as well. He attributes his emergency management education at UCF to his success, both personally and professionally.
"I'm not sure what I'd be doing right now if the [emergency management and homeland security] program didn't exist, but I do know with it I have felt that I am where I want to be in my life and have found a career that helps me feel fulfilled," Hawks said. "I'm forever thankful to UCF for giving me that opportunity."