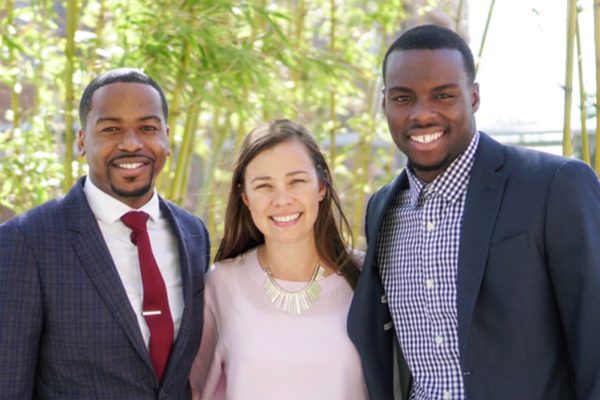 Counselor Education graduate students Jerry Jasmin, Ella Shepherd, and Giscard Petion (pictured left to right) were selected for the 2018 National Board for Certified Counselors (NBCC) Minority Fellowship Program as Master's Mental Health fellows for their knowledge of and experience with racially and ethnically diverse populations, and commitment to provide mental health services to underserved minority transition-age youth, ages 16 to 25.
When Petion discovered the field of mental health, it changed the way he managed internal challenges. As a child of a Haitian immigrant, "mental health was not something we talked about much. So as a student-athlete in undergraduate school, I internalized negative thinking." But now, he believes, "increasing the awareness and benefits of this field is important so that people within my community and other marginalized populations can get the help they need."
Still, it often surprises Petion how eager individuals are to share their lives when provided a safe, open space. "I ventured into counseling to change people's lives and help them live better, and I believe some people are more in need than others. There are significant disparities when you look at mental health access for certain demographics."
Jasmin says it is his passion to work with individuals from diverse backgrounds. He is also committed to working with professional athletes in an effort to normalize seeking mental health services in a culture where seeking help can be viewed as a sign of weakness. There is little research in this area, according to Jasmin, and he wants to contribute more evidence-based interventions to this framework of counseling.
Professional athletes involved in domestic violence, drug-related struggles, suicides, and even homicides have shown that "athletes can go astray like anyone else. Often times, these issues are viewed as acts of entitlement. However, I view these struggles as a result of trauma and pain. My goal is to foster a norm where we treat mental scars with the same emphasis that we place on treating broken bones and torn ligaments."
Too young to vote in the 2004 presidential election, Shepherd canvased neighborhoods, knocked on doors and spoke to voters. She realized a trend. Many individuals could not vote because of a felony conviction or other marks on their legal record. "I sat with these folks and learned their stories. My parents described some of the systemic racial injustices in our system. This had a grave impact on me. For the rest of my young adult life, I tried to figure out the role I play in the system and how I might best effect change."
The Parramore community lies east of Division Street, historically the racial segregation line. According to Shepherd, challenges in the community are often shaped by this line, as well as by other forms of historic and present-day racism. Shepherd volunteers at the Parramore Kidz Zone Baby Institute and helps parents (often transition-age youth) of young children (ages birth to 5) build knowledge and skills that result in better parenting and lead to better school readiness for their children.
"Like Ubuntu," Shepherd says, "which comes from a Zulu proverb that means, 'I am a person through other people. My humanity is tied to yours,' I have always felt a strong calling to serve, counsel, empower, and advocate for communities and individuals who are marginalized by the systemic, oppressive structures of our society."
Through the fellowship, Petion, Jasmin, and Shepherd have more opportunity to strengthen mental health support in marginalized communities and engage underserved populations in effective, culturally competent mental health services.
---
The UCF Counselor Education Program is designed to educate and prepare competent, professional counselors and counselor educators from diverse backgrounds to advance the profession through practice, scholarship, research, leadership, advocacy, and service. Counselor Education uses a reflective-practitioner model that integrates the use of intensive clinical experiences, research, intellectual and creative resources, and current technology to work within a diverse global society. The program further emphasizes a holistic approach to counseling whereby individuals, couples, and families are encouraged to achieve optimal personal, educational, and relational development.
Story originally published April 17, 2018