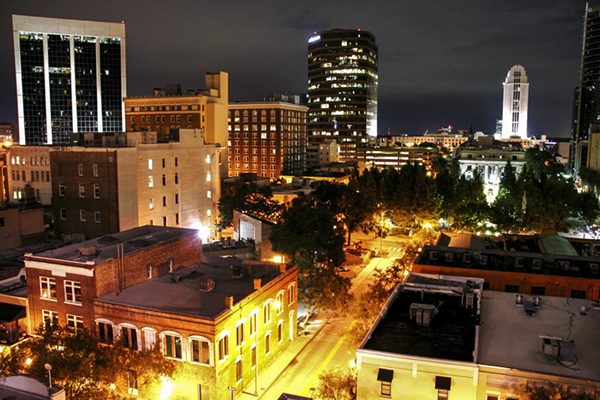 Students pursuing their master's degree in urban and regional planning in the School of Public Administration have an additional opportunity to apply for financial support. The Orlando Metro Section of the American Planning Association (APA) established the Judith Mucci Endowed Scholarship Fund at UCF. "The Judith Mucci Scholarship Fund will allow us to increase our capacity to support deserving and qualified students to achieve their goal of pursuing a graduate degree in urban and regional planning," says Luis Santiago, associate professor and director of the program.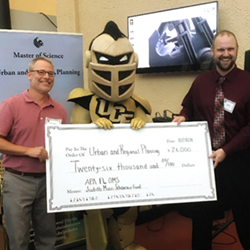 Joshua DeVries '16MS presents a $26,000 check to establish the Judith Mucci Scholarship Fund at UCF.
The scholarship fund, named in honor of Judith Mucci — an influential person in the history of the Central Florida planning community — was granted through a longstanding scholarship fund available to schools accredited by the Planning Accreditation Board (PAB). PAB determined that the program exemplified excellence in performance, quality and integrity and granted it the longest accreditation period of seven years. "Once the urban and regional planning master's degree program at UCF gained accreditation by the PAB, the Orlando Metro Section thought it was important to set up an endowment to honor Judith, while also acknowledging the hard work of the faculty, staff and students who have been part of the program," says Joshua DeVries '16MS who is a certified planner (AICP) and Transportation Planning Director for the Osceola County Transportation and Transit Department.
Alumni continue to be a driving force in the development of the program, ensuring a continued connection with the local planning community. Establishment of the UCF scholarship at UCF was led by DeVries, the APA Orlando Metro Section's president, and Emily Hanna '15MS, AICP, their first vice president. "Without our strong alumni base and the leadership of our graduates, this opportunity would not have been possible," says Christopher Hawkins, associate professor and former director of the program.
The scholarship recipients are also invited to present their capstone projects at an APA Orlando Metro Section board meeting, further solidifying the partnership with the local planning community. This scholarship is a "recognition of the quality of our program's students and willingness of the Central Florida planning community to support their work. It raises the visibility of the program and allows us to showcase the partnerships we have," says Hawkins.
---
The School of Public Administration at the University of Central Florida is dedicated to providing a quality education to undergraduate and graduate students who are interested in pursuing careers in nonprofit management, urban and regional planning, research administration, emergency management, and public administration. We strive to create a brighter future for our students so that they, in turn, can better serve the community.