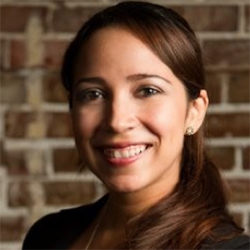 Marellys Moreno
Planning is an interdisciplinary field of study that focuses not only on urban and regional development efforts but also on current and potential impacts of development decisions on surrounding communities. In her position as a program associate for the Lake County Housing and Community Development Division, Marellys Moreno studies the impact that development efforts have on residents and communities within Lake County.
Moreno began her career with an interest in architecture. After taking courses in urban planning while studying in Venezuela, Moreno realized that urban planning was her calling. She completed a bachelor's degree in urban and regional planning before relocating to Florida to pursue a graduate degree from UCF. Moreno completes her master's in urban and regional planning in spring 2019.
Moreno found an opportunity to help community residents while doing something she truly loves. She performs environmental reviews for the county and interacts with different organizations such as FEMA and the Historic Preservation Society. Her work ensures that as areas develop and grow, potential effects on communities are identified and properly addressed. Moreno has a passion for serving lower-income communities and appreciates the field of urban planning because it provides opportunities for everyone to have their voice heard.
Moreno attributes many of her career-related opportunities to the urban and regional planning program's relationship with community residents and organizations. "The university and the urban planning program were very helpful in connecting me with the planning community," said Moreno. From projects to job announcements, students in the program are consistently interacting with the planning community and provided opportunities for growth and experience through these interactions. It is because of students such as Moreno that the School of Public Administration's community outreach efforts in the Central Florida area continue to grow and thrive.
Existing ties between the program's students and the broader planning community will be strengthened with the School of Public Administration's move to UCF Downtown in August 2019.
---
The School of Public Administration at the University of Central Florida is dedicated to providing a quality education to undergraduate and graduate students who are interested in pursuing careers in nonprofit management, urban and regional planning, research administration, emergency management, and public administration. We strive to create a brighter future for our students so that they, in turn, can better serve the community.