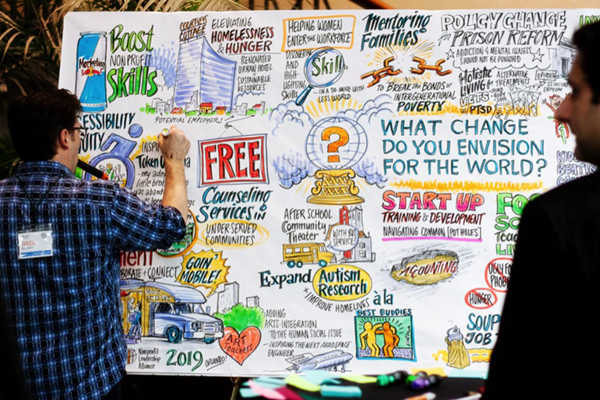 The Alliance Management Institute (AMI) conference, hosted by the Nonprofit Leadership Alliance, brings hundreds of students and nonprofit practitioners from across the country together for three days to engage in captivating discussions surrounding this year's "envision" theme. The Nonprofit Leadership Alliance provides students with the necessary skills and knowledge, practical experience and perspective to be successful in the nonprofit sector. AMI was held in conjunction with the 17th Annual Central Florida Community Partners Nonprofit Conference, hosted by the Nonprofit Advisory Board in the School of Public Administration. Over 40 undergraduate and graduate students from UCF attended this year's conference with Stephanie Krick, associate lecturer and director of the Nonprofit Leadership Alliance program at UCF.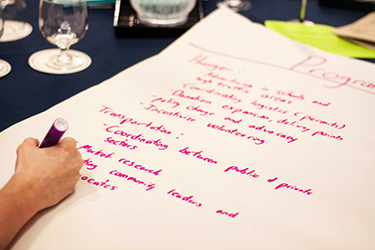 Students develop solutions surrounding three necessities that are most costly for families and contribute to poverty: food, transportation and housing. Photo courtesy of Erin Poppe.
The conference addresses the challenges directly facing communities; for Central Florida, one of the significant areas of need is poverty. Based around the framework of the Florida Project film, students viewed the challenges of poverty from a variety of lenses. Almost 350 students heard from experts in transportation, hunger and housing, participated in role-play activities and developed multi-channel solutions for increasing the accessibility of support for those living in poverty. "This conference is a great way to bridge the gap between the academic world and the practitioner side of nonprofits," says Eric Gray, executive director for United Against Poverty.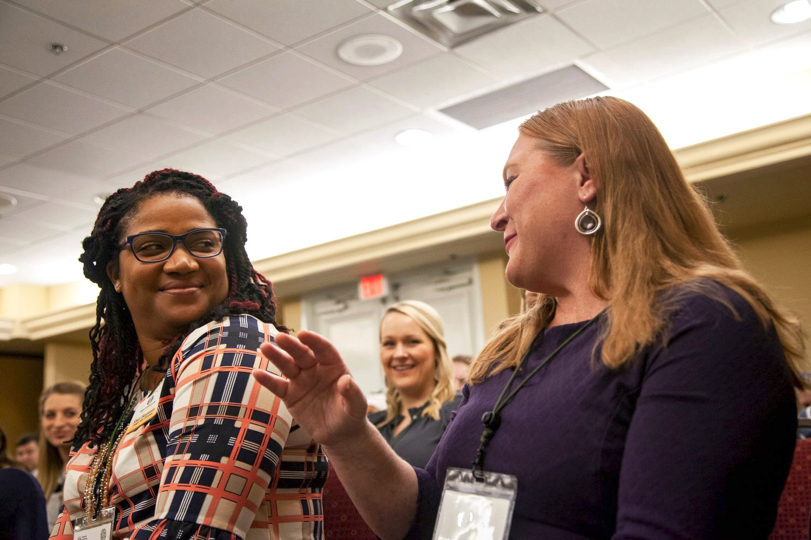 Conference attendees enjoy opportunities to network and connect with others. Photo courtesy of Erin Poppe.
On "consulting day," over 100 students work with nonprofit organizations to critically evaluate issues presented in a case study and develop a presentation based on their recommendations. Consulting day provides a space for students to use the strategies and skills discussed in their courses to actively address real challenges facing the nonprofit community. "Consulting day allows students to think about challenges from various vantage points and management styles. This includes using strategies that they might not consider in a traditional sense, such as how to integrate for-profit organizations as agents for social change," says Charise Liburd, senior program manager for the Orange County Citizens' Commission for Children.
Not only do students benefit from the experience, but also the nonprofit organizations that participate benefit as well. "Having a fresh insight from students currently studying the industry is very valuable. Their formal training comes with some new practices that nonprofits might not be aware of. Fresh ideas are always a welcomed prospect for any nonprofit," says Phil Zoshak, executive director of Hero Spark, one of the nonprofits that participated in consulting day. "We asked our students to help us rethink our development strategy, and we will be using some of their insight to update our current plan."
The conference provides an opportunity for nonprofit professionals and faculty to connect with others to discuss new strategies to tackle some of the challenges their organizations are facing. For Gray, the conference is a chance to connect with students that will eventually lead the nonprofit community. "As one person, I will only be able to have a limited impact, but the greatest impact can occur by interacting with and educating future nonprofit professionals."
Kayla Aragon Rhodes, a student in the master's of nonprofit management program, reflects on her experiences at the conference.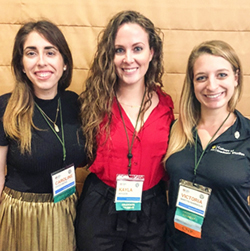 Kayla Aragon Rhodes, with other conference attendees, Victoria and Caroline.
Why did you decide to attend the conference?
One of the biggest benefits of graduate school is the networking opportunities, and in an online program, I do not get the in-person interaction to the same capacity as programs that meet face-to-face. The opportunity to network outweighed any fiscal costs associated with attending.
How does the conference experience relate to what you learn in your classes?
In class, we learn a lot of concrete objectives, for example, the importance of how a mission can draw constituencies or how changing trends influence leadership. The conference put those abstract objectives into something tangible.
What was your favorite part of the conference?
It is tough to pick just one, but the one-on-one "interview" opportunities were quite valuable. There were several executives that made themselves available for one-on-one sessions where you could ask questions, have them look over your resume, talk about future goals and receive honest feedback. Both of mine were open conversations with challenging questions and thought-provoking advice. I now stay in contact with both individuals and consider the networking opportunity priceless.
How was your experience with consulting day?
Consulting day allowed us to put what we learn in class into real-world scenarios with a team. There are several classes in the program that require us to wear a consulting hat but this was a different environment. We were put on the spot to showcase what we know, collaborate with others, and produce a worthy product in a short amount of time. It was a good example of how the skills discussed in our courses can be used in the future. It made me feel more optimistic, encouraged and confident that this program and field are where I belong.
What was the most rewarding part of the conference for you?
The most rewarding part was reflecting on all the good that came out of attending the conference. At the end of the conference, I looked back at the experience and saw all my new connections on LinkedIn, read through notes from workshops and keynote speakers, looked at new books I received and completed the process for the certified nonprofit professional certification. It is amazing how much can be packed into three short days - friends, memories and a certification I can hold on to forever.
---
The School of Public Administration at the University of Central Florida is dedicated to providing a quality education to undergraduate and graduate students who are interested in pursuing careers in nonprofit management, urban and regional planning, research administration, emergency management and public administration. We strive to create a brighter future for our students so that they, in turn, can better serve the community.