The Department of Legal Studies at UCF was proud and honored to host renowned national scientist Dr. Peter L. Platteborze for a visit to the UCF campus from Wednesday, February 27-Friday, March 1, 2019.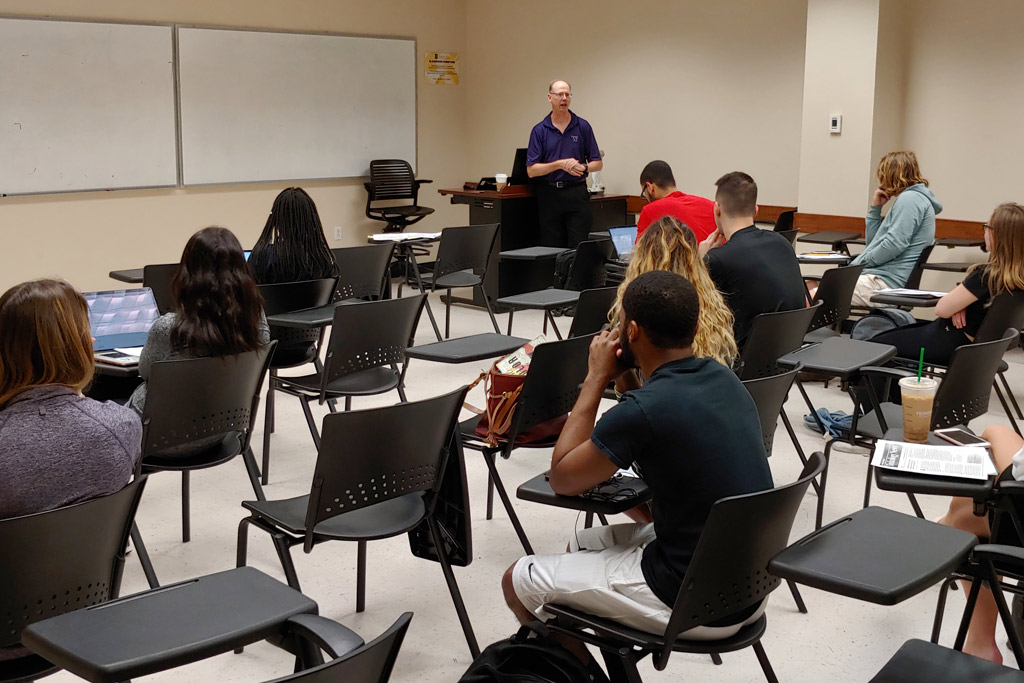 Dr. Platteborze speaking to Professor Beckman's Legal Studies Capstone class
Dr. Platteborze is a world-renowned expert on biological and chemical warfare and forensics and currently teaches Forensic Sciences in the Criminology Department at St. Mary's University in Texas. Dr. Platteborze, who holds a Ph.D. in Biochemistry, is only one of approximately 505 scientists in the United States who is a board certified clinician in this area and is a highly sought after expert. Before entering academe, Dr. Platteborze spent as a career running government laboratories as a military officer (Lieutenant Colonel, Army) and scientist and was one of the Army's experts on providing testimony in court on issues of forensics and drug testing policies and the impact on drugs on a defendant's biochemistry and how such drug intake (or lack thereof) impacted issues of ultimate criminal responsibility in cases. Dr. Platteborze has been an expert witness in over 50 federal cases, among other things. For several years, Dr. Platteborze also was the Director (i.e., Dean) of the Army Medical School in San Antonio.
Dr. Platteborze and UCF's Legal Studies Professor James Beckman have known each other professionally for over thirty years. Dr. Platteborze came to UCF at Professor Beckman's invitation to speak to UCF Legal Studies students on how UCF students should interact with expert witnesses (as future lawyers) and Dr. Platteborze spoke with the students on how to better appreciate the role and the need for forensic evidence in trials and how to effectively utilize expert witnesses at trial. Dr. Platteborze also spoke about recent examples involving the usage of biological and chemical warfare, including the attack/assassination on a relative of the current North Korean leader while the victim was standing in public at an international airport. Dr. Platteborze also authored a short article on this topic that is provided below.
Dr. Platteborze spoke to Professor Beckman's Legal Studies Capstone Class on Wednesday, February 27 (as seen in photo) to great interest amongst the students. On Thursday, February 28, Dr. Platteborze was hosted at UCF's National Forensic Science Center and toured UCF's Forensic Science Center as part of his three day visit to UCF.