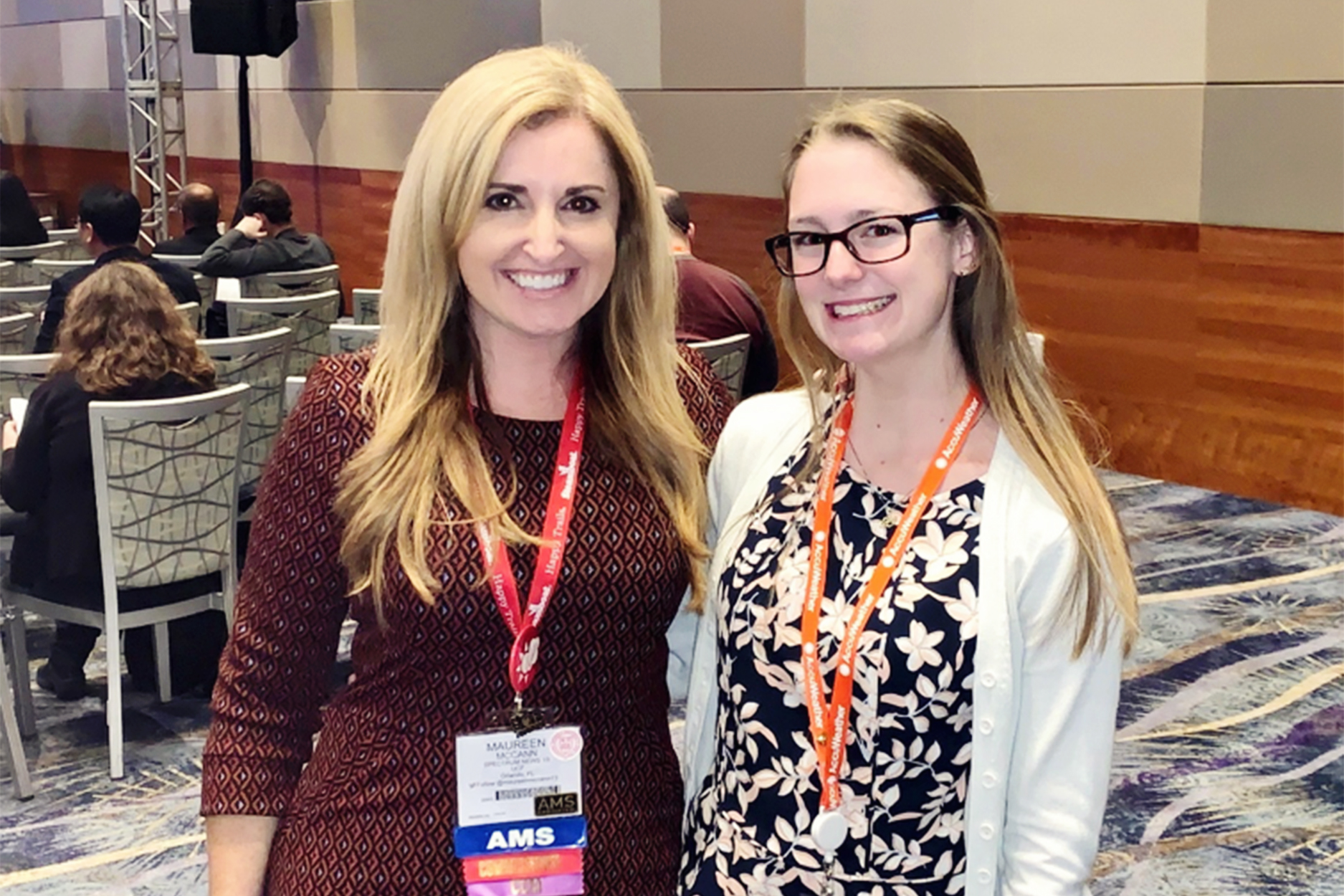 McCann and Kinnett attend the 2019 American Meteorological Society Conference in Phoenix, Arizona.
College provides opportunities to explore personal interests, try new things and develop plans to achieve academic and professional goals. With multiple options, many students question their academic path and seek additional guidance regarding their career choice — which is exactly what Hannah Kinnett did when she transferred to UCF to pursue a bachelor's degree in emergency management.
Kinnett found herself in a challenging transition when she decided to shift from her childhood dream career as a meteorologist to a career in emergency management. "Even though I knew what I wanted next, it was still heartbreaking. I wanted to be a meteorologist since I was a kid, so it was hard to let that childhood dream go," says Kinnett. It was through her meteorology advisor that she connected with Maureen McCann.
McCann, pursuing a master's degree in emergency and crisis management at UCF and a broadcast meteorologist for Spectrum News 13, saw a lot of herself in Kinnett's experience. "She has a unique interest in both meteorology and disaster preparedness, which is exactly where my interests lie," explains McCann. Through these shared interests, the two established a strong connection McCann expects to continue for years to come. Kinnett admits that when she met McCann, she was uncertain how to combine her interests in meteorology and emergency management and credits McCann as one of the people who helped to put things in perspective.
According to a survey of the American Society for Training and Development, about 75% of executives said a mentor was critical to their professional success. "Mentorship is important, especially for students," says Mirtha Bailey, experiential learning coordinator for the School of Public Administration. "Students can learn a lot through exposure to professionals in their industry. It's a great way to gain a deeper understanding of public service from practitioners in the field. Also, mentors are oftentimes great references for employment in the future." Professional mentors, Bailey says, provide an additional level of understanding and insight for students whose career aspirations have an indirect path. She suggests joining student organizations and speaking with professors and academic and career advisors to network and establish relationships.
For many mentors, the relationship with their mentee is not a one-way street. McCann says mentors might find more value in the relationship with a willingness to learn from mentees. Mentors might expand their own network, improve communication skills and engage in self-reflection to reassess their own goals.
The duo discusses everything from how to network effectively to how to apply for and choose internships. Kinnett is working with Boeing as a security and fire protection multi operations specialist intern this summer. "Navigating a career can be difficult without support and guidance, especially just entering an industry. Developing professional relationships can steer you in the right direction, provide a sounding board for challenging times and help grow your network with opportunities to meet new people," says McCann. Kinnett and McCann expanded on their networking discussions at the American Meteorological Society (AMS) annual conference. Before and during the conference, McCann connected Kinnett with members on the emergency management committee for AMS, and through those experiences, Kinnett became a student member on the emergency management committee. "It was great having Maureen there to support me and introduce me to so many people — people I am still in contact with," Kinnett continues. "I really can't thank her enough."
---
The School of Public Administration at the University of Central Florida is dedicated to providing a quality education to undergraduate and graduate students who are interested in pursuing careers in nonprofit management, urban and regional planning, research administration, emergency management and public administration. We strive to create a brighter future for our students so that they, in turn, can better serve the community.
---