Our newest faculty members bring with them a range of research interests and scholarly accomplishments, which further strengthens the college through our collective contributions. Read up on 16 of our newest faculty members who join the College of Community Innovation and Education this academic year.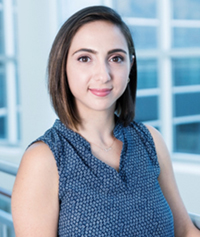 Aline Abassian, Ph.D.
Visiting Lecturer
Mathematics Education
Dr. Aline Zghayyar Abassian '12 '14MS '18PhD is a visiting lecturer of mathematics education in the School of Teacher Education. She teaches mathematics methods and content courses for prospective elementary and secondary teachers. Dr. Abassian previously taught high school mathematics. Her teaching experience inspired her research focus to explore mathematical knowledge for teaching, and the mathematical learning of K-12 students through the use of mathematical modeling. She presented her work at numerous academic conferences, including the annual and research conferences of the National Council of Teachers, the Association of Mathematics Teacher Educators, the North American Chapter of the International Group for the Psychology of Mathematics Education and the Research Council on Mathematical Learning. Dr. Abassian is a member of these professional organizations, as well as Kappa Delta Pi — the International Honor Society in Education. She also published manuscripts related to her work in various peer-reviewed academic journals. She was awarded multiple honors at UCF, including the Award for Excellence by a Graduate Teaching Assistant, the Doctoral Research Support Award and the Graduate Dean's Fellowship award. At UCF, Dr. Abassian received a master's degree in teacher leadership with a mathematics education focus, and a doctorate in education with an emphasis in mathematics education.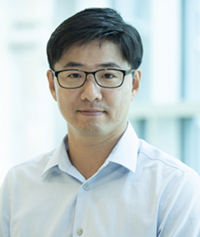 Seongho An, Ph.D.
Assistant Professor
Nonprofit Management

Dr. Seongho An is an assistant professor in the School of Public Administration. Dr. An received his master's degree in social welfare from Yonsei University in South Korea and his doctorate in social policy and practice at University of Pennsylvania. His research focuses on E-advocacy of nonprofit organizations and digital technology in nonprofit management. Dr. An also worked as an assistant manager on the Corporate Social Responsibility team at LG Chemical.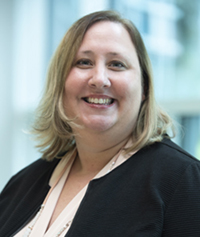 Bethany Backes, Ph.D.
Assistant Professor
Criminal Justice and Social Work
Dr. Bethany Backes is an assistant professor in the Violence Against Women Faculty Cluster, with a joint appointment in the Department of Criminal Justice and School of Social Work. Her areas of scholarship encompass research and evaluation on violence against women and crime victimization, including formal and informal help-seeking trajectories, secondary and tertiary violence prevention strategies, and criminal justice and community-based interventions related to interpersonal violence. Dr. Backes spent a decade directing research and evaluation on violence against women and violent victimization at the National Institute of Justice at the U.S. Department of Justice. Her oversight of the institute's Violence Against Women Program of Research led to the development of major initiatives and rigorous study on sexual assault forensics and case attrition, domestic violence homicide, and criminal justice and community-based responses to violence against women. She also developed and instituted a researcher-practitioner program to support junior and senior researchers in establishing on-the-ground collaborations to tackle prominent criminal justice issues at the local level. Prior to her work at the institute, Dr. Backes spent several years in direct services, research and health education, primarily focused on victimization and injury prevention.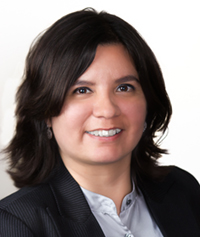 Maritza Concha, Ph.D.
Lecturer
Nonprofit Management

Dr. Maritza Concha '11PhD received her doctorate in public affairs with a concentration in public administration from UCF and a master's degree in Latin American Studies at University of Miami. For the past 15 years, she worked as an evaluator for local non-profits, serving Latino/a immigrants. Dr. Concha's other interests include service partnerships and evaluating projects that serve at-risk populations, such as victims of human trafficking, refugees and low-income minorities. Dr. Concha published her research and evaluation studies in peer-review journals like Journal of Immigrant and Minority Health, Hispanic Journal of Behavioral Sciences, Journal of Community Practice and International Journal of Public Administration. She is a member of the Advancing Collaborative Evaluation Network, funded by the Annie E. Casey Foundation, and an active member of the American Evaluation Association.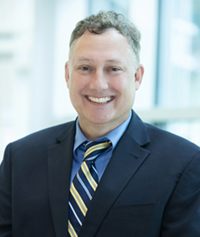 Daniel Eadens, Ed.D.
Associate Professor
Educational Leadership
Dr. Daniel Eadens is an associate professor in the Department of Educational Leadership and Higher Education. Before coming to UCF, Dr. Eadens was the assistant department chair, study abroad coordinator and tenured associate professor of educational leadership at Northern Arizona University. In his early career, he taught elementary school music, middle school special education math and science, and was a behavior specialist and school administrator at several Florida public schools. Dr. Eadens is a retired Army Reserve major with foreign service in Japan and Iraq. His research focuses on critical issues in education, such as school safety, social justice and school boards. He also co-edited the book Social Justice Instruction: Empowerment on the Chalkboard, and remains active in professional associations and his research. Dr. Eadens has published peer-reviewed journals, chapters, a book, book reviews, online professional publications, is an editor, and reviews for a half dozen professional journals.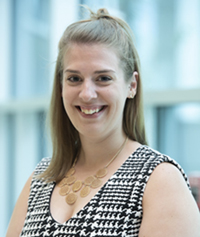 Erica Fissel, Ph.D.
Assistant Professor
Criminal Justice
Dr. Erica Fissel is an assistant professor in the Department of Criminal Justice, with a secondary appointment with the Violence Against Women Faculty Research Cluster. Dr. Fissel received her doctorate in criminal justice from the University of Cincinnati. Her research primarily focuses on interpersonal victimization that occurs in cyberspace, including cyberstalking and intimate partner cyber abuse. Dr. Fissel's research examines the correlation between victimization and perpetration, the reporting and help-seeking behaviors of victims, and the consequences of victimization. Her recent work was published in the Journal of Quantitative Criminology, Journal of Interpersonal Violence, Crime and Delinquency, and Violence and Victims. Dr. Fissel also works with the Cybercrime Support Network, a non-profit organization, to implement and evaluate programs that assist victims of cybercrime.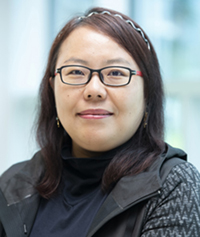 Xiangping "Coco" Gao, Ph.D.
Lecturer
Dr. Xiangping 'Coco' Gao is a lecturer in the Department of Learning Sciences and Educational Research. She received a doctorate in recreation, park, and tourism sciences from Texas A&M University. She was a research specialist in the Center for Social Research at North Dakota State University before joining UCF. She taught an undergraduate research methods course on eLearning and offered guest lectures for tourism and hospitality management students at both prior universities. Her research specializations cover pro-environmental tourism management in public and private sectors, visitor behaviors in urban and cultural tourism, and cultural competencies in public health education and services. She analyzed socio-behavioral data from a number of surveys, interviews, and secondary data sources at state and local levels through federal and state grants.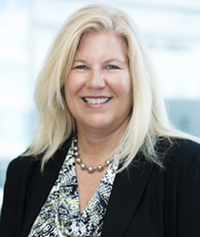 Elizabeth Gillham, J.D.
Visiting Lecturer
Legal Studies
Elizabeth S. Gillham is an attorney and Florida Supreme Court-certified circuit civil mediator and qualified arbitrator. She was a civil litigator for 16 years before transitioning her practice into dispute resolution full-time. An adjunct lecturer for the Legal Studies Department since 2014 and an assistant moot court coach since 2013, this year, Gillham starts UCF's first undergraduate-level mediation team.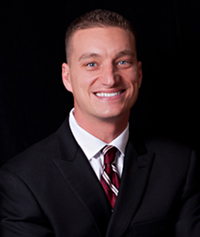 Ryan Labrecque, Ph.D.
Assistant Professor
Criminal Justice
Dr. Ryan Labrecque is an assistant professor in the Department of Criminal Justice. Dr. Labrecque earned his doctorate in criminal justice from the University of Cincinnati, and previously worked as a probation and parole officer in Portland, Maine. His current research focuses on the development and validation of offender risk assessment systems, the evaluation of correctional interventions, and the use and impact of restrictive housing in prison. Dr. Labrecque's work is published in Crime and Delinquency; Criminal Justice and Behavior; Journal of Offender Rehabilitation; Psychology, Public Policy, and the Law; and The Prison Journal. He was awarded a 2014 Graduate Research Fellowship from the National Institute of Justice for his dissertation that examined the impact of solitary confinement on inmate behavior in Ohio. He is also a co-principal investigator on a 2016 Bureau of Justice Assistance Encouraging Innovation grant to develop and evaluate a cognitive-behavioral treatment program for inmates in administrative segregation settings. More recently, Dr. Labrecque received a 2017 New Investigator/Early Career Award from the National Institute of Justice to conduct a mixed-methods study of interpersonal violence and institutional misconduct in the Los Angeles County jail system.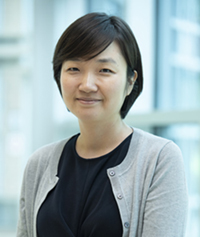 Young-joo Lee, Ph.D.
Associate Professor
Nonprofit Management

Dr. Young-joo Lee is an associate professor in the School of Public Administration and joins the college from University of Texas at Dallas, where she taught nonprofit management for 10 years. Dr. Lee received her doctorate in public administration at University of Georgia. Her primary research areas include nonprofit management, volunteering, diversity and organizational publicness. Her research appeared in leading journals in the field, including Nonprofit and Voluntary Sector Quarterly, Nonprofit Management and Leadership and Public Administration Review. She was named one of the authors of the 75 most influential articles ever published in Public Administration Review.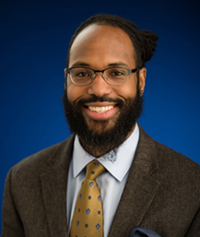 L. Trenton S. Marsh, Ph.D.
Assistant Professor
Learning Sciences
Dr. L. Trenton S. Marsh currently serves as an assistant professor in the Department of Learning Sciences and Educational Research. Prior to joining UCF, he received his doctorate in urban education at New York University's Steinhardt. His dissertation, "Success at a Price," received the 2015 Mitchell Leaska Dissertation Research Award and the 2016 Phi Delta Kappa Doctoral Dissertation Award. Dr. Marsh completed a two-year postdoctoral research fellowship at the National Center for Institutional Diversity at the University of Michigan where he taught a qualitative research lab and explored experiences of students who participated in Wolverine Pathways, an equity and inclusion initiative at the university. His research interests include the conceptualization of student success, teacher-student interactions, the social context of education, and school choice with an emphasis on "no excuses" public charter schools. He also explores experiences of low-income students and families of color to help inform equitable pedagogies, policies and processes in education serving preK-12 and higher education students. Dr. Marsh's work was published in Urban Review, Boyhood Studies, GSE Perspectives on Urban Education and Education Week.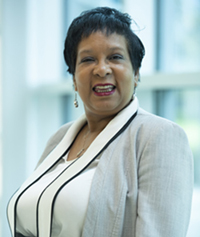 Sheila Moore, Ph.D.
Visiting Lecturer
Educational Leadership
Dr. Sheila Moore is a visiting lecturer in the Department of Educational Leadership and Higher Education. She served as an assistant professor at Florida A&M University where she taught courses in educational leadership at the master's and doctoral level, and served as dissertation chair. A former teacher and school leader, Dr. Moore also served the profession through the Florida Association of Professors of Educational Leadership, Florida Department of Education, Southern Regional Council on Educational Administrators, American Education Research Association, American Association for Colleges of Teacher Education and other organizations. Her research interests include leadership preparation programs, clinical practices, collaborative partnerships and social justice in school leadership — with an emphasis on female leadership in urban settings and mentorship for doctoral student development. Dr. Moore also received teaching, research and mentoring awards, and was recently invited to write reviews for the Teachers College Record.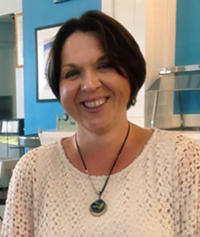 Audra Skukauskaitė, Ph.D.
Associate Professor
Methodology, Measurement, and Analysis
Dr. Audra Skukauskaitė comes to UCF from positions as a research consultant for the Lemelson-MIT invention education program at the Massachusetts Institute of Technology, senior research scientist at Klaipeda University in Lithuania and adjunct professor for qualitative research methodology at Saybrook University. Dr. Skukauskaitė taught qualitative research methodology and research design courses for over 13 years in graduate programs in Texas, California and Lithuania, and has led seminars on interviewing, ethnography, discourse analysis, narrative research, academic writing for international publication and others for faculty and doctoral scholars across Lithuania, as well as in Finland, Sweden and Australia. She published multiple academic articles and book chapters on research methodology, transparency, and the teaching and learning of research. Dr. Skukauskaitė also published in the emerging field of invention education and co-edited a special issue of the National Academy of Inventors journal Technology & Innovation. She serves on editorial boards of four journals and has extensive experience reviewing and supporting the writing of manuscripts for academic publications. Dr. Skukauskaitė's interests focus on teaching and learning of research methodology within and beyond doctoral programs, transparency in ethnographic and qualitative research design and reporting, invention education, and learning and access to research internationally.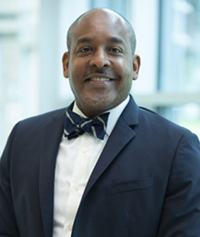 Larry Walker, Ed.D.
Assistant Professor
Educational Leadership
Dr. Larry Walker is an assistant professor in the Department of Educational Research and Higher Education. Prior to joining UCF, he served as a lecturer in educational leadership at Loyola University Maryland and held a faculty appointment at Howard University. Dr. Walker has nearly a decade of experience working in rural, urban and suburban school districts. He researches traits of successful leaders in preK-12 education, higher education and policy, recruitment and retention of black male teachers, the impact of environmental factors on the academic performance and socio-emotional functioning of black students from preK to doctoral education, and how federal and state policies impact underserved and marginalized populations. Dr. Walker co-edited two books, authored and coauthored several peer-reviewed journal articles and book chapters and served as legislative director for former Congressman Major R. Owens.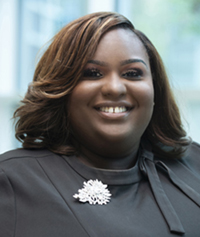 Amanda Wilkerson, Ed.D.
Assistant Professor
Higher Education and Policy Studies
Dr. Amanda Wilkerson '16EdD is an assistant professor in the Department of Educational Leadership and Higher Education. She received her doctorate in higher education administration at UCF. Dr. Wilkerson seeks to build a better world through cooperation, collaboration and community action, writing educational materials and coordinating forums on significant social, educational and community matters. She served as the guest editor for the Urban Education Research and Policy Annuals: Hillard Sizemore Special Edition. She published several articles, and edited a book currently under contract. Dr. Wilkerson works to engage students in post-secondary learning through the development of instructional leaders who practice equity-based pedagogy. Specifically, she creates and manages collaborative partnerships that offer support for those who serve underserved student populations. Also, as a passionate supporter of civic engagement, Dr. Wilkerson works on community development projects, charitable causes, and advocacy initiatives for nonprofit organizations and governmental agencies.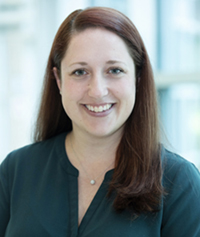 Melissa Zeligman, Ph.D.
Assistant Professor
Counselor Education
Dr. Melissa Zeligman '14PhD, who received her doctorate in counselor education at UCF, is an assistant professor in the Department of Counselor Education and School Psychology. Prior to joining UCF, Dr. Zeligman was an assistant professor of mental health counseling at Georgia State University. She also served as a mental health counselor in agency, medical, legal and high school settings. Her research focuses on mental health counseling for clients living with HIV/AIDS and other chronic illnesses, trauma and post-traumatic growth, and clinical skill development for counselors-in-training. Dr. Zeligman is also an active member of multiple divisions of the American Counseling Association, including the Association for Counselor Education and Supervision, the Association for Assessment, and Research in Counseling and the Association for Spiritual, Ethical and Religious Values in Counseling — where she currently serves as a board member and media committee chair.