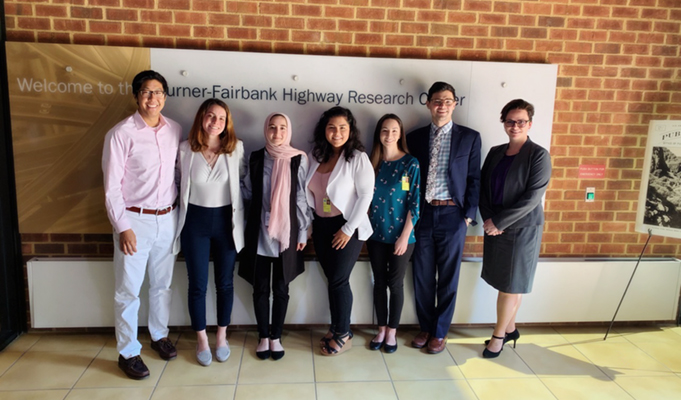 Parker Toro (second from left) interned as an analyst with the Department of Transportation.
Internships provide opportunities for growth and development for both graduate and undergraduate students. Internships, including out-of-state internships, are opportunities to expand your network, explore other communities and gain valuable experience in varied fields.
Parker Toro, a student pursuing a graduate degree in public administration and certificate in public policy analysis, interned with the Department of Transportation in Washington, D.C. Traveling to a new city to pursue an internship or new job may be daunting to some, but the rewards can be great.
"I learned the federal government's methodology, logic models, and the steps for successful program evaluation," states Toro. His coursework in organizational and managerial sciences was a definitive resource to conduct evaluations of programs throughout his internship.  "Program evaluation is a mix of research and creativity to come up with the methodology. I also interviewed people to conduct my research, so it was very much a people-based project." After concluding his research, Toro presented his findings and solutions to a panel of 80 managers involved in federal highway administration. "My presentation actually started meetings about how to implement my recommendations and address concerns from my reports , which was incredible!" states Toro. The internship provided opportunities to work independently, actively learn within the field, and conduct research to resolve concerns in the public sector. After this experience, Toro is interested in working in congressional relations for the private sector as a managerial consultant, where he can implement what he learned at the Department of Transportation.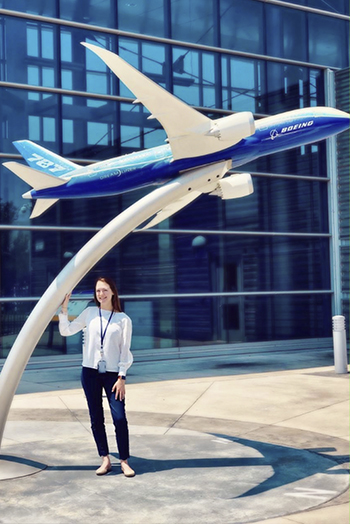 Hannah Kinnett worked at Boeing in South Carolina as a security and fire protection intern.
Like Toro's experience, Hannah Kinnett's internship proved to be eye-opening. Kinnett, an undergraduate student in the emergency management program, spent her summer as a security and fire protection intern at Boeing in South Carolina.
The unfamiliarity of South Carolina is what initially sparked her interest, but her experience at Boeing solidified her interest in pursuing a career in the private sector. "How can you know what you want to do, if you don't know what's out there?" Kinnett explains. She previously explored the public sector side of emergency management in Seminole County and wanted to venture out into the private sector for a change of scenery.
"It was absolutely different than anything that I have ever done because it was not focused solely on emergency management." She worked closely with the emergency preparedness coordinator, who guided her and 80 other interns through a capstone project that implemented the information they have learned.  Kinnett describes her experience as an opportunity for reflection and adventure and, for her, "a dream come true." While she enjoyed the opportunity to explore the facility and develop emergency plans, the connections she formed with her team were the most rewarding experiences. "Making connections is so important. I would not have gotten this internship, and I would not be where I am without connections."
Internships are a great way to gain firsthand experience in the public, private and nonprofit sectors. Out of state internships can present a different set of challenges but are valuable opportunities for both personal and professional growth.
Tips for pursuing an out-of-state internship
Do your research. Many organizations and agencies have large internship programs that readily accommodate students pursuing an out of state internship. If you are looking for an internship in a specific area, the chamber of commerce or local job boards may provide access to additional opportunities.
Stay connected. Networking is one of the greatest ways to increase your chances of obtaining an internship, regardless of location. Join student and professional organizations, participate in local conferences and attend networking events to expand your network and increase your chances of landing that dream internship. Your connections can also provide great insight on the location by recommending attractions to visit, restaurants to try, and things to do in your spare time.
Clean up your resume. Make sure your resume is polished and updated. Highlight the experiences you have that relate to the internship you are seeking.
Prepare in advance. Out of state internships require you to be away for an extended period. Start thinking about any living adjustments that you will need to make to pursue the opportunity, such as your lease or pets.
While there are many internship opportunities that cover the necessities, it never hurts to start saving for incidentals or unexpected expenses that may arise while you are away. Plus, the extra money can be useful for exploring the new environment.
Internships advance your professional skills and provide firsthand insight into post-graduation opportunities. Internships challenge you to explore different avenues to determine what does or does not fit your interests. If you need help searching or preparing for an internship, whether in or out of state, please contact our experiential learning coordinator Mirtha Bailey.