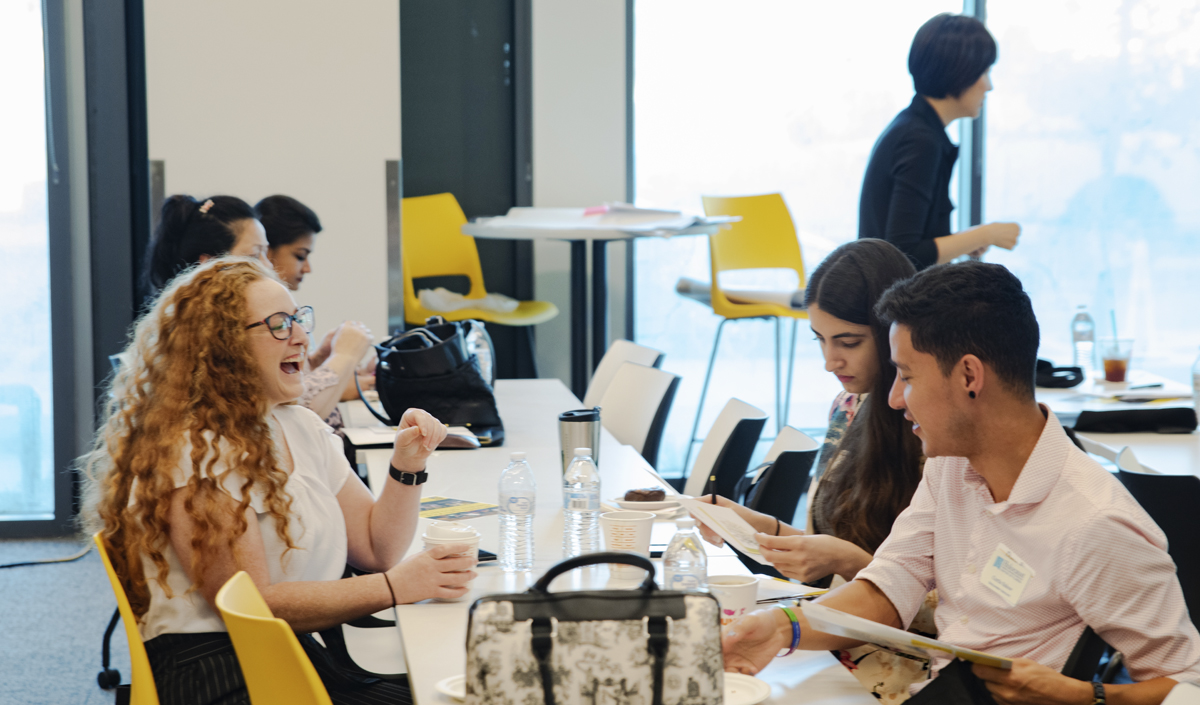 If you want to go far, go together.
It is that sentiment etched in the wall of the Dr. Phillips Academic Commons at UCF Downtown, and it is the same sentiment that brought together over 100 nonprofit professionals, community members and representatives from UCF for the Community Partners Nonprofit Conference. Centered around a theme of dreaming big, attendees were challenged to imagine the future of Central Florida and discuss ideas on how partnerships could further support citizens. Walter Hawkins, director of urban development for the City of Orlando, provided insight into the city's future, particularly in the downtown area.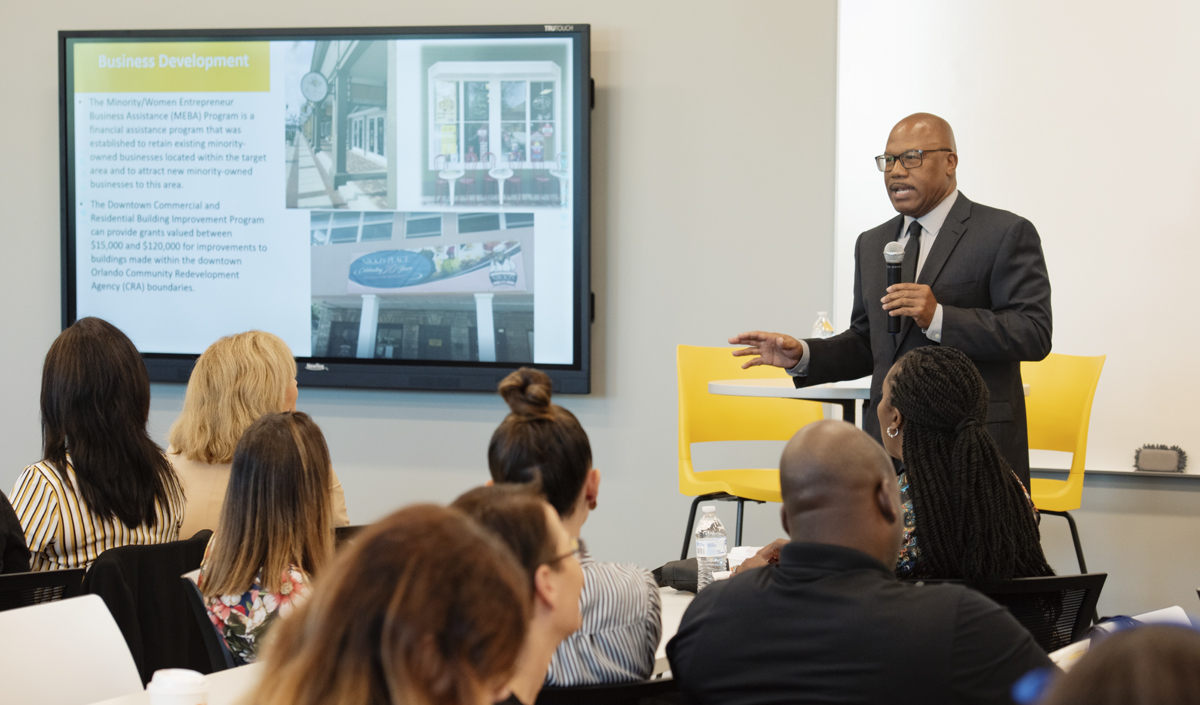 Walter Hawkins, director of urban development for the City of Orlando, provides an overview of the city's upcoming projects and initiatives.
In its 18th year and hosted by the School of Public Administration, the conference brings together professionals to discuss pressing issues in the community, and ideas and solutions for improving the lives of citizens. The School of Public Administration moved to UCF Downtown in August 2019, which set the stage for the conference theme and sparked an interest in learning more about the new environment.
Attendees participated in small, breakout sessions to discuss their individual visions for the future of the community. Together, attendees expressed ideas and solutions for some of Central Florida's most pressing challenges. Recurring topics of conversation throughout the day included education, transportation, housing and many others.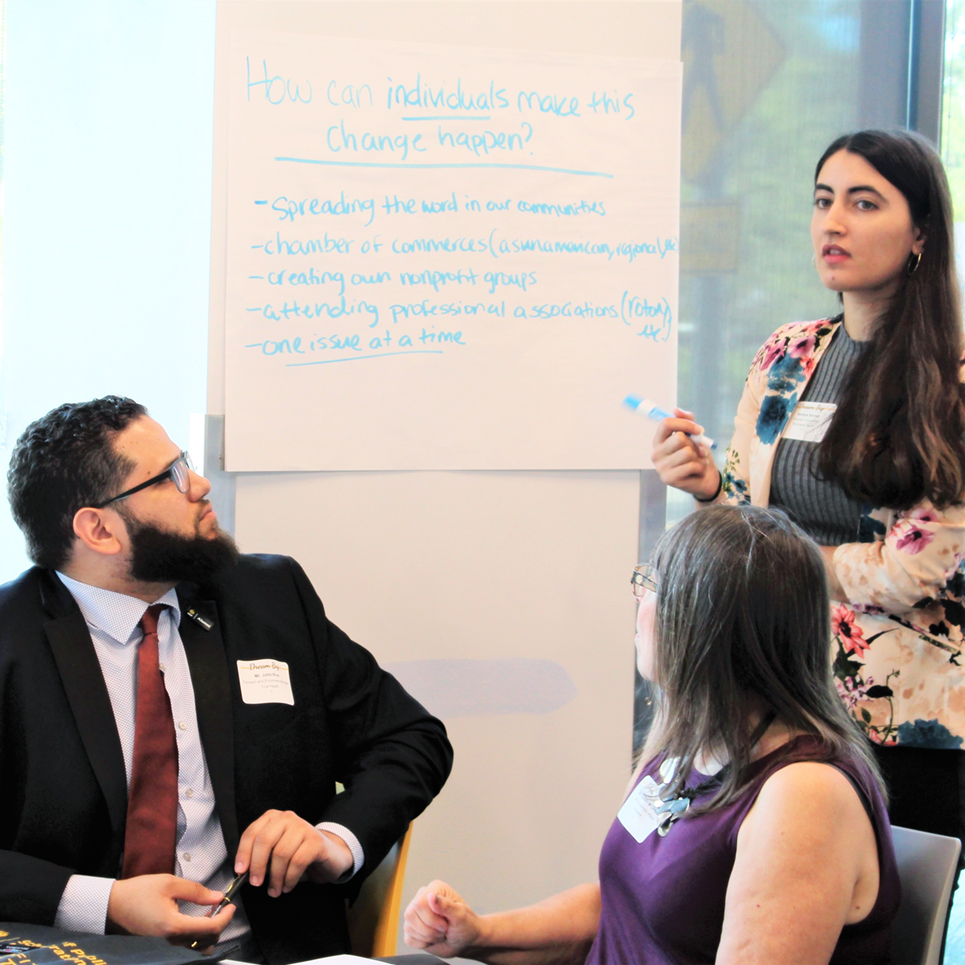 Participants engage in captivating discussions on the current state of Central Florida and goals for the community's future.
The conference offered opportunities for nonprofit professionals and community members to share their knowledge and resources with UCF students, faculty and staff and develop relationships that will contribute to the advancement of the community.
"In these conversations, I hope we can create a feeling of community shared by nonprofits, students, staff and faculty. I also hope nonprofit organizations will connect and take advantage of the many ways students and faculty provide service through internships, grant partnerships, research partnerships and service-learning projects," explains Mary Ann Feldheim, who is conference chair and a retired associate professor.
Most participants agree that the future of Central Florida hinges on one important component — community. To continue growth, it is imperative to operate from a place of mutual respect and willingness to work together when addressing issues that affect the community. With this momentum, Central Florida will continue to go far, together.
To learn more, view the full conference summary.