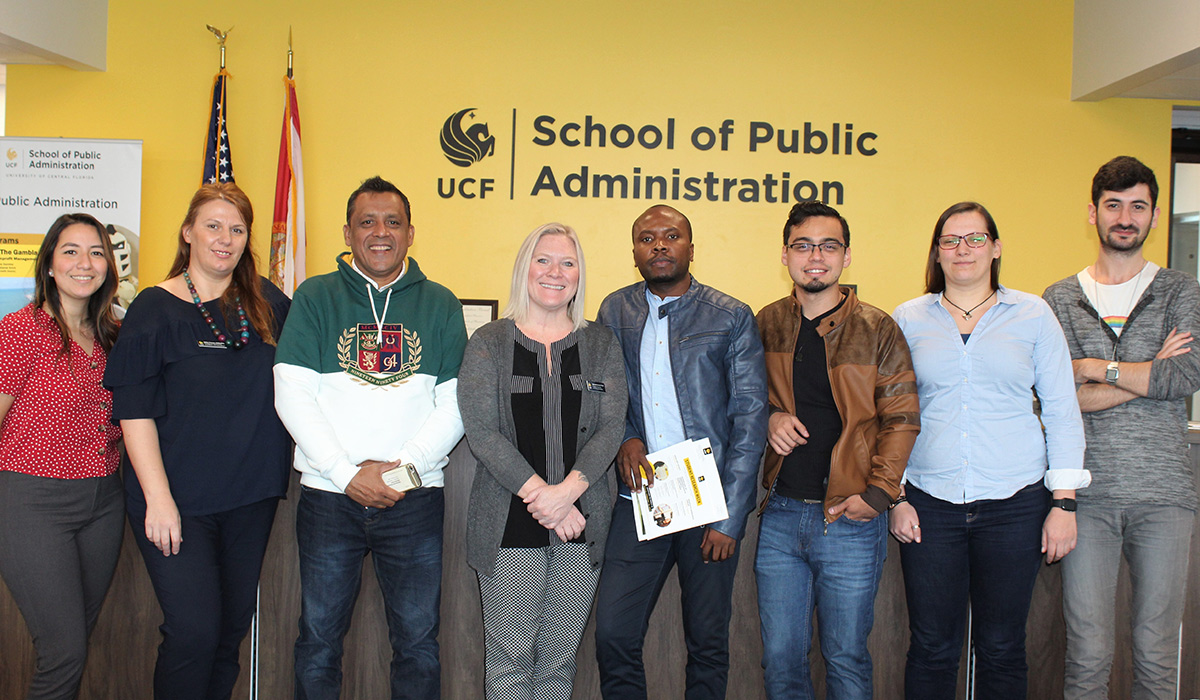 The Center for Public and Nonprofit Management (CPNM) collaborated with the World Affairs Council of Central Florida, a network dedicated to educating and engaging Americans in international affairs and providing further education on global issues, to meet with a group of international nonprofit leaders.
The interaction was coordinated as part of the International Visitor Leadership Program, a premier exchange program operated by the U.S. Department of State. The program engages current and upcoming foreign leaders in a variety of experiences to promote a better understanding of the United States and establish international relationships. The international delegation included nonprofit leaders from Guatemala, Columbia, Slovenia, Sri Lanka, Turkey and Zambia, whose areas of expertise ranged from public health, nutrition and medicine to LGBTQ+ interests, AIDS research and youth development.
The visit included a presentation from Justin Miller, assistant director for the CPNM, on the nonprofit sector in Florida, specifically the east central Florida region, as well as a discussion on research opportunities and areas for potential collaboration with their organizations. School of Public Administration staff and faculty participated in a thought-provoking discussion on topics ranging from research expertise to opportunities for education advancement through UCF's online programs.
One of the participants noted that the discussion and opportunities for future collaboration made the event one of their highlights of their visit to the United States. Silvana Bastante, a graduate student in the public administration program and assistant for the CPNM, said that the interaction was "empowering and inspired confidence in the university and excitement about working together across international borders."