Legal studies grad says get involved in organizations you love — a lot of them.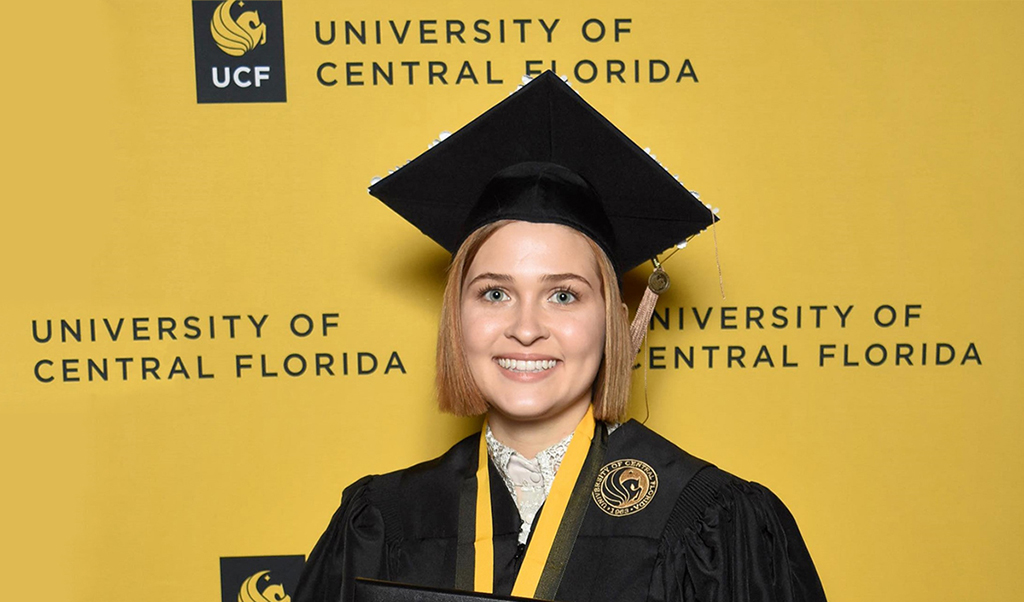 Julienne Miranda participated in every program the legal studies department had to offer while she was a student.
Before she stepped foot on UCF's campus, Julienne Miranda '19 knew she was going to study law — and that she certainly wasn't waiting until law school to start. In fact, her desire to pursue a degree in law (and ultimately, career as a lawyer) began in grade school, when she was introduced to Model United Nations, where students act as diplomats for various countries and debate on current world issues. "Being able to practice and develop my diplomacy and advocacy skills in that setting really ignited my desire to pursue a career as a lawyer," says Miranda. "I particularly love the interdisciplinary nature of law and feel honored to have an opportunity to become a part of the legal process, as it is so important in shaping society."
While at UCF as a dual major in legal studies and economics, Miranda became involved in every opportunity presented to her, both academically and professionally. "Being a planner helps," says Miranda. "When you have multiple responsibilities, winging it is never an option."
Miranda was not only on the President's Honor Roll throughout her time at UCF as well as the Dean's list for two semesters, but she also joined the Moot Court Team, the Mediation Team, the Mock Trial Team and was the editor of the Undergraduate Law Journal.
Moot Court is described as a "simulated argument before the U.S. Supreme Court," explains Elizabeth Gillham, J.D. Gillham, a visiting lecturer in the legal studies department and an assistant coach for the team. "Moot Court was a great arena for Julienne to shine in," says Gillham. "She has high standards for herself. I initially misinterpreted this trait as competitiveness, but I was wrong. Instead, she just really wants to do a great job at the task at hand."
"Julienne was one of my best team members I ever had on my Moot Court team," says Jason Fiesta, J.D. Fiesta is a lecturer in the legal studies department and is currently the assistant coach for the Moot Court team, but he was the faculty advisor as well as head coach while Miranda was a student. "She accomplished more than most competitors."
Fiesta says that Miranda's success on the team stemmed from her understanding of how important practice is. "Julienne was always prepared for competitions, confident on her feet delivering her arguments, respectful to the judges, and professional with her competitors."
When Miranda learned that UCF was also starting a Mediation Team, which "simulates a mediation conference between two parties involved in a dispute," she immediately expressed interest, explains Gillham. Miranda even took the time to research the process involved in getting the team recognized as a student organization in order to receive funding for travel to competitions. "She competed in our inaugural season and won awards in both the top mediator and top client/advocate role, which was really remarkable and beyond expectations for a new team," says Gillham.
Oh, and Miranda was also a resident assistant for two years, interned at a law firm and participated in a college work experience program for Lockheed Martin. "My biggest piece of advice is to make sure that the organizations you get involved in are things you really love so that the idea of using your free time towards them excites you," Miranda says.
As a practicing attorney, Gillham says that Miranda's time management skills will serve her well on her road to becoming a lawyer herself. "She has demonstrated that she is capable of selecting the right amount of time to invest in each of the areas of her academic life to achieve great outcomes, and that will translate well to the practice of law."
Miranda says she initially joined the different teams to figure out which area of law she wanted to study, which she discovered is the intersection of law and technology. She also gained "leadership and public speaking skills from Moot Court and Mock Trial, legal research and writing from the Undergraduate Law Journal, cooperation from Mediation Team, and the gifts and challenges of interfacing with clients from my internship at an immigration law firm."
My biggest piece of advice is to make sure that the organizations you get involved in are things you really love so that the idea of using your free time towards them excites you.

Julienne Miranda '19
Miranda admits that despite the value of the experiences themselves, it was the faculty members who devoted their time to them that impacted her the most. "The people who run [these programs] instilled in me the confidence to attempt to achieve goals I previously thought were beyond my reach," she says.
The feeling is mutual.
"Her greatness is by her own hand through her hard work, preparation, and attention to detail. Her ability to juggle all the intense activities at the same time is a credit to her ability alone," says Fiesta.
Due to her hard work and impressive resume, Miranda was given her choice of a number of law schools to attend, such as the University of Virginia, Harvard, Columbia, University of Chicago and University of Pennsylvania.
She opted for Harvard Law School.
"The substantive material you learn in classes is important, but the experiences in college that have changed me the most all happened outside of the classroom," says Miranda. "I wouldn't be where I am today if I hadn't gotten involved."