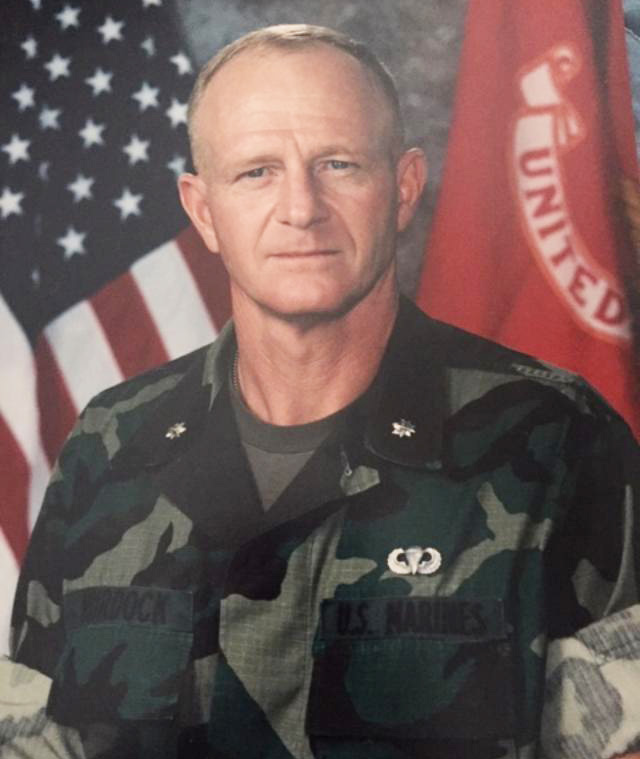 Col. Harry "Mike" Murdock
Colonel Harry Michael "Mike" Murdock '74 dedicated his life to public service. He is described as immensely committed to impacting society and encouraging others to do the same — a commitment he showed continuously during his 21-year career as a U.S. Marine. But his dedication started long before he enlisted. While at UCF (then Florida Technological University), Murdock was heavily involved in the campus as one of the founding members of the Xi Iota Chapter of Tau Kappa Epsilon — eventually serving as the chapter president, coordinator of men's intramural sports and an officer trainee in the Marine's Platoon Leader Corps.
After completing a bachelor's degree in physical education, Murdock moved on to a commission with the Marine Corps as a 2nd Lt. His career included time as an aide to the commandant of the Marine Corps, a planning officer during the Gulf War and a commander of a training battalion at the U.S. Marine Corps School of Infantry at Camp Pendleton in California. Murdock tragically drowned while looking for a safe crossing for a stranded platoon of trainees through a flash flood at Camp Pendleton in 1995. At the time of his death, he was unaware of his promotion to Colonel and received the title posthumously.
He was well-respected by those he worked with and admired for his courage, dependability and loyalty. One of his most noted traits was his commitment to servant leadership. Murdock believed in leading by example and was often recognized for his desire to help his trainees not only grow as Marines but also as individuals. When he was not Lt. Colonel Murdock, he was just "Dad" to his two sons, Michael and Cory, and devoted husband to his wife, Judy.
The Colonel Mike Murdock, USMC Endowed Scholarship recognizes students pursuing an undergraduate degree in public administration who demonstrate an interest in and commitment to public service — a calling that Murdock dedicated his life to.