Urban and Regional Planning alum advocates for safer transportation for pedestrians and cyclists.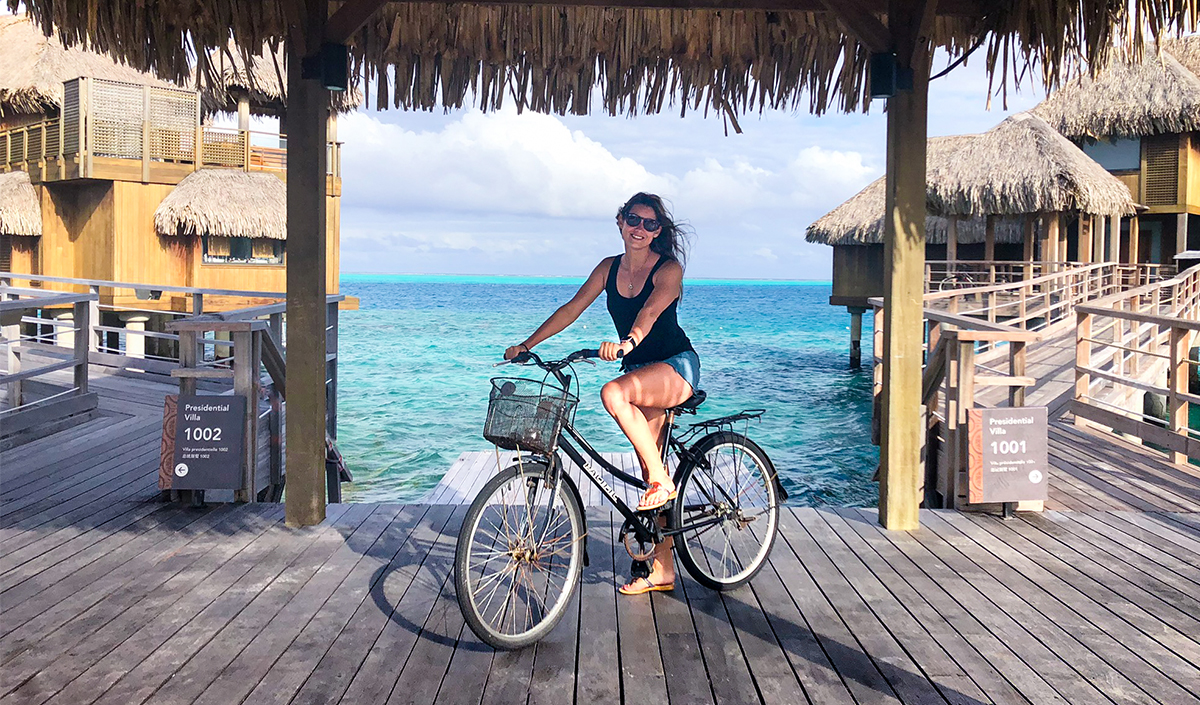 Emily Hanna '13 '15MSURP serves as the executive director for Bike/Walk Central Florida. (Photo by Emily Hanna)
As the first full-time executive director of Bike/Walk Central Florida, Emily Hanna '13 '15MSURP is no stranger to creating her own lane. Through her work with Bike/Walk Central Florida, Hanna hopes to draw more attention to the needs of those traveling by foot or bike, both recreationally and professionally.
While services such as SunRail, Brightline and Lynx buses expand, a significant part of the transportation community has been largely ignored: pedestrians and cyclists. In 2019, Central Florida was ranked as one of the most dangerous places in the nation for pedestrians and bicyclists by Smart Growth America. The greater Orlando metro area welcomes over 1,000 new residents each week, with the population expected to surge as areas such as Lake Nona Medical City and downtown Orlando continue to expand. Government officials and community planners are actively working to keep up with the transportation needs of the rapidly expanding Central Florida area.
From partnering with law enforcement to identify areas more prone to crashes involving cyclists and pedestrians to hosting a five-city, 28-mile bike tour designed to educate residents on existing trails and paths, Bike/Walk Central Florida is working to provide spaces for people to explore their community safely and sustainably.
Hanna credits her upbringing as a catalyst for her life's mission to "create sustainable communities and connect people to places" — a mission she's been committed to since she and her family relocated to Oviedo, Florida, during her middle school years. Prior to this, Hanna lived on her family's farm, generating an appreciation for nature and a commitment to preserving it. A competitive equestrian since her early years, she struggled with the stark contrast to the life she knew with the limited access to nature trails or paths that she could get to by foot, bicycle or horse in Oviedo.
When Hanna arrived at UCF as an undergraduate student, she was determined to enter a profession that allowed her to provide others the easy access to natural spaces that she longed for as a kid. "I realized that in order for me to make a difference, I needed to change how we build the human environment by deliberately giving people access to parks and other natural resources," says Hanna.
After she completed a bachelor's degree in environmental science, Hanna went on to apply to the urban and regional planning graduate program. But she says that she wasn't in the best place academically. "I didn't have the best GPA, but I was quite outspoken in my courses, particularly those for my minor in urban and regional planning," she says. Hanna used this to her advantage. She established strong relationships with her instructors, who in turn agreed to provide recommendation letters for her graduate application.
While in the program, she co-founded Urban Knights. This student organization, which received the National Planning Student Organization Award from the American Planning Association in 2015, strives to connect students with practitioners within the various facets of urban and community planning. It was through these connections that Hanna really began to see her career take off. She worked for Orange County Government on initiatives geared toward promoting sustainability and neighborhood planning before joining the city of Casselberry as a planner. Within five years, she had been promoted four times, ultimately managing the planning and building services division and community redevelopment district.
Now an executive director, Hanna spends much of her time working as an intermediary — connecting private firms and local and federal government agencies to the programming and resources offered by the organization to support communities.
Much of what she does today extends to one of the most critical aspects she learned while at UCF: the power of networking. "Look at each person you meet as an opportunity to potentially work with them or support them in some manner. Don't waste those first impressions. I wouldn't have the position I do today, especially at such a young age, if I didn't make those connections," says Hanna.