Maritza Concha started her role as the next director of the center on August 9.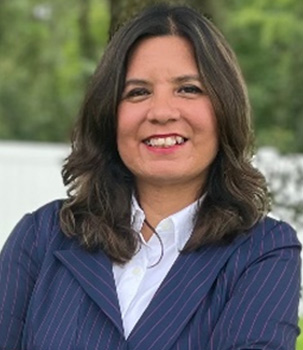 Maritza Concha
Maritza Concha, a lecturer in the School of Public Administration, has been named the next director of the UCF Center for Public and Nonprofit Management (CPNM). Prior to joining UCF full-time in 2019, Concha worked as an evaluator for more than 15 years, primarily supporting nonprofits serving Latin American immigrants, and taught undergraduate students as an adjunct faculty member in the nonprofit management and public administration programs. Her research primarily focuses on evaluating projects that serve at-risk populations, such as victims of human trafficking, refugees and low-income minorities. Concha's work has been published in journals, such as the Journal of Immigrant and Minority Health, Hispanic Journal of Behavioral Sciences, Journal of Community Practice and International Journal of Public Administration.
Her work, specifically within the Latin American and Caribbean communities, prompts one of the first projects the CPNM will pursue under her tenure. "My vision for the center is to expand our work with local, national and international nonprofit and public organizations and establish impactful relationships with partners in Latin America and the Caribbean," says Concha.
The CPNM will explore other areas under her tenure, including expansion in research education and involvement for undergraduate students and education and training in community participatory research, which promotes residents as experts in identifying challenges and developing solutions to problems most present within their communities.
The Center for Public and Nonprofit Management, now in its 13th year, supports research on policy and management with the School of Public Administration faculty members and partners with nonprofits within Central Florida and beyond to provide education and promote community engagement and societal improvement.
Concha holds a Ph.D. in public affairs with a concentration in public administration from the University of Central Florida, a master's degree in Latin American studies from the University of Miami and a bachelor's degree in international relations from Florida International University.