Through her undergraduate thesis work, Mary Annaliese Dehner '20 combined her love for dance and education and has turned it into a career as a public-school dance teacher.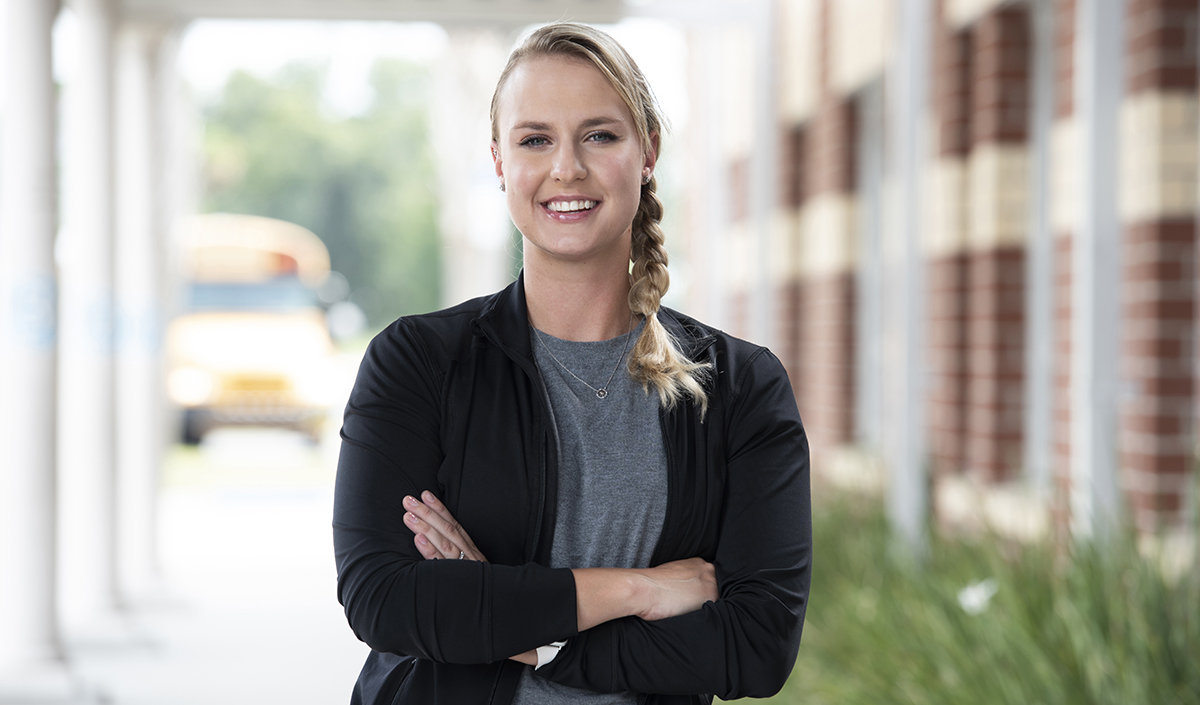 Mary Annaliese Dehner '20 is thrilled to be the dance teacher at Midway Elementary School of the Arts in Sanford. (Photo by Amy Floyd)
Not many people can say they were able to turn their passion into a career, but Mary Annaliese Dehner '20 gets to.
Dehner, a dancer at heart, received her bachelor's degree in elementary education from UCF. Today, she's in her dream role as a dance teacher at Midway Elementary School of the Arts in Sanford.
Dehner has been dancing since she was 2 years old – an interest sparked when her mother, also an educator, read the book "Nina, Nina Ballerina" to her.
"I just remember we would drive by this dance studio in Deltona, and it had really big windows, and I could see all the dancers in there," she says. "I was like, 'Mommy, I want to dance.' I was only 2 at the time, but I was pretty rambunctious and full of energy. I always wanted to move around. She took me in there … and that's when it started, and I never stopped dancing."
Dehner grew increasingly enamored with dance, training all over Central Florida and even homeschooling for a while to focus on dance. When she was 15, she took up acrobatics and teaching dance classes. At 16, she was even scouted for a circus residency and performed acrobatics in South Florida while finishing her high school diploma.
After high school, Dehner was convinced that she needed to find a more stable career than dance, so she enrolled in UCF's nursing program. Although she liked nursing, it wasn't something she truly loved.
Her course changed after volunteering as a show choir choreographer one day at a middle school in Lake Mary. She was hooked.
"I love teaching these kids, and they were just really engaged in what I was doing," she says. "I felt a sense of purpose. So I went to UCF, and I changed my major immediately to education. I fell in love with teaching."
Dehner connected with Lee-Anne Trimble Spalding '94 '98MEd '12EdD, associate lecturer in the School of Teacher Education, who encouraged her to get involved in the Honors Undergraduate Thesis program. She decided to do an undergraduate thesis in arts integration for elementary education, intertwining her passions for the arts and education.
Spalding introduced Dehner to fellow elementary education alum Chris Pombonyo '12, who works at Midway Elementary. The school uses Leonard Bernstein's Artful Learning Method to engrain the arts across its curriculum, and Dehner shadowed Pombonyo to see firsthand how the arts are integrated into the classroom.
After graduating from UCF, she began her teaching career in a fifth-grade classroom at Sanford's Wicklow Elementary – in the middle of a pandemic. Although she loved it, Dehner dreamed of being able to teach dance in a public-school setting.
As luck would have it, a dance-teacher position happened to open up at Midway Elementary over the summer. She jumped at the opportunity to interview for it and was offered the job.
"I was so excited, I cried tears of joy," she says. "Usually, dance teaching positions in a public school are few and far in between. There are just not a lot of dance teaching jobs out there. Arts get cut, and dance is like the first one to go. And this only being my second-year teaching, I was ecstatic. Honestly, I feel like everything aligned for this to happen for me."
This is my purpose. There's a reason why I've worked with kids my whole life.

Mary Annaliese Dehner
A month into her role as a dance teacher, Dehner gets to use everything she learned through her research at UCF to help her students succeed in both the arts and academics.
"I know the academics world, and I know the dance world," she says. "Now I've got to put them together to really create something special for these kids to experience and to challenge me as an educator. I think that's really important and something that I really have enjoyed doing."
Dehner has used that knowledge to put together her own curriculum, which includes ballet, jazz, lyrical, tumbling and tap. At her students' request, she hopes to start a step team at the school.
She has also noticed that when the arts are integrated into a child's education, it pays dividends in enhancing his or her academic career. Dehner says because of the discipline required in ballet, many students become more aware of their bodies and are less prone to get restless and distracted.
"I teach them your mind is in control of your body and you're telling your body what to do," she says. "So whether we're in dance or we're in our academic classroom, we need to be sitting and paying attention to what we're feeling. I can teach them how to learn their letter sounds by using their arms and their ballet positions. And I want them to know you can find joy in the arts through your academics."
Although she grew up pushing away the thought of following in her mother's footsteps as a teacher, Dehner said she now realizes this is her calling.
"This is my purpose," she says. "There's a reason why I've worked with kids my whole life. Teaching is really hard. Sometimes you're the only positive thing a kid will see in their day. If I can make a difference in one child's life, my purpose will have been met."