Three local nonprofit partners were honored virtually from UCF Downtown at the 20th Annual UCF Nonprofit Partners Conference on October 1.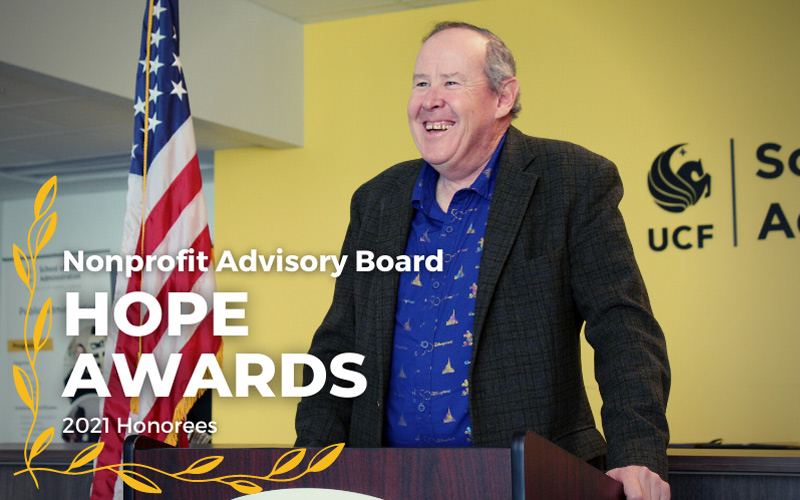 The UCF Nonprofit Management Advisory Board presented three Orlando-area nonprofit organizations with the first ever Hope Awards, for exceptional demonstration of resiliency and creativity in the face of adversity during the COVID-19 pandemic. The inaugural awards were presented virtually by UCF School of Public Administration Director Doug Goodman during the 20th Annual UCF Nonprofit Partners Conference late last week.
The following organizations were recipients of the 2020-2021 Hope Awards:
IDignity, an organization providing essential legal documents – including Florida birth certificates, Florida IDs and driver's license renewals – to residents in Central Florida since 2008.
IDignity's services have expanded both geographically and operationally, reaching communities in Orange, Seminole, Osceola and Volusia counties while growing to offer an annual Homeless Memorial Service and critical issue advocacy throughout the area.
Lighthouse Central Florida, the region's sole private nonprofit providing vision-specific rehabilitation services to residents with any degree of eyesight loss from age-related deterioration to total blindness.
Over more than 45 years, Lighthouse Central Florida has helped more than 100,000 residents in Orange, Seminole and Osceola counties receive the tools and training to live an active and fulfilling life free without constraint.
The Sunshine Foundation, founded in 1976 as the first nonprofit organization dedicated to fulfilling the dreams of chronically ill, physically challenged and abused children of families in need.
The organization has fulfilled more than 40,000 dreams since its inception, including more than 5,000 "Dreamlifts" to Orlando-area theme parks and the construction of a 22-acre Dream Village in Davenport, Florida.
The Advisory Board also presented Professor Emerita Mary Ann Feldheim with a special recognition award for her work as part of UCF's nonprofit management program and the Nonprofit Partners Conference.