Members won first-place team of mediators and team of advocates/clients, along with other individual and pair awards.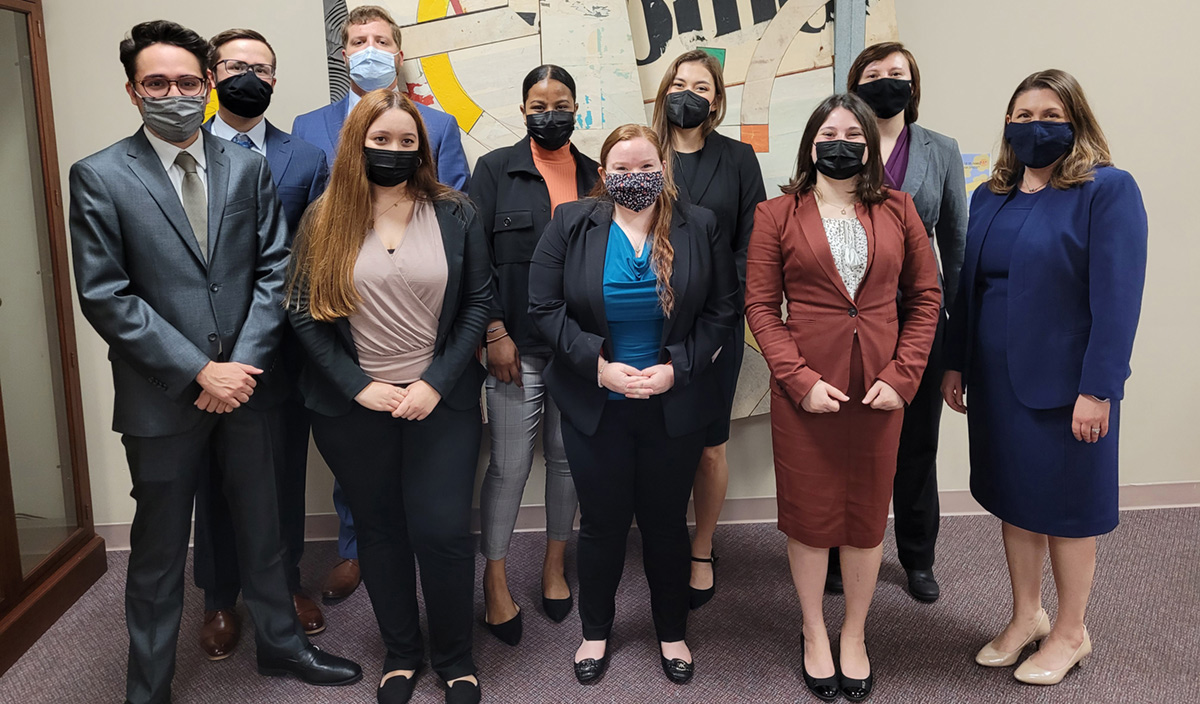 Members of UCF's Mediation Team, along with coach Christy Foley, traveled to the Brenau Invitational Mediation Tournament in Georgia earlier this month.
In their first in-person mediation tournament since the beginning of the COVID-19 pandemic, members of the UCF Mediation Team earned first place in both of the competition's main categories.
Nine members of the team – as well as team coach and visiting lecturer Christy Foley – traveled to Brenau University in Gainesville, Georgia to participate in the 19th annual Brenau Invitational Mediation Tournament Oct. 8 and 9.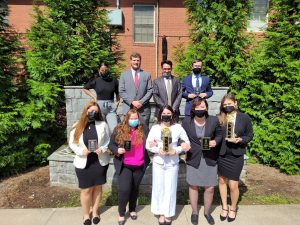 UCF's Mediation Team, part of the Department of Legal Studies in the College of Community Innovation and Education, competes in mediation tournaments with students from across the globe through the International Academy of Dispute Resolution. The organization aims to build worldwide recognition of the power of dispute resolution processes to peacefully resolve conflicts and promote conciliation and healing.
The Brenau Invitational Mediation Tournament allows each participant to take on the role of mediator, advocate and client throughout the competition. Fourteen teams – two of which comprised law students – representing eight universities competed in the tournament.
Of the nine who participated, six brought home awards. For eight of them, it was their first mediation tournament. Amanda Gershen, Josie Karkkainen and Bethany Seltzer were named the first-place team of mediators. The first-place team of advocates/clients included Gavin Chambers, Dominique Leon and Natalie Perez.
Additionally, Chambers and Leon were named the ninth-place pair of advocates/clients. Karkkainen took home fourth place and Seltzer 10th in the individual mediator category.
"To some degree there was a lot of unknown: What do we expect?" says Foley, who also serves as the legal studies academic program coordinator. "We, as a team, set a goal for ourselves that we were going to Georgia with the purpose of learning and hopefully having fun while we learn. After every round, we would get back together as a team, debrief and talk about what we learned. I think it's really a testament to how hard the students work and how much they listened to the judges' feedback in between rounds."
We, as a team, set a goal for ourselves that we were going to Georgia with the purpose of learning and hopefully having fun while we learn."

Christy Foley
Earlier this year, mediation team members were prepared for the tournament to be virtual. When they found out in July it would be held in person, they rose to the challenge of obtaining sponsors to cover travel costs. They received support from some of Foley's colleagues in the Florida Bar Alternative Dispute Resolution Section, as well as UCF's Moot Court Team. Foley says the skills students learned and the experience they gained from competing were well worth it.
"One of the biggest things is being able to help people work through their emotions, because that is such an important skill to have in the workplace, in the community and in your personal life," she says. "It's a great skill that you have to learn in order to mediate. There also are general conflict resolution skills. That's really beneficial for the students to learn how to do because no matter what career they go into, being able to sell yourself and sell your ideas when you're in the workplace is such an important skill to have on top of being able to make sure you can resolve conflict."
Seltzer said her first experience competing in a mediation tournament is one she won't forget.
"For most of us, it was our first competition, so none of us really knew what to expect and were really just there for the experience and to have fun," Seltzer says. "We knew we were well coached and had done pretty well in the rounds, but none of us thought we would win as big as we did. Winning first place with my team was such a great ending to our weekend. It felt great to win, not only for ourselves, but for the rest of the team as well."
Foley added that although the awards are nice, she is proud of her students' drive to succeed and give their best effort.
"I always tell my students, 'The only thing I can ask of you is that you try your best,'" Foley says. "We're never going to be perfect. I can tell you all my students absolutely tried their best and gave it their all, which made me so happy and so proud as their coach."