The UCF Department of Legal Studies provides excellence in teaching, research and service related to the law and legal community. Our faculty members deliver outstanding instruction at the undergraduate and graduate level for students interested in studying the law and preparing for law-related careers or law school. Students are given access to LSAT prep and practice tests, resume review and interview practice. Located at UCF Downtown, students are within walking distance of the Orange County Courthouse, Florida Department of Law Enforcement and many other jobs and internship opportunities. Students can also join program-related organizations such as Moot Court, Mock Trial and Mediation teams, as well as honor societies, such as Phi Alpha Delta and Phi Delta Phi.
We can help. Simply fill out this form to schedule a remote or in-person meeting with our academic advisor. Ask about admission requirements, orientation, registration, graduation or any other questions you'd like answered.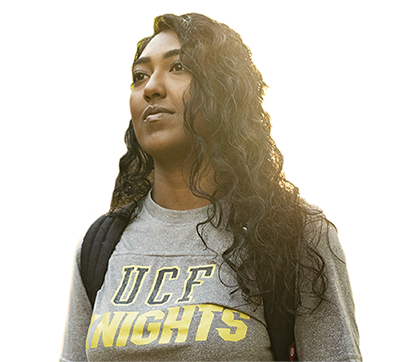 Do you work during the day? Are you a parent? Are you an active duty service member?
What: Play all parts in a lower-court trial while improving your public speaking skills. The assigned case alternates every year between a civil and criminal case.
When: Competitions begin in the fall. Tryouts are held in the spring and fall.
Contact: Margarita Koblasz
What: Compete in pairs in an appellate court hearing. Analyze a problem, research the relevant law, prepare written submissions and present an oral argument.
When: Competitions begin in the fall. Tryouts are held in the spring.
Contact: Eric Merriam
What: Compete in groups of three to simulate the mediation process and strengthen your debate and negotiation skills.
When: TBD
Contact: Christy Foley