Raynee Meek, an elementary education undergraduate student, shares what motivates her to become a teacher.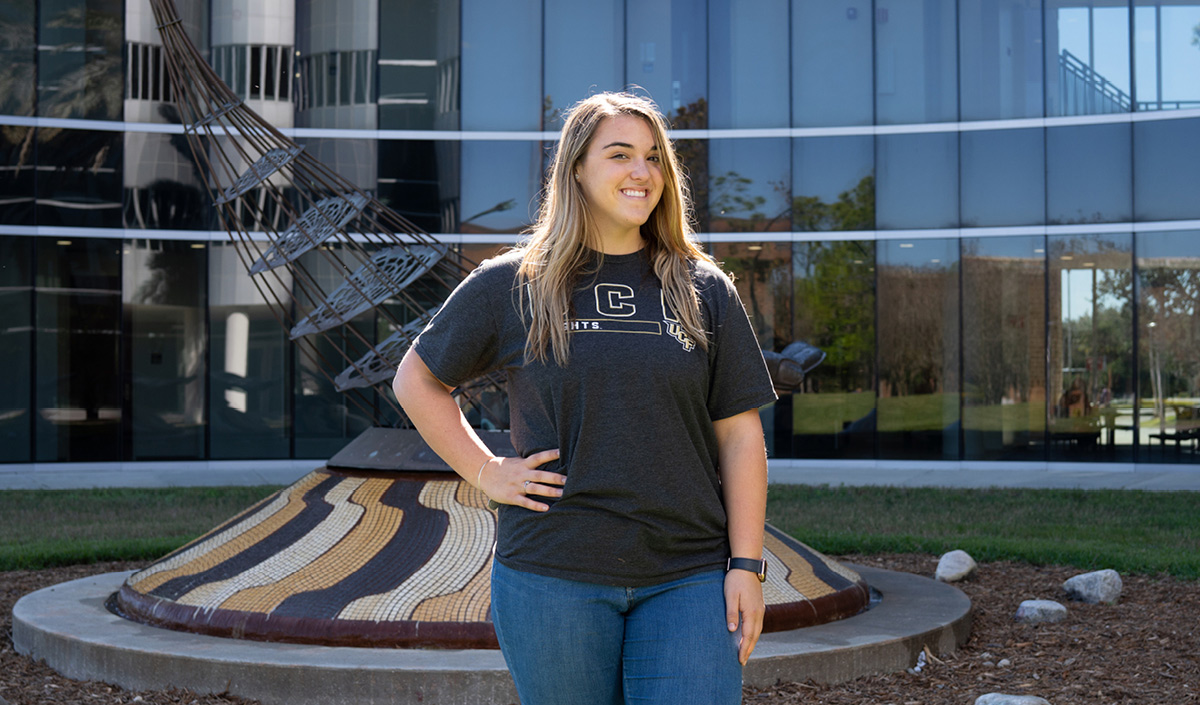 Raynee Meek always dreamed of becoming a teacher and hopes to return to Pasco County to teach after graduating from UCF. (Photo by Melissa Spence)
Ever since she was a little girl, Raynee Meek dreamed of becoming a teacher.  
"I had my own pretend play classroom; I even had lesson plans and a grade book," says Meek.  
When she heard about the New Teacher Academy starting at River Ridge High School in Pasco County, she immediately switched schools so she could pursue her dream of becoming an educator. 
High school teaching academies introduce students to the teaching profession before they transition to college. Some programs may offer conditional employment to those who return to teach in their local district after they graduate college and obtain their teaching certificate. 
In preparation for teacher appreciation week, we sat down with Meek to talk about her experience as an alum from a high school teaching academy, a current School of Teacher Education student and a future educator. 
You were first introduced to teaching as a potential career as a high school freshman when you joined the River Ridge High School New Teacher Academy. What was that experience like?
Yes, I was part of their inaugural class. It's a five-year career and technical education program. Each year you take several electives and complete community service in local classrooms. You usually get to choose what grade you want to intern with – elementary, middle or high school – depending on your interests. I'm very thankful for my time there because I realized my passion for teaching fifth- and sixth-grade math very early on. Through this program, I was also able to get my associate's degree and pass my General Knowledge Test before graduating high school.
Do you have a memorable experience from your time in the teaching academy that you'd like to share?
There are actually two that come to mind. The first one was during my internship with the Barbara Bush Foundation Teen Trendsetters program where we worked once a week with first-grade students who were struggling with reading. I was paired up with a little girl who didn't know the difference between As and Ss. She was held back a year, and her reading problems were also affecting her confidence. After our second year together, she was reading and comprehending chapter books. It is life changing to know that I made a difference in that girl's life by giving her the power of reading. To be able to give someone the gift of knowledge – you can't find that in any other career.
The other story has to do with teaching beyond the walls of a classroom because creating positive relationships with the community is also a big part of being a teacher. One summer, as part of one of the academy's philanthropic projects, we worked with children from Hudson Elementary, a school located very close to the Gulf of Mexico. Most of these kids had never seen the ocean despite being a mile from it. We were able to get over 3,500 books donated that were distributed among 115 kids during a scavenger hunt at the beach as part of the culmination of this summer initiative. It was great to see I could make an impact beyond the classroom.
How has UCF helped you follow your dream of becoming a teacher?
I want to become a teacher who understands the social-emotional needs of students, one who understands that there's more to a student than studying to take tests. UCF has helped me by motivating me and pushing me to become a better educator by changing my perspective of what being a good teacher is. It is not just knowing the ins and outs of the subject, but most importantly learning to build relationships with your students. You are not only teaching them content; they are also learning life skills from you. They look up to you. You're a role model.
What are your plans for after graduation?
I'm excited for my senior year to start. This fall, I will intern with the UCF PedsAcademy at Nemours Children's Hospital for half of the semester, and then join the Orange County Public Schools Academic Center for Excellence for the second half.
In the future, Meek hopes to return to Pasco County as a teacher and pursue a graduate degree in educational leadership to continue to inspire future educators.