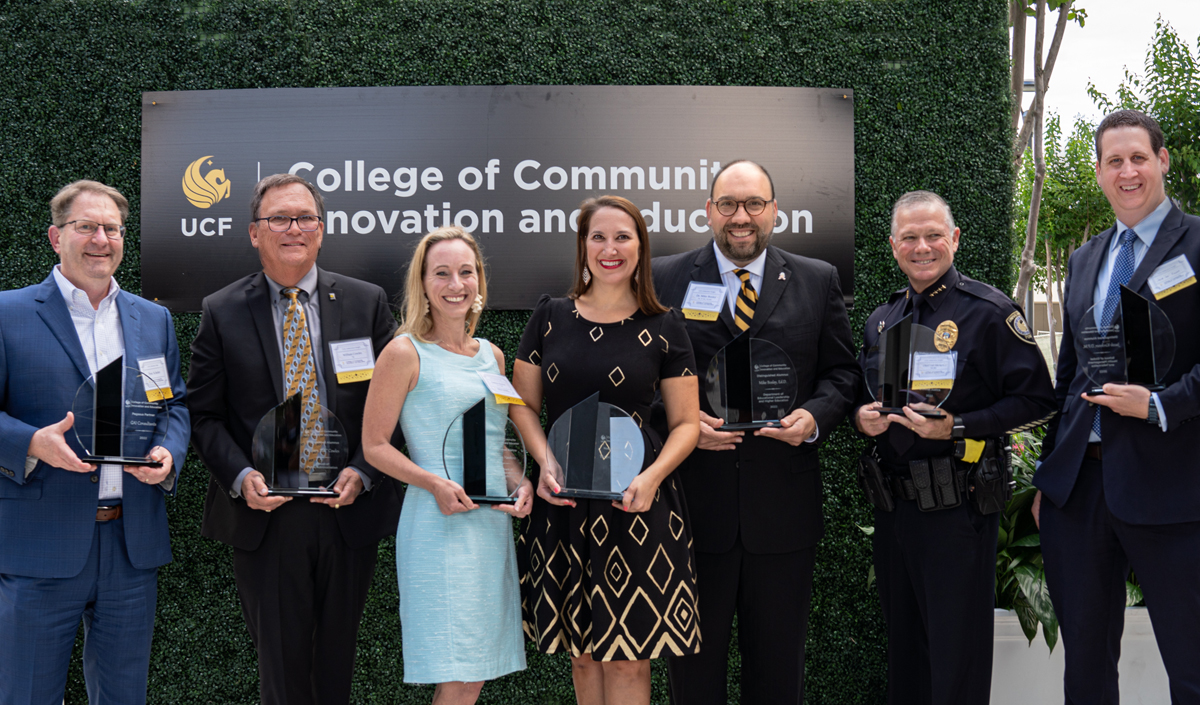 College of Community Innovation and Education alumni awardees proudly display their awards. From left: Peter Sechler (representing AIG Consultants), William "Bill" Cowles, Kathleen Hawkins, Victoria Manglardi, Mike Bosley, Carl Metzger and Jacob Kirchner.
The College of Community Innovation and Education, in partnership with the CCIE Alumni Board, recognized outstanding alumni and community partners during the inaugural CCIE Celebration Knight Thursday, May 12. Congratulations to all 2022 honorees.
Distinguished Alumni Award Honorees
The Distinguished Alumni Award recognizes individuals who demonstrate excellence in their career, as well as show a commitment to help educate and empower their communities.
Kathleen Hawkins '13 '17MA
Project Director, UCF Marriage and Family Research Institute
Department of Counselor Education and School Psychology
Carl Metzger '03MS
Chief, UCF Police Department
Department of Criminal Justice
Mike Bosley '94 '97MA '04EdD
Executive Dean, Valencia College Lake Nona Campus
Department of Educational Leadership and Higher Education
Victor Arguelles '13MA '17EdD
Vice President of Learning and Development, Westgate Resorts
Department of Learning Sciences and Educational Research
Angel Sanchez '17
Legislative Analyst, Florida Rights Restoration Coalition
Department of Legal Studies
Jacob Kirchner '12MSR
egional Vice President for Planning and Development, North Florida Division for Hospital Corporation of America
School of Global Health Management and Informatics
William "Bill" Cowles '76
Orange County Supervisor of Elections
School of Public Administration
William Furiosi '13 '14MAT
Secondary Education Teacher, Oviedo High School
School of Teacher Education
Noble Knight Award
The Noble Knight Award recognizes an individual who consistently demonstrates the core values of UCF – integrity, scholarship, community, creativity and excellence.
Victoria Manglardi '08
Attorney at Law, Martinez Manglardi PA
Department of Criminal Justice
Pegasus Partner Award
The Pegasus Partner Award recognizes an individual or organization that has established a successful partnership with the college and assists with our mission of educating and empowering leaders to serve a diverse society.
GAI Community Solutions Group –  an engineering, planning and environmental consulting firm – received the Pegasus Partner award. Vice President Peter Sechler accepted the award on behalf of the company.