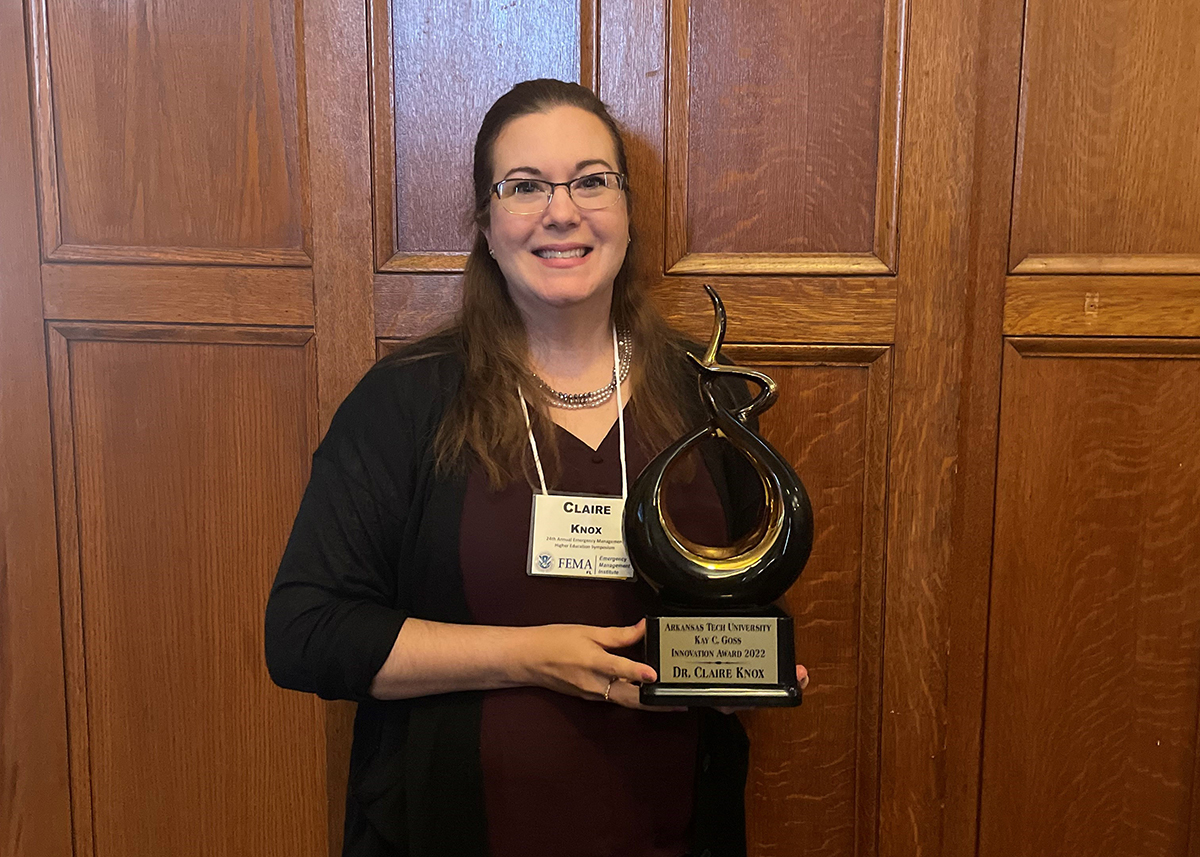 Knox received the Kay C. Goss Innovation & Technology Award from the Federal Emergency Management Agency during its annual higher education symposium.
Claire Connolly Knox, UCF School of Public Administration associate professor and founding director of the university's emergency and crisis management program, received the Kay C. Goss Innovation & Technology Award from the Federal Emergency Management Agency (FEMA)'s Higher Education Program at its annual symposium in June.
Named for Goss, the first woman to serve as FEMA associate director and founder of FEMA's Higher Education Program, the award recognizes those who demonstrate an ability to "inspire, promote, and develop emergency management programs, professors and students through innovative methods and technologies".
"I am humbled to have received this award from my peers, especially Kay Goss," Knox says. "I have always looked up to her, especially her focus on bridging academia with practice. She is a pioneer in emergency management." The event, held annually at the agency's National Emergency Training Center in Maryland, connects emergency management professionals with educators and researchers through a week of workshops, discussions and networking.
While the attention given to emergency management often focuses on the high-visibility, high-cost disasters that bookmark its most impactful case studies, Knox argues that the field should be commended for its leadership in bridging the gap between those who study it and those who work within it.
"Emergency management and homeland security are relatively young disciplines compared to public administration and political science," Knox says. "The connection between academics and practitioners is vital, and FEMA's Higher Education Program provides the infrastructure we need to build those relationships." Knox has advocated for these partnerships through more than a decade of work with the program, from membership on planning committees to creating and chairing the program's Scholarship of Teaching and Learning track.
Knox says while the work of bridging the academic-professional divide can be arduous at times, the results are always worth it.
"The interaction between FEMA and higher education is unique in this discipline, and the relationship continues to evolve as we work to professionalize the discipline and profession with the creation of accreditation standards, core competencies and a code of ethics," she says. "Some discussions can bring about strong opinions and emotions about how to move forward, but we all remain committed to the end goal of a resilient nation."
As for her own next step forward, Knox sees her future in the eyes of the next generation.
"This year was especially meaningful to me, as I was able to mentor three doctoral students – two from UCF – and see the symposium through their eyes," she says. "Standing back and watching those students discuss their research with FEMA staff is a moment I will not forget."