The Emmy Award-winning 'A Break for Impact' will take UCF students to the Texas-Mexico border to provide humanitarian aid to migrants.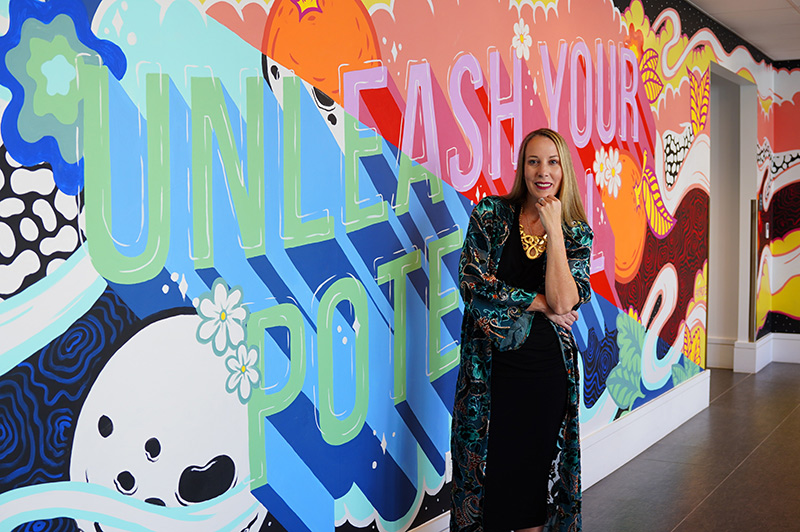 What started as an immersive spring break experience in 2020 has turned into an award-winning docuseries and annual experience for one UCF lecturer and some dedicated legal studies students.
Irene Pons '00, senior lecturer in the Department of Legal Studies, will highlight the next group of Knights heading to the Texas-Mexico border this summer through the "A Break for Impact" nonprofit. This alternative spring or summer break experience allows students to travel to the border and help nonprofit organizations feed, clothe and comfort migrants from all over the world.
As a Puerto Rican-American herself, Pons says she's always been passionate about activism with immigration. She grew up in Texas, which is one places where those immigrating to the United States naturally transition due to the border being nearby.
"About five years ago, I was approached to do a project with a group called Pro Bar through Dr. Marc Consalo, who's now at Nova Southeastern," she says. "He said, 'You're perfect for this opportunity. You're bilingual. Why don't you take some students to Texas and go do this immersive, hands-on alternative spring break?' And that's how it kind of blossomed from there."
The first experience was limited to just four students who had to pay their own way, along with one video producer from the Center for Distributed Learning who had to share a room with Pons on the trip. Those award-winning videos showed the invaluable experience students had providing important humanitarian aid.
"It wasn't meant to be this huge thing," Pons says of what is now three filmed trips. Two have already been released to film festivals, and another will be released next year.
But the real winning factor of the trips has been the impact it has had on the students and on the immigrants they are able to help.
The first group went to a tent encampment in Brownsville, Texas, to help close to 3,500 migrants living on the side of the Rio Grande.
The following year, Pons received special permission to go to Arizona for a search-and-rescue mission in the desert for human remains and to provide humanitarian relief with a different organization called Tucson Samaritans and Battalion Search and Rescue.
"It was vividly a different experience because the terrain itself was treacherous and deadly," she says. "It's a hot climate, really dreadful, and we decided to go in June, one of the hottest months in Arizona. That trip took a distinct turn because at one point, we encountered migrants who were trying to cross, and it affected the team on a higher level."
She says one of the most impactful moments of that trip was coming across a group of migrants getting ready to cross the desert. The students –– who came prepared for this trip with hiking clothes, comfortable shoes and insulated water bottles –– had spent the day before hiking in 115-degree heat through a known migrant trail searching for any signs of life. It gave them firsthand experience of the dangers migrants face.
The third trip to Tijuana-California border proved to be personally moving for one legal studies student who found out a week before the trip that she had relatives there who had immigrated from Haiti and waited nine months to gain entry to the country.
"We found them," Pons says. "It was on the first day of the trip, and they were living in a really bad shelter that was trying to force labor for no pay. They were sleeping on the floor, and they'd been there for nine months under these conditions, foraging for food and going out every day. We were able to get them to cross legally. You could see all the Haitian encampments with migrants living under these conditions, and some of them had been there for five or six years unable to cross. It was hard reality for the students."
Pons says throughout all the trips, students have said each experience is something they're always going to remember.
"After doing something like this –– being so immersed and seeing the reality of the situation –– now they are going to use their voices, and I know they will do great things," Pons says. "It just creates this overwhelming desire in them to make a difference — and you can't teach that in the classroom."
This summer, Pons will take a group of students to the same tent encampment from the first trip along the Texas-Mexico border. The students will help provide humanitarian aid and witness the legal processes in action.