Multiple awards will help fund the doctoral students' dissertation work. 
BY NATALIE FEDOR |  APRIL 3, 2023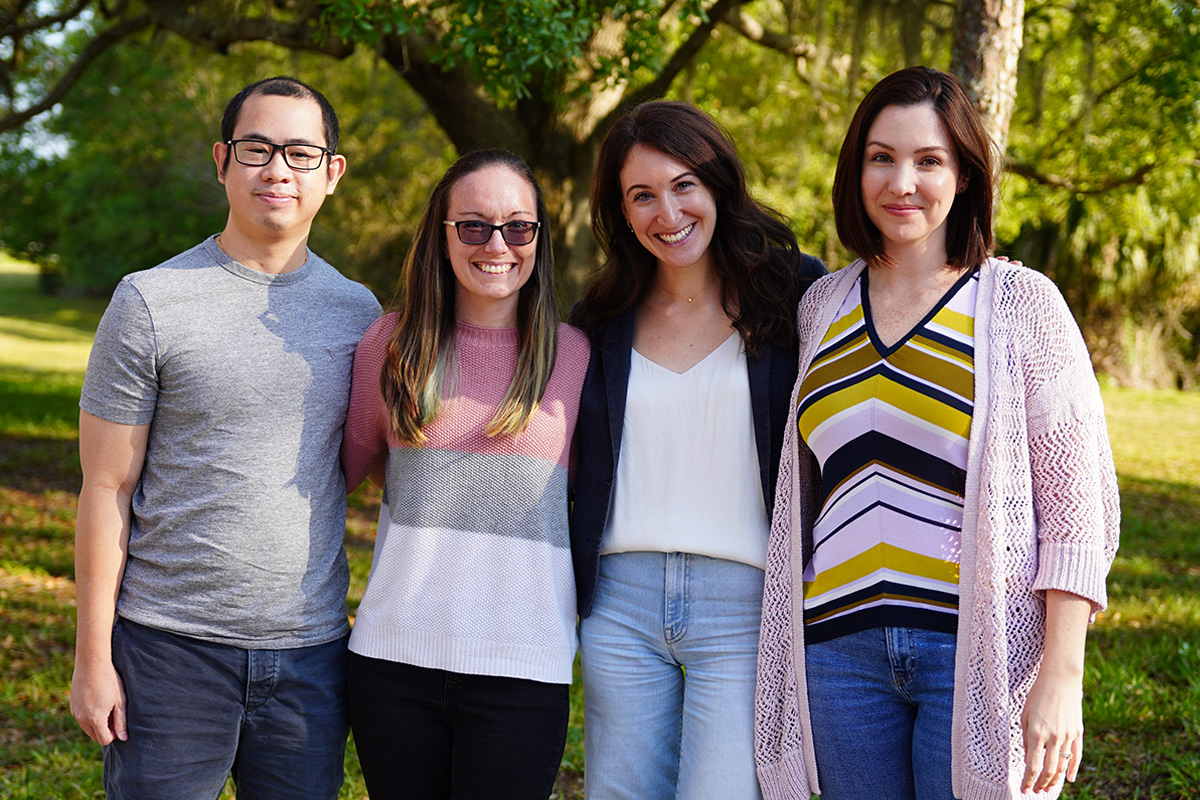 James Rujimora, Heather Summers, Alexandra Frank and Elizabeth Lugo received first place in the ACA Graduate Student Ethics Competition.
Multiple counselor education doctoral students have just become more decorated scholars after being recognized with a host of awards from various counseling organizations.
Professional recognition from associations like the Association for Counselor Education and Supervision (ACES), the Association for Child and Adolescent Counseling (ACAC), and the American Counseling Association (ACA) not only offers potential funding opportunities but also can serve as a career catalyst.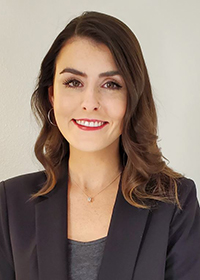 Caitlin Frawley
Doctoral candidate Caitlin Frawley is the recipient of multiple awards, including the International Association for Resilience and Trauma Counseling's outstanding graduate student award. She was also awarded grants from both the ACAC and ACES.
Frawley says she is currently in the dissertation stage of her doctoral program, so she specificially sought grants to support her studies.
"I definitely appreciate the mentorship of the faculty at UCF," Frawley says. "They really encourage us to be highly involved in research and to be leaders in our field. I feel really honored to receive these awards, and the mentorship that I received from UCF was so helpful to get a great start to my career."
Like Frawley, doctoral candidate Tianka Pharoah also received an ACES graduate student grant award. She plans to use it to help fund the work she will do with her dissertation.
Pharoah said she was excited to come to UCF in the first place for its commitment to research. She attended the ACES conference in her first year with the program, where she became inspired and motivated to learn more about integrated research after watching J. Richelle Joe – an associate professor of counselor education – win an ACES award.
"When your research is funded, it really opens up more resources and opportunities for us to do work in the communities," she says. "I felt really excited to be able to be amongst so many other graduate students who are doing great work. I felt very proud of that accomplishment, but also excited that I would have funding to do the work that I'm going to do with my dissertation."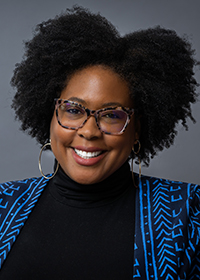 Tianka Pharaoh
Pharoah says her goal is to become an associate professor for an accreditation program to serve other students who want to be school counselors.
Sheldon Aaron, a doctoral candidate, also took home the ACES graduate student research grant. He says he is thankful he will also be able to use these funds to conduct his dissertation investigation.
"I am exploring the experiences of counselor educators who have had to navigate claims of being racially insensitive when working with students for my dissertation," he says. "My dissertation is one of the first research studies I have led, so it means a lot that the Association for Counselor Education and Supervision wants to fund my study and the topic I am choosing to explore. It's rather validating, and I am excited to be able to conduct this study so that I may better understand this phenomenon that occurs in counselor education."
Meanwhile, doctoral candidate Alexandra Frank earned first place in the ACA's Tomorrow's Counselors essay competition.
"Preparing my submission for the ACA essay was an exciting opportunity to distill personally important counseling values into a bite-sized submission," Franks says. "I loved getting to draw from my previous experiences and present my ideas in a creative way."
Individual honor weren't the only ones up for grabs. Frank, along with fellow doctoral candidates James Rujimora, Heather Summers and Elizabeth Lugo, received first place in the ACA Graduate Student Ethics Competition.
Rujimora, who was part of a team that won third place in the same competition last year, says this is a competitive award granted to a team of graduate students who best address a stated ethical dilemma. Universities nationwide are invited to participate in the competition.
"Being a part of the UCF team and winning the competition is a significant achievement for my teammates as well as for UCF and our Counselor Education and Supervision program," he says.