Celebration Knight recognizes one outstanding CCIE alum per academic unit, as well as one collegewide Noble Knight and a Partner of Distinction.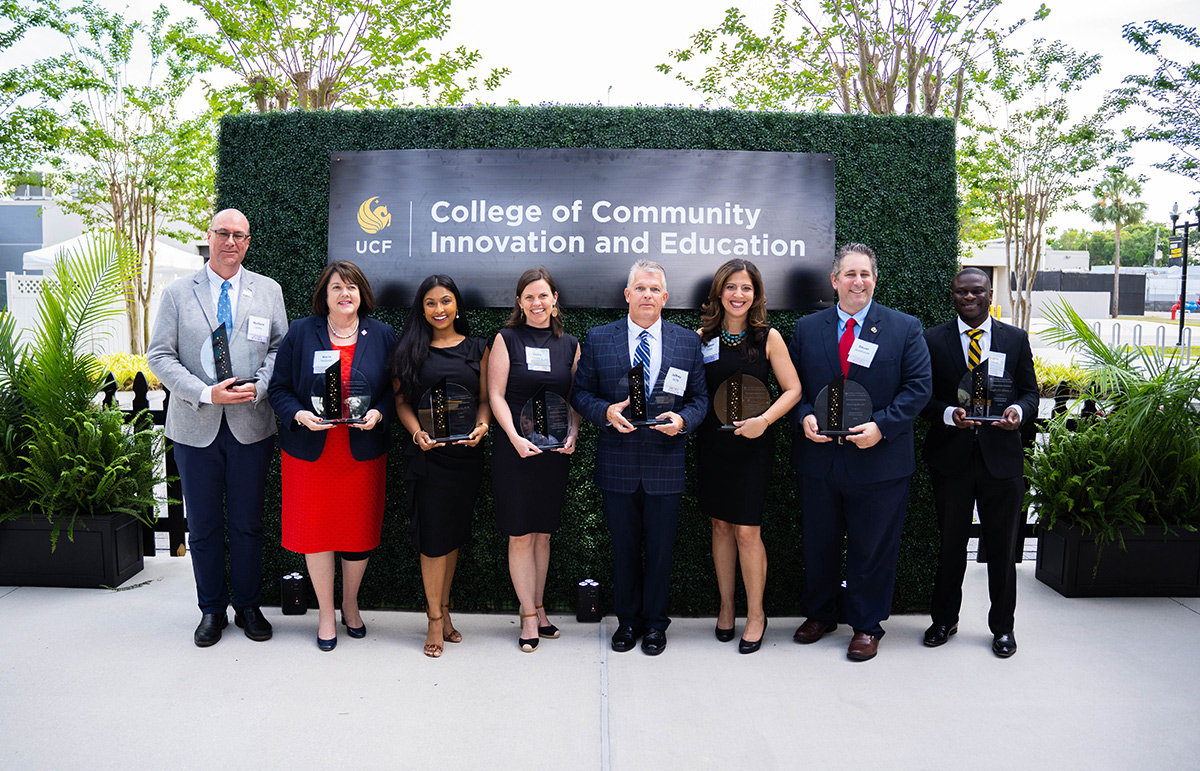 Celebration Knight honorees were all smiles with their awards.
Back for its second year, the annual College of Community Innovation and Education Celebration Knight recently honored some of CCIE's exceptional alumni and community partners. Held at UCF Downtown on Thursday, April 6, Celebration Knight brought together college faculty, staff, alumni, partners and stakeholders to recognize awardees and offer an opportunity to network and connect with CCIE. Congratulations to all of our 2023 honorees.
Distinguished Alumni Award Honorees
The Distinguished Alumni Award recognizes individuals who demonstrate career excellence aligning with CCIE's mission and vision.
Dodie Limberg '06MA '13PhD
Associate Professor, University of South Carolina
Department of Counselor Education and School Psychology
Steven Quattrochi '04MS
Senior Special Agent and National Program Manager, U.S. Department of Homeland Security
Department of Criminal Justice
Chanda Torres '98 '00MA '08EdD
Assistant Vice President for Student Success and Well-Being, UCF Downtown
Department of Educational Leadership and Higher Education
Matthew R. Lavery '10MEd '16PhD
Director of Research, South Carolina Education Oversight Committee
Department of Learning Sciences and Educational Research
Vaughn G.S. Glinton, Jr. '13
Associate, Jackson Lewis P.C.
Department of Legal Studies
Summer Kahlon '13MS
Vice President, Value Analytics for Change Healthcare; Assistant Professor of Internal Medicine, UCF College of Medicine; Physician, Orlando Veteran's Affairs Administration
School of Global Health Management and Informatics
Jeffrey W. Goltz '06PhD
Executive Dean, Valencia College School of Public Safety
School of Public Administration
Delores Inniss '90EdD
Teacher, Educational Leader and Advocate
School of Teacher Education
Noble Knight Award
The Noble Knight Award recognizes an individual who consistently demonstrates the core values of UCF – integrity, scholarship, community, creativity and excellence.
Shainna Ali '10 '12MA '16PhD
Mental Health Clinician, Educator, Author and Advocate
Department of Counselor Education and School Psychology
Partner of Distinction Award
The Partner of Distinction Award recognizes an individual or organization that has established a successful partnership with the college and embodies the spirit of collaboration, innovation and building stronger communities.
Orange County Public Schools was named the 2023 CCIE Partner of Distinction.