The culminating event of an after-school learning pod program led by an educational leadership lecturer brought middle school students from around Central Florida to campus for a day.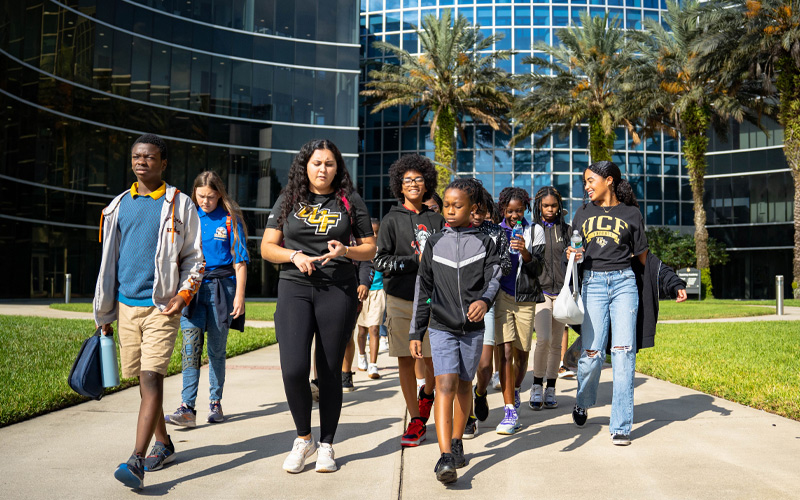 Thanks to funding from The Koch Family Foundation, a group of middle-school students are not only the recipients of additional educational resources but also recently got to experience what it's like to be a UCF student for a day.
The opportunity is part of a learning pod program, funded by The Koch Family Foundation and led by Department of Educational Leadership and Higher Education lecturer William "Bill" Gordon. The program allows three school districts to provide extra classes and learning resources to populations that may not have the money or resources to do so.
This is the third year of the program, which started at Life Center Academy — a private school in Titusville — in 2021 as a small learning pod formerly called "Dreamers and Achievers," but has since grown.
This year, the 27 participating students came from Life Center Academy, Apopka Middle School and College Park Middle School. Students engage in accelerated schoolwork or course-recovery schoolwork, and each school has a certified facilitator from Florida Virtual School to teach an online course before or after the school day. Class topics vary based on need but include courses on study habits and time management, algebra and even pre-International Baccalaureate classes for advanced students.
"What initially started this was when the pandemic hit and there was a lot of disparity between students as far as resources to continue learning. This began as a way to help fill that need," Gordon says.
Bringing the students for an on-campus tour gives them a glimpse of what it is like to go to college and encourages them to pursue higher education, especially those who may not have had the opportunity to see a college campus before.
"The idea behind bringing them to campus is that we want to show these students what their future opportunities could be," Gordon says.
It was also a learning experience for three UCF student leaders from the Supporting Teacher Education Pre-Professionals program, who served as tour guides for the day and received hands-on experience working with children.
Kayla Davis, a sophomore elementary education major, says the most important part for her is getting the practice in keeping the children's attention — a feat in and of itself. As someone planning to go into elementary education, Davis says it is invaluable experience.
"Especially when they're younger, they're not in that mindset of planning for college, so it's a challenge to keep their attention when there are things going on around campus," says Spencer Millwood, a freshman elementary education major. "You do as much as you can to keep them interested."
Mariana Espinosa, a junior secondary education major, also helped with the program last year. She says many of the students have lots of questions and are especially interested in the extracurricular activities and sports UCF has to offer.
"A lot of them already know what they want to do when they grow up, which is interesting," Espinosa says. "They're asking questions about wanting to be an engineer or a pilot or a nurse."
Gordon says the program has been successful with a 100% pass rate to date, and he hopes to continue offering it for one more year.
"Overall, they've had great success, and we are very fortunate to have the program," Gordon says.