Nina Yon '90 '16MNM, president and CEO of The Sharing Center, hopes her doctoral studies will bridge the academic-practitioner gap to the benefit of the community she serves.
BY JOSHUA HOLDER '19 |  SEPTEMBER 20, 2023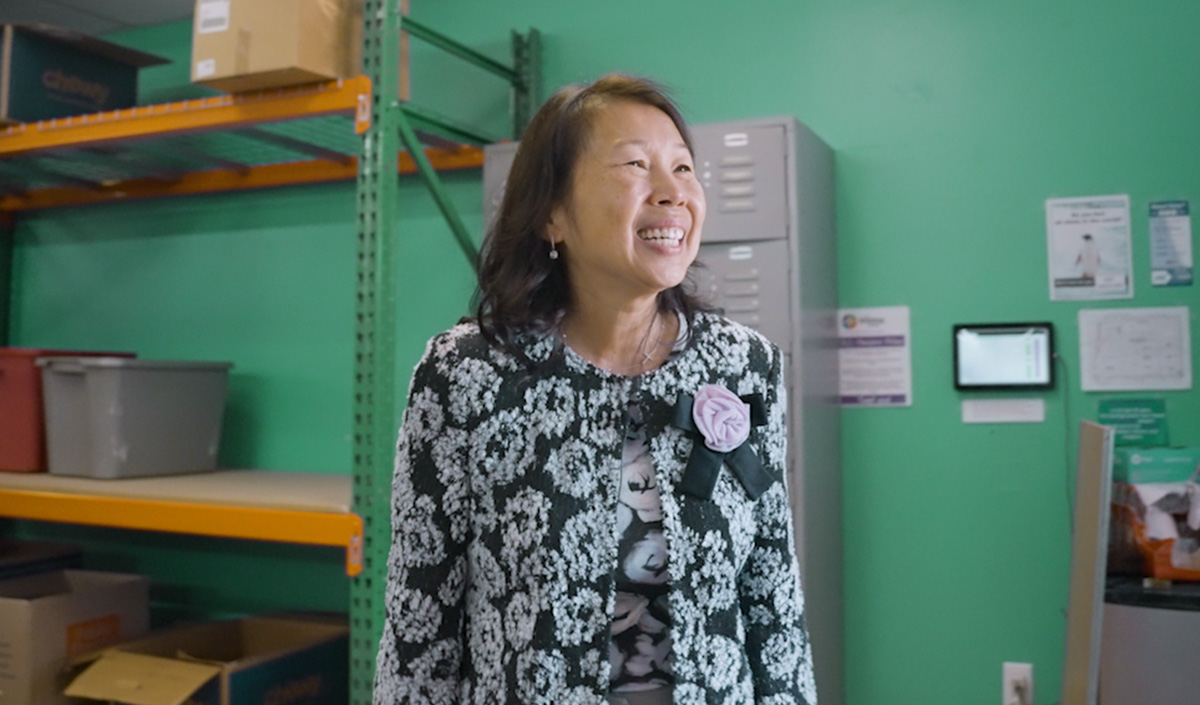 Alumna Nina Yon, who serves as president and CEO of Longwood nonprofit The Sharing Center, is also back at UCF pursuing her doctorate in public affairs. (Photo by Blake Osting)
Nina Yon's success as one of Central Florida's leaders in the nonprofit sector hides a fact common to many UCF alumni: Her career path was far from clear-cut to where she is now.
Yon serves as president and CEO of The Sharing Center, a Longwood-based nonprofit organization providing a breadth of services — from access to showers and laundry facilities to food distribution, thrifting and resource support — to homeless and families in need across Seminole County.
Upon graduating from the Rosen College of Hospitality Management in 1990, Yon's career in global hotel chains took her all over the world. Her initial career outlook once looked very different as a new alumna, with dreams of becoming a hotel general manager.
But when she returned to the U.S. several years later to work with AdventHealth, she says the opportunities the organization afforded her to assist on overseas missions planted the seed for her future.
"With my role there, I was able to join trips to sister hospitals in Central America where we would provide care missions," she says. "I eventually left [AdventHealth] to become a full-time missionary. It was supposed to be a year in Guatemala, but one year turned into two, and two turned into three."
Yon began pursuing her master's degree in nonprofit management while living overseas, though she eventually moved back to the U.S. to complete her studies and find work in the nonprofit sector. That decision, she says, is what really brought everything together.
"I was working with local nonprofit agencies doing fundraising and development," she says. "I was serving on a few boards, but everything was informal; I was just going off on-the-job training. My coursework at UCF really opened my eyes and helped me put the pieces together. Whether it was understanding stewardship, board governance or proper fundraising, I was immediately able to combine my practical experience with the academics."
Her current role in leading The Sharing Center is a position Yon says she wouldn't have been able to attain without the understanding her degree brought to her experience. With five years at The Sharing Center now under her belt, Yon's attention has turned back to academia — this time to pursue a doctorate in public affairs. Her focus lies in collaborative governance.
"This program is all about the interaction between governments, nonprofits and businesses to meet the needs in our community," she says. "It's a topic I'm immersed in every day, so I'm able to relate everything I'm learning back to what we're doing here at The Sharing Center."
As quickly as Yon's academic acumen grows, her organization grows right alongside her. Thanks to a $1 million gift from Heart of Florida United Way, The Sharing Center is now able to offer homeless individuals and families case management — another critical service on their path to a better future.
"We firmly believe that who you are today does not define who you can be in the future," she says. "Our ability to provide these services to the community is a perfect example of collaborative governance. We couldn't do everything we do without the support of our corporate partners, private donors, fellow nonprofits and local governments."
Yon's advice for current students is to get out of their comfort zones and explore whatever resources become available to them.
"Take advantage of every opportunity, every internship and every branch extended to you," she says. "You might have to take a step backward or in a direction you didn't expect, but sometimes that's the first step on a path to greater things."