Abdul-Akeem Sadiq will be the fourth faculty member in the school to join the organization's ranks as a 2023 Academy Fellow.
BY JOSHUA HOLDER '19 |  OCTOBER 4, 2023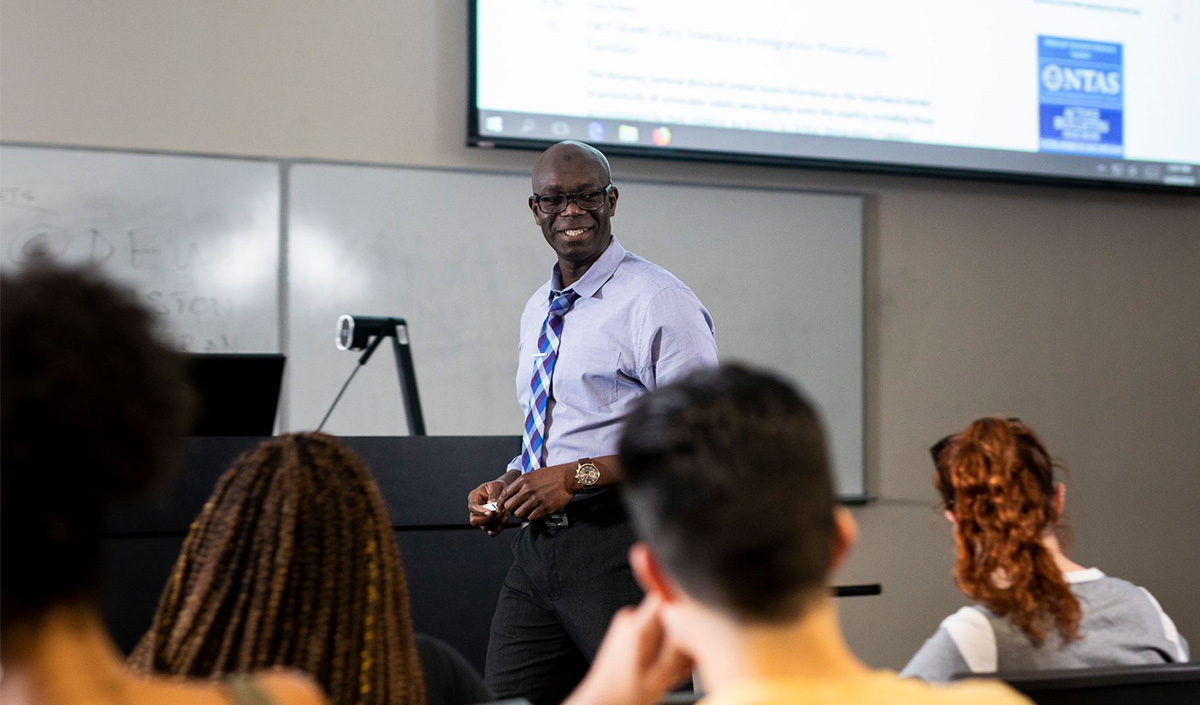 Abdul-Akeem Sadiq is one of 60 academic and professional leaders selected for this year's cohort of National Academy of Public Administration (NAPA) Academy Fellows.
Abdul-Akeem Sadiq, professor and director of the public policy program for the School of Public Administration, has been selected by the National Academy of Public Administration (NAPA) to join its ranks as a 2023 Academy Fellow.
Sadiq is one of 60 selected for this year's cohort, which includes academic and industry professionals from across the public administration field.
"We are pleased to announce the 2023 class of distinguished Academy Fellows — it is our largest fellows class to date, and all are nationally recognized and respected for their expertise in the field of public administration," said Terry Gerton, president and CEO of the academy. "We welcome these outstanding new fellows and invite them to help us advance the academy vision — a just, fair and inclusive government that strengthens communities and protects democracy."
Fellows are selected each year via a competitive nomination process, with each candidate's contributions to the public administration field subjected to a thorough individual review before the full body of existing fellows — comprising nearly 1,000 officials from all levels of government — vote on which candidates to induct. Current fellows include former cabinet members, members of Congress, governors, prominent scholars and nonprofit leaders from across the country.
"I am immensely excited and grateful for the opportunity to be part of the academy," Sadiq says. "I could not have achieved this milestone without the unwavering support of my family, students and colleagues. To those that have inspired me, guided me and challenged me, I say a big thank you to all of you. I look forward to working with other fellows to tackle wicked problems and make the world a better place."
Sadiq is the fourth School of Public Administration professor to receive this honor. Kuotsai "Tom" Liou was the school's first fellow in 2015, followed by Jeremy Hall in 2020 and Pegasus Professor Naim Kapucu in 2021.
"Dr. Sadiq's fellowship is an exceptional achievement on its own, but I am equally excited to see our school's ranks of Academy fellows expand each year," says Doug Goodman, school director. "Academy fellowships allow our faculty to play a role in the future of this field on the national stage, where they serve as great ambassadors for UCF and our school through their passion and exceptional scholarship."
In addition to his newly minted fellow status, Sadiq has also been invited to participate in the Future Leaders of Schools of Public Service program hosted by the Deans Summit. The yearlong program includes virtual and in-person networking opportunities with other academic field leaders during scholastic organization conferences throughout the coming year.