Degree: Master of Science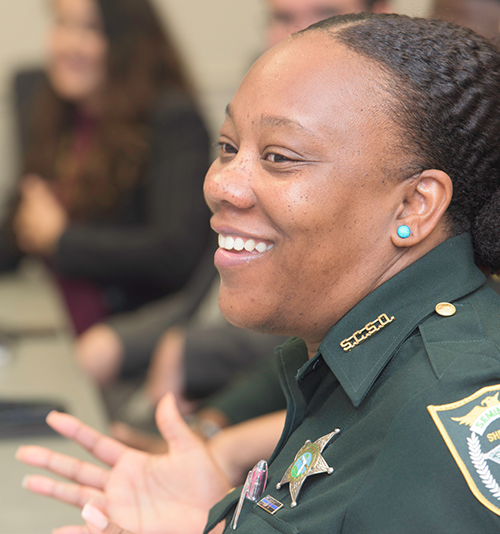 The benefits of an advanced graduate degree in criminal justice are self-evident and are being increasingly recognized by employers in Central Florida and throughout the United States. Federal, state and local criminal justice agencies benefit from an informed and innovative workforce that is aware of the complex issues and problems faced by the system regardless of geographic locale. Furthermore, graduates of the program are grounded in the latest theories and learn how these theories affect each individual or organization within the system.
Students in the Master of Science in Criminal Justice program will complete a core of seven courses (21 credit hours), two courses from restricted electives (6 credit hours) and three courses from the graduate-level general electives (9 credit hours). The 36-credit-hour program is designed to prepare future criminal justice organizational leaders to be consumers of research and to be able to summarize the present organizational information.
The official program of study is available in the UCF Graduate Catalog.
Core Requirements (21 credits)*:
CCJ 5015 The Nature of Crime
CCJ 5456 The Administration of Justice
CCJ 6704 Research Methods in Criminal Justice
CCJ 6706 Data Analysis I in Criminal Justice
CCJ 6106 Policy Analysis in Criminal Justice
CCJ 6118 Criminal Justice Organizations
CJE 6718 Proseminar in Criminal Justice (Capstone course to be taken in student's last semester)
*Students must earn at least a B grade (3.0) in all core requirements
Restricted Electives (6 credits) – choose two of the following:
CJC 5020 Foundations of Corrections
CJE 5021 Foundations of Law Enforcement
CJJ 6020 Juvenile Justice
CJL 6568 Law and Social Control
CJL 6520 American Criminal Courts
Unrestricted Electives (9 credits):
Students should consult with the criminal justice advisor for approval of general electives outside the criminal justice program prior to enrolling. Criminal justice courses at the 5000 or 6000 level, not used towards core or restricted elective requirements, are preapproved general electives.
Thesis Option- 6 Credit Hours (towards the 9 credits general electives):
All students will be automatically placed in the non-thesis option. Those wanting to complete a thesis will work with the program coordinator.