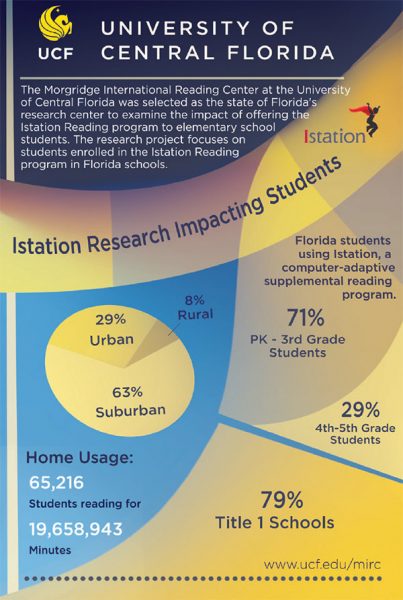 The Morgridge International Reading Center leads and facilitates the following programs to support disciplinary literacy for 21st century learning.
Istation Research Project (2014-2017) State Appropriation
The Istation research project examines the utilization of Istation throughout the state of Florida for up to 500,000 students. The longitudinal aspect of the research project examine students' growth in reading achievement and usage of the program. Professional development opportunities are offered throughout the state for educators in participating schools and districts. The results of the research will be disseminated in presentations, manuscripts, and research report formats; however, the results will be aggregated and participants' information will not be identifiable.
Istation Program Evaluation (2018-2020)
Istation Program Evaluation examines various aspects of the Istation reading program. The first report is a predictability study of the Istation Indicators of Progress Early Reading (ISIP-ER) scores to the Florida Standards Assessment (FSA) scores. Included in this report are charts, tables, and figures demonstrating the predictability of the ISIP-ER scores on FSA scores with a large sample of student data (N = 12,243). The data in this report does not identify individual districts, schools, or students.
Multisensory Learning for all Students
The University of Central Florida - Morgridge International Reading Center Multisensory Learning for ALL Students Re-boot Camp is a week long summer professional learning opportunity designed to assist all educators with improving literacy acquisition and instruction for the 21st century. The Re-boot Camp was developed in response to educators requests that greater emphasis be placed on assisting students with implementing multisensory instructional practices to improve literacy acquisition. During this interactive, transdisciplinary reboot camp attendees will investigate and examine the language processing requirements of proficient literacy acquisition and the environmental, cultural, and social factors that contribute to becoming literate. Through a multimedia approach, participants will review teaching reading in preventative, intervention, with remedial settings to improve data interpretation to shape multisensory instruction. Additionally, participants will engage in developing a critical understanding of reading difficulties, including dyslexia, on a continuum of severity.