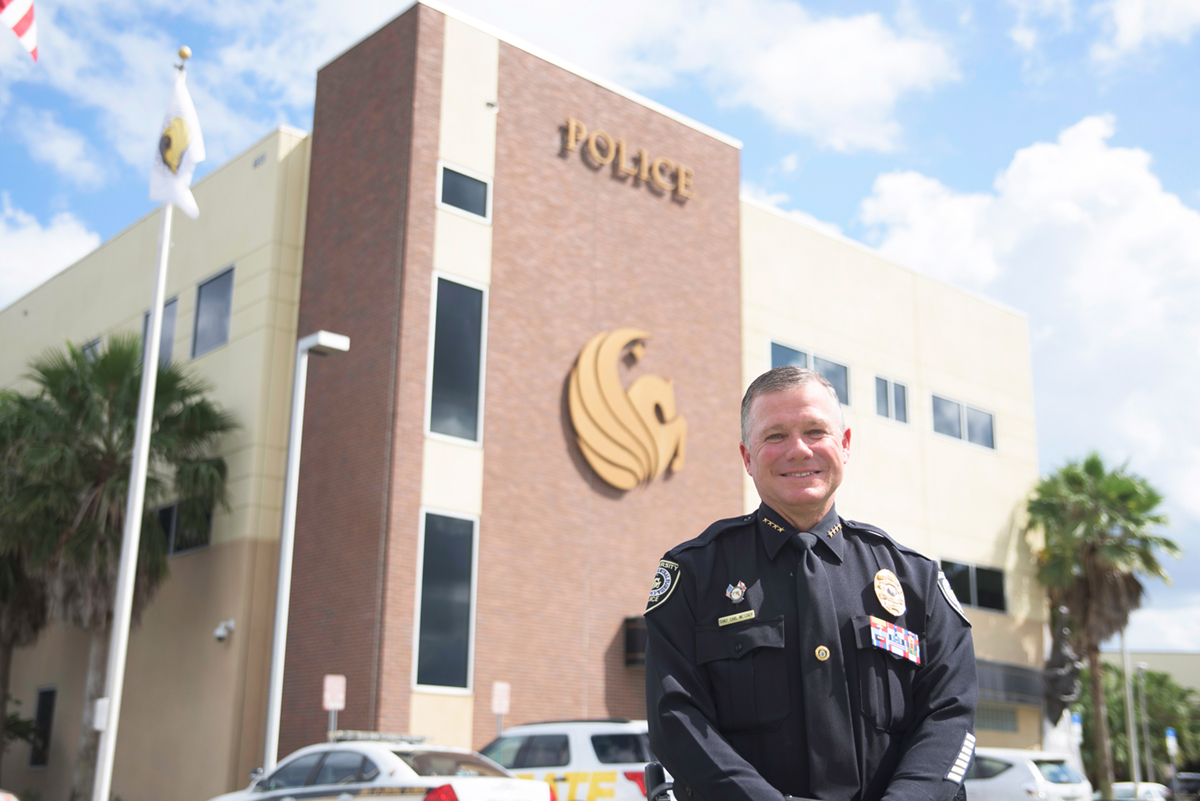 Carl Metzger, who received his master's degree in criminal justice at UCF, was recently named UCF's police chief. We spoke to him about his experience in the criminal justice program at UCF and how it helped make him a better leader and crime fighter. We also learned what it takes to be successful in a career in law enforcement.
How has your master's in criminal justice at UCF influenced your approach to law enforcement?
I was able to engage with students who had yet to start their criminal justice careers and with several old timers like me — including the Altamonte Springs Police Department deputy chief at that time and the current-day chief of the Winter Park Police Department. In both our in-person and online classes, we reviewed and provided valuable feedback on each other's work.
I also learned how far we have come as a profession, that it is not just a job, specifically in law enforcement. A lot of research has been done and practices fine-tuned as a result of that research. Having been a long-time practitioner, the criminal justice program provided me a new perspective through research and helped make me more analytical, asking questions like, 'What are the unintended consequences of engaging in a type of activity?' It made me a better leader. It gave me the ability to grasp statistical analysis, to understand the language of statistics through peer publications, to really grasp what the author's trying to say. It helped me to understand their meaning and focus, and allowed me to bring that back to the practice of crime fighting.
How might law enforcement make a difference in someone's life or in the community?
Daily, we run into people who are going through the worst day of their lives, whether they're the victim of a crime or they've been arrested. We can make a difference if we are able to mitigate how terrible that day is for someone and treat them with dignity and respect — to make life not so terrible for them. You feel like you're doing something worthwhile.
The other aspect is that there are bad people in this world and sometimes we turn a blind eye to it. How they ended up that way is another career field. But some people prey on the innocent and helpless, and we have opportunities to protect them, bring them some justice, and prevent future crimes by taking those people off the street. I feel this is meaningful and it made me feel good to know that if we had a prolific offender, a serial criminal of some sort, whether it's burglaries, sexual assaults, robberies, what have you, to have them behind bars where they're not capable of inflicting any more damage on society. It brings a sense of meaning to what you do.
What would you say to a prospective or current student interested in pursuing a criminal justice degree at UCF?
Criminal justice is a broad topic. My specialization is law enforcement but there is a lot more to criminal justice. In reference to policing, though, it is a career that has meaning where you can help people and make a difference. There are a lot of individuals who might have misgivings about going into the field because of the incidents taking place around the country over the last five or six years. I would tell those individuals thinking twice, that it is worth it. The positive aspects of what you get back from doing a good thing may be worth the challenges and difficulties.
There are a lot more fans of law enforcement than critics. While we do many great things for the community that don't get publicity — that really is not why we are in it — the community often shows us their appreciation. At restaurants on several occasions, the waiter or waitress says, 'This is taken care of.' Someone will have anonymously bought our meal. While I don't need someone to buy my meal, it makes you feel good to realize you're appreciated. It happens more often than people think. I've also bought meals for other officers while out with my family. We don't ask for it. We don't expect it. But it is more the gesture than the value of the meal. I've been in this almost 30 years, and in that time, we have received a lot of appreciation in a number of ways.
Not everyone can do this job. It takes a person who wants to do the right thing. Period. To me, that is the number one criteria when we are selecting someone. You want someone with character, someone who is ethical and will always choose the right thing — even if it is the most difficult thing. We need someone who can think clearly under the most challenging circumstances. If someone is thinking about law enforcement, I strongly encourage them to do it. If they can get into the criminal justice program here at UCF, then they probably have what it takes to be successful. This career makes a big impact on the community in a positive way, thanks to our officers and others like them who are out there every day doing good deeds, making a difference and changing lives.
Learn more about Chief Metzger from the UCF Today story "New UCF Police Chief's Goal: Do the Right Thing."
---
The Department of Criminal Justice at the University of Central Florida provides excellence in teaching, research and service. Dedicated to its students, the faculty delivers outstanding instruction at the undergraduate and graduate levels, incorporating learning, service and inquiry. The department also conducts quality research and pursues local, state and federal funding to advance knowledge in the discipline. By actively developing meaningful partnerships, it provides exemplary service to the university and the broader professional and academic community.